Resort & Second Home Property Specialist
Date:
Tuesday, October 10, 2017 9:00 am - 5:00 pm
Instructors - Speakers:
Karen Storey
Non-Member Price:
$185.00
WE'RE SORRY! REGISTRATION FOR THIS COURSE IS CLOSED.
Is it a home or is it an investment? From vacation homes to investment properties, the resort and second home market is filled with opportunities. By earning the Resort and Second-Home Property Specialist® (RSPS®) certification, you'll discover the skills you need to specialize in buying, selling or managing second homes in a resort, recreational and/or vacation destination. You'll be able to guide buyers through vacation home transactions, market properties to the right audience, and network with other REALTORS® who can help you build your business.
CLASS FOCUS:
"Break into" the resort, luxury and second-home niches and develop clientele and a referral network.

Spending your marketing dollars without violating fair housing discrimination laws.

Improve your value proposition.

Understand how the market shift has impacted luxury and second-home buyers and any potential business.

Understand the "typical" second-home buyer demographics and how to accommodate them.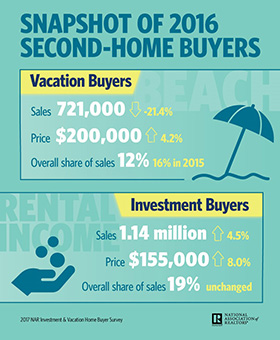 Find more information about earning the RSPS® certification.

Hosted by the Outer Banks Association of REALTORS®
For additional information, contact the Outer Banks Assn. of REALTORS® at 252-441-4036 or This email address is being protected from spambots. You need JavaScript enabled to view it..
Questions about registration? Contact This email address is being protected from spambots. You need JavaScript enabled to view it..