The NC REALTORS® Speakers Bureau offers experienced professional speakers across a wide range of knowledge. View our speaker profiles by subject below and contact us to book a captivating speaker for your event today!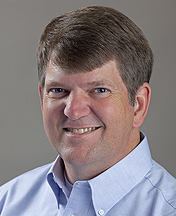 Bryan Jenkins, CPA
Bryan is the Chief Financial Officer for NC REALTORS® and has been with the association for nine years. Previously, he spent 14 years in public accounting before joining the Association.  NC Certificate # 25001
Topics:
the importance of budgeting
general accounting and tax issues
helpful ways to mitigate fraud in your organization
discuss the entities that make up the Association that assist in carrying out its mission
---
Caitlin Thompson
Caitlin Thompson joined NC REALTORS® in 2015 as Compliance Counsel to assist with Core Standards and other in-house compliance issues. She is a North Carolina licensed attorney and was in private practice for five years prior to joining NC REALTORS®. She received her bachelor's from George Mason University and her law degree from Elon University.
Topics:
Core Standards
Board/Leadership Orientation
Association Mergers
---
Maurice Brown
Born in Durham, N.C., Maurice oversees the REALTOR® Partners Program. His college choice led him to settle in Greensboro where he secured his Bachelor's degree in Business Management. He later secured his M.BA. in Management and Accounting. Armed with over 20 years of managerial, team-building, operational, and sales experience, Maurice's insight can be immediately applied to enhance your benefits of the REALTOR® Partners Program.
Subjects:
Savings – REALTOR® Partners
Partners/Products – REALTOR® Partners
Nick Scarci
Political Operations Director
Nick Scarci is the Political Operations Director for NC REALTORS®. In this role, he manages Issues Mobilization, Economic Development issues and the REALTOR® Party program for North Carolina.
During his time undergraduate studies, he studied abroad in Amman, Jordan and was an intern with the U.S. State Department in Santiago, Chile. Prior to joining NC REALTORS® in 2016, he worked on several statewide campaigns in Pennsylvania, as well as for a Pennsylvania State Representative.
Nick is a native of Boston, Massachusetts.
Education
Bachelor of Arts in Political Science, University of Pittsburgh, Pittsburgh, PA
Topics Nick can speak on:
Economic Development
the REALTOR® Party program
---
Kristin Nash
Director of Political Fundraising
Kristin Nash is the Director of Political Fundraising for NC REALTORS®. In this role, she is responsible for planning and executing all fundraising initiatives associated with the NC REALTORS® Political Action Committee (NC REALTORS® PAC). Kristin strives to give REALTORS® a stronger voice by helping elect legislators who understand interests and concerns of the real estate industry.
Kristin has been with NC REALTORS® since 2007 and previously managed the NC REALTORS® Partners program helping improve member benefits to meet the needs of North Carolina REALTORS®.
A native of Burlington, Kristin spends her free time with family, friends, and snuggling with her sons.
Education
Bachelor of Arts in Communication, Appalachian State University, Boone, NC

Topics Kristin can speak on:
NC REALTORS® PAC
NAR Corporate Ally Program
NAR REALTOR® Party Programs
---
Troi Bachmann
Director of Field Advocacy

Troi Bachmann is the Director of Field Advocacy for NC REALTORS®. In this capacity, she manages the Shared and Regional Government Affairs Directors that advocate for REALTORS® at the local government level.
Prior to joining NC REALTORS®, Troi taught high school government, economics, and American history in Stokes County, North Carolina. In her free time, Troi enjoys making music with friends, cooking, and playing with her 75-pound lap dog, Lincoln.
Education
Bachelor of Arts in History, Wake Forest University, Winston-Salem, NC
Topics Troi can speak on: