NC REALTORS® REdefined: Arica Rucker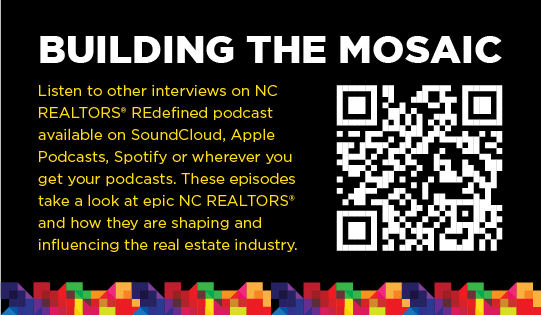 NC REALTORS® REdefined podcast recently caught up with NC REALTOR®, Arica Rucker, the first African American female to own a Century 21 company in  Charlotte, N.C. In her interview, she shared valuable insight and experiences that helped her achieve this historical career milestone.
Why real estate? How did you get into the industry? Was real estate your first career?
I tell a lot of people I did not choose real estate; real estate chose me. This was not something that I ever imagined myself doing. I remember years ago hearing this  voice say to me, "You're going to be a real estate agent." I remember saying, "No, I don't want to do that." I do not want to be on anyone's commission. I want a nine-to-five job getting a steady paycheck. I dismissed it, but it never left me. It took me seven years to actually go to school and take real estate clients. Sometimes I  wonder where would I be today if I did it earlier.
How does it feel to be the first, African American female Century 21 broker? What were your first thoughts when you received the news?
I have been a broker-owner for the last 11 years. When I affiliated with Century 21 back in October 2021 and became the first African American female to own a  Century 21 in the Charlotte, N.C. area, it was very exciting. Even though I initially took it lightly, I knew that it was a big deal for a lot of people, especially the older  people. I've had people literally cry when I tell them that news. I've had people who would go on and on about how this is such a big deal and how back in the days,  this could have never been. So, I do not take it lightly. It is a very humbling experience. My hope is to be an example for all the women who want to become owners.
What do diversity, equity and inclusion mean to you? Why are they important for the real estate industry?
Diversity, equity and inclusion are probably the main reasons I'm here today. I think that companies, as well as the real estate industry, are realizing that everyone  deserves a voice. Everyone deserves a seat at the table. African Americans are seeing ourselves in ownership positions that would have never happened years ago. We're seeing ourselves being the first of things now. Diversity, equity and inclusion are very important because there are a lot of people in the world with different  backgrounds, and they should be represented.
Who inspires you?
There are a lot of people who have inspired me—one of which is my husband with his unending, relentless work ethic. My children inspire me because they tell me,  all the time, how proud they are of me in all of my accomplishments. Also, an old pastor inspired me. He probably didn't even realize he was teaching me a lot of the things that I use today in real estate. Lastly, my mother taught me how to make a dollar out of fifteen cents.
What is your favorite part about living/working in your area?
I've lived in Concord and the University area since after I graduated college, and I like it. It has definitely grown as one of the top cities in the state of North Carolina  to work—where minorities also have an opportunity to expand in their careers. I also enjoy the fact that I can go to any part of the city or any surrounding cities within 30 minutes or less.
What was the industry like when you became a REALTOR®?
The industry was very different from today. It seemed like it was more of a balanced market. We had to do things differently as listing agents, but there were definitely enough houses out there for all the buyers—that was probably the biggest difference.
What obstacles have you had to overcome in your career? How have they made you stronger?
Fortunately, I have not experienced a whole lot of obstacles that are different or unknown to any other real estate agent. For example, not getting the listing that I  thought I deserved or not getting into the Leadership Academy that I felt like I needed. However, I've had a family member not want to use me because of the color of my skin. Things like this make me stronger, give me thicker skin and make me want to do well.
Based on the lessons you've learned, what advice would you give to other minorities trying to make it in the real estate industry?
Do not let money be your motivation. Be honest, have integrity, be on time, work hard and pay attention to the small stuff.
How do you want to be remembered?
I would like to be remembered as a blessing—that I have helped a lot of people in their lives with buying homes.