Rally in Raleigh | Make your voice heard at the General Assembly
As one of the largest trade associations in North Carolina, NC REALTORS® is uniquely positioned as an advocacy leader at the state level. While your top-notch lobbying team stays engaged on important activities at the legislative level on a daily basis, it is always important for YOUR elected officials to hear directly from YOU.
That is why it is so important for you to Rally in Raleigh at NC REALTORS® Legislative Day on Wednesday, June 6.
You will join NC REALTORS® representing communities from Murphy to Manteo in standing up for issues which are vitally important to your clients, your business and the state's real estate industry. During the rally, you will hear from many of our great NC REALTORS® legislative champions, as well as key leaders in the General Assembly. Then, meet face-to-face with your members of the House and Senate to tell them how their decisions directly impact your community.
Don't know what to talk about? Don't worry! The NC REALTORS® lobbying team will give you a full briefing on Wednesday morning and will provide talking points on our key issues and action items. And we will be joined by REALTOR® legislative champions from across the state who will discuss the value of REALTOR® advocacy and the importance of your voices throughout the year.
Want to get fully engaged in all of NC REALTORS®' legislative activities? Attend NC REALTORS® Legislative Meetings on Monday and Tuesday (June 4-5) at the Raleigh Sheraton Hotel. Sit in on all of NC REALTORS® committees [hint: my favorites are the Legislative Committee and NC REALTORS® PAC Trustees meetings], as well as hear in-depth discussions of important issues for your business and industry. And as a bonus on Tuesday night, attend the NC REALTORS® Legislative Reception at the North Carolina Museum of History, where you will get the chance to network with fellow REALTORS® from across the state, as well as catch up with your local legislators in an informal and fun setting. View the complete schedule.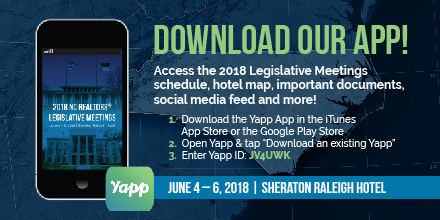 For those of you who are tech-savvy, download the NC REALTORS® Legislative Meeting app via the Yapp platform on your mobile device.
Even if you can't make it to Raleigh, make sure to follow the day's events on NC REALTORS® social media channels. We will be posting all kinds of great content and may even do some Facebook Live events with special guests.
As always, make sure to stay informed and engaged on important issues affecting your business, your clients and your industry.