2018 Year in Review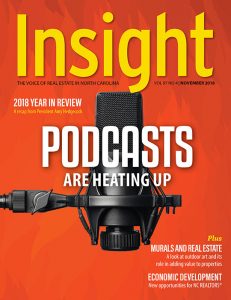 A RECAP
2018 President Amy Hedgecock
Wow! Has the year flown by or what? I wish I could report that the year was full of fun and be able to claim the old adage, "Time flies when you're having fun." However, the reality is, for many of our members, the year won't be remembered as "fun." In fact, 2018 may actually go down in NC REALTORS® history as one of the most trying periods for our members and the communities they serve.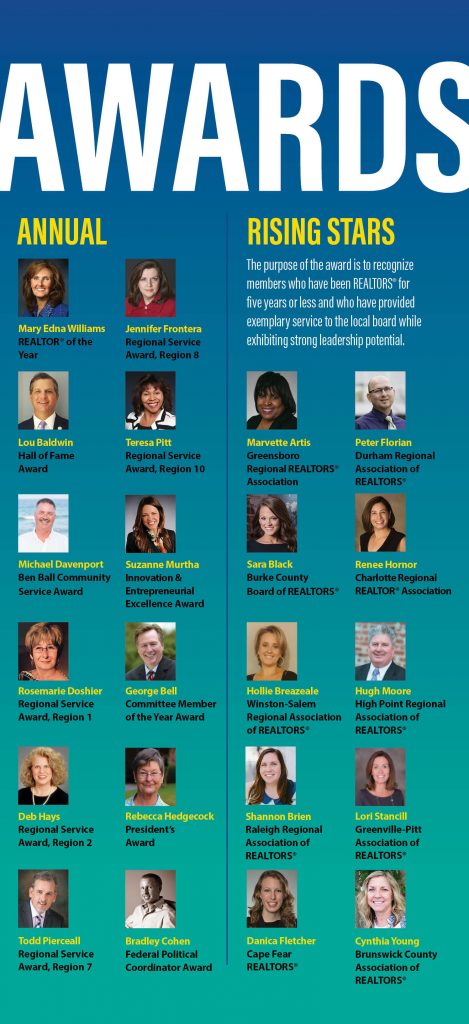 Our state—and our membership—experienced not one but two natural disasters this year. In the spring, an EF-2 tornado ripped through eastern Greensboro, damaging close to 1,000 homes, schools and businesses. The NC REALTORS® Housing Foundation, our members, local associations and staff rallied together to gather supplies and provide housing relief to those impacted by the storm. Our marketing and communications staff assisted City of Greensboro and Guilford County Schools with crisis communications response efforts. Our leadership and the National Association of REALTORS® (NAR) REALTOR® Relief Fund took swift and decisive action to release funding for immediate response. We rose together.
In September, as many of you know, one of the largest natural disasters to ever hit our state devastated eastern North Carolina—from Wilmington to most areas inland, stretching to the Triangle. The historic flooding destroyed entire communities, lives and businesses. Many of our members—fellow NC REALTORS®— suffered unfathomable damage. Some lost their homes, everything to their name and even their entire livelihood. Our annual convention—XCHANGE '18—was canceled, which is the first time in the association's history it has ever been canceled.
Despite the unfathomable task ahead, NC REALTORS® took swift and decisive action. Crisis communications efforts were activated. The executive committee voted to release funding immediately to get supplies in the hands of our members and communities hardest hit by the storm. The REALTOR® Relief Fund, NC REALTORS® Housing Foundation, local associations, REALTOR® associations in other states, our members and staff immediately stepped in to purchase, collect and distribute supplies, access emergency funding and distribute temporary housing relief funds. The Property Management Division and Government Affairs Department quickly surveyed our REALTOR® members to identify much-needed temporary housing units to match to those members and community members who unexpectedly found themselves homeless after the storm passed. We rose together.
Unfortunately, our recovery as a state, and the involvement of NC REALTORS® in the recovery of our communities and the lives of our members, is only just beginning. The recovery will take months—even years—for some. And yet, I am humbled and proud beyond belief to witness NC REALTORS® in action. You are the epitome of what an association is and can be.
Despite the trials and tribulations this year—most of which were out of our control—NC REALTORS® thrived as an association. We continued to set the bar high, excelling in the delivery of programs and services, member engagement, legislative impact, economic development, branding, education and overall member value. On average, we increased engagement across the association—in the attendance of our education offerings, convention and MIXers; with participation in our high-value member benefits, including the Legal Hotline and the newly launched Tech Helpline; and in the leadership of the association through committees and board roles—by an average of 21 percent. We reached new members that we have never reached before through innovative events and education such as CE at Sea, and on the whole, our membership has grown by 8 percent since 2017.
We established an award-winning Global Network, which won NAR's Platinum Award for global economic development initiatives, and we had a strong presence at the world's largest property market—MIPIM. We expanded the Shared GAD program and successfully fought against steep homeowner's insurance tax hikes, resulting in impressive consumer engagement in the campaign. We created a new conference—SPARK—specifically targeting women and providing high-caliber speakers with high-level and timely content. We continued to improve the NC REALTORS® brand, as well as the brand of our non-profit entities, including NC REEF and the NC REALTORS® Housing Foundation, with new brand identities, websites, collateral and more. In many ways, we have had a stellar year, and you should all be proud of the association we have become in an effort to better serve you.
It has been my honor and privilege to serve as your NC REALTORS® president over the past year in spite of the hardships we have all faced. For all of our members and staff who have selflessly given your time, talent and resources to personally support me, our leadership, the industry, our association, initiatives and mission, I thank you. Nothing we do would be possible without your talent, generosity and compassion. Because of you, we have risen together over the past year to be better as an association, to be more influential and to make a positive impression on the lives of the people we serve—including yours.
LOOKING AHEAD
2019 President Asa Fleming
Building on the great leadership of 2018 under the direction of President Amy Hedgecock and the many leaders beside and before her, NC REALTORS® weathered multiple storms—from actual storms, including devastating tornadoes and hurricanes, to industry disruption and non-homeowner friendly government legislation. Even still, we thrived together and will continue to rise together above the obstacles, adversity and challenges we face as an association, as REALTORS®, as community leaders and as an industry. We are stronger today because of the vision of those that served before. We are wiser today because of the collective experience of our leadership. We are better today because we keep fighting the good fight—for homeownership rights, fair real estate business regulations and more.
I hope it is clear to you, NC REALTORS®, that we have your back. With every investment, action, decision, initiative, opportunity, event and more—everything we do is for our members and the communities you serve. It is my goal in 2019 to build on our successes to date and place an even greater emphasis on advocacy, where our impact historically is great, and the opportunities for impact are even greater. We will also focus on strengthening our diversity and celebrate inclusivity in everything we do—with purpose and intent. We will build bridges, create alliances within and outside of our REALTOR® family and we will become an enviable association with immense influence and positive impact. I'm hopeful that I can count on your input, ideas, support and effort to achieve the possible and attempt to reach the perceived impossible. Together, nothing is out of our reach.
NC REALTORS® has your back. Can I count on you to have ours?