2024 NAR Leadership Academy Class Announced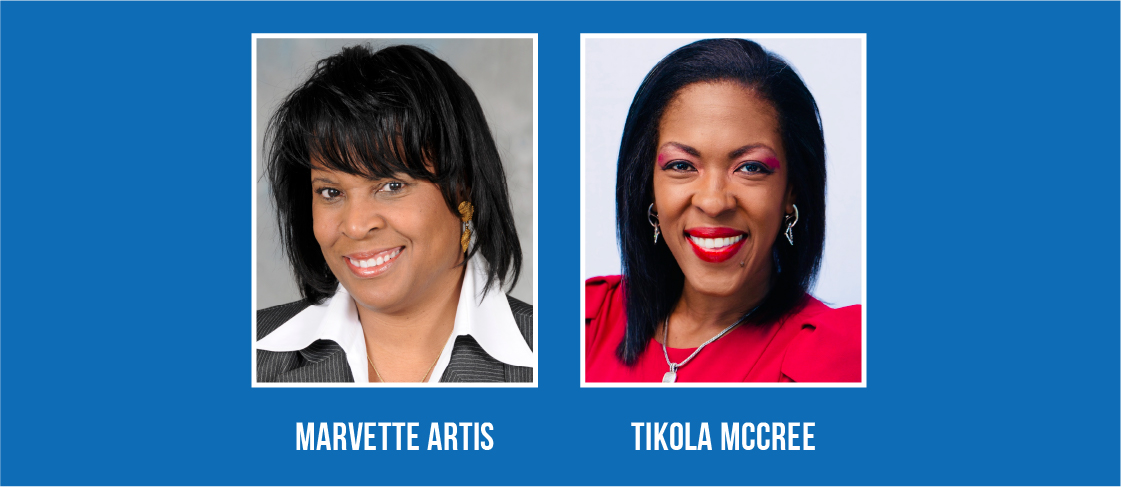 NC REALTORS® is proud to announce two of our members, Marvette Artis and Tikola McCree, have been inducted into the NAR Leadership Academy Class of 2024. The NAR Leadership Academy identifies, inspires, and mentors emerging leaders from the local and state level for the National Association of REALTORS®.
Marvette Artis
Marvette Artis, REALTOR®, ABR, CRS, GRI, SRES, AHWD with Wilkinson Triad Realty in the Greensboro area since 2014, is a dedicated community servant and volunteer leader who prides herself on being involved in the community and real estate industry on all levels. Marvette received BS Degrees in Business Marketing and Family & Consumer Sciences; Master of Arts in Teaching Business Education from North Carolina Agricultural and Technical State University. A career path which spans more than 35 years from Sales and Marketing, Retail Entrepreneurship, and Teaching to REALTOR® and NCREC licensed Instructor.
Marvette's commitment to volunteerism and leadership involvement in the community and real estate industry locally, statewide and nationally include:
2023 President-Elect of the Greensboro Regional REALTORS® Association (GRRA)
RPAC Chair (2020)
REALTOR® Community Service Committee Chair (2019-21)
Diversity Committee Chair (2019-21) with GRRA
NC REALTORS® RPAC Trustee (2023)
Region 4 Conference Co-Chair (2023)
Risk Management Chair (2021)
NC REALTORS®  William C. Bass Leadership Academy (2018)
NAR Major Investor Council NC Representative (2022)
NAR REALTOR® Party Member Involvement Committee (2020)
Marvette, a proud NC REALTORS®  PAC Golden R Major Investor & President's Circle member, is motivated daily by her mantra, "Real estate ignites my passion, community service fuels my heart and leadership feeds my soul." In seeking the incredible opportunity to be a part of NAR's Leadership Academy, Marvette listened to many alumni and current class members of the NAR Leadership Academy and her REALTOR® village and felt this adventure would enhance her continued leadership growth on all levels while preparing her to continue to serve NAR wherever needed. Marvette is excited and looking forward to the NAR Leadership Academy journey being a life changing path which will be educational, build and cultivate lasting relationships and motivate, inspire and encourage fellow REALTOR® members.
Tikola McCree
Tikola McCree's AHWD, C2EX, SFR, GRI, RENE, NCWHS professional journey has been characterized by a profound sense of fulfillment and purpose, primarily rooted in her most pivotal role as a mother to her son. In addition to her crucial responsibilities as a mother, she boasts eight years of invaluable experience within the real estate industry. Before delving into real estate, Tikola dedicated a remarkable 18 years to the realm of secondary and higher education.
Her notable achievements extend to her current and past esteemed positions, including her role as:
the 2021 president of the Union County Association of REALTORS®
Canopy MLS Board of Directors
NC REALTORS®  William C. Bass Leadership Academy (2022)
NC REALTORS® 2023 Diversity Committee Vice Chair
NAR Fair Housing Policy Committee
President of the Charlotte Crown Realtist Association, which is a local chapter of the National Association of Real Estate Brokers (NAREB).
Tikola's eagerness to participate in the Leadership Academy is deeply rooted in her unwavering passion for the association. This opportunity is poised to broaden her knowledge and allow her to immerse herself in a distinct facet of the National Association of REALTORS®. Her commitment to advancing her education stands firm, as she seeks to provide the utmost service to her industry, customers, and clients while maintaining unwavering integrity. She approaches this transformative journey with enthusiasm, anticipating her meaningful contributions to the progression of their profession.
---