Celebrating 10 Years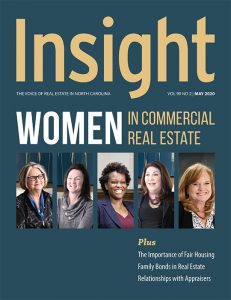 This year marks a milestone worth mentioning: Andrea Bushnell has served as the NC REALTORS® president and Chief Executive Officer (CEO) for a decade and has led the company through some of its most transformative years. To recognize Bushnell's 10-year work anniversary, we're highlighting some of the most noteworthy moments of her time in leadership:
Advocacy
Senate Bill 86 was a big win for NC REALTORS® in August 2019. Under this legislation, affordable group health insurance options can be offered by Association Health Plans. This win is thus far the most important piece of legislation to pass for NC REALTORS® members and all small businesses in North Carolina.
Global Impact
In 2018, the association launched the NC REALTORS® Global Network. This group allows NC REALTORS® to have an impact not just in our state, but across the world. Bushnell and other association leaders attend MIPIM—the world's leading real estate event in Cannes, France—to bring business back to North Carolina.
Cultural Transformation
In October 2019, NC REALTORS® held its first diversity conference, MOSAIC: Discussions on Diversity, in Charlotte. Hundreds of NC REALTORS® came together to have a candid conversation on diversity—what it means, why it's vital to the state economy and how it applies to the way REALTORS® do business. NC REALTORS® is committed to diversity in all facets of the association. Piece by piece, we're working together to create a beautiful and more complete picture of what diversity and inclusion can do for the real estate industry, our communities in North Carolina and across the globe.
Disaster Relief
Multiple natural disasters have impacted areas throughout our state over the last decade. Through our housing opportunity foundation, the NC REALTORS® Housing Foundation, the association has awarded relief assistance to individuals and families in need. In 2018, over $800,000 was allocated for disaster relief in response to the devastating impacts of Hurricane Florence on North Carolina.
Awards & Accolades
Over the past decade, Bushnell has been recognized for her vision and leadership, including being named Chair of the Association Executives Committee Recommendations and Recognition Advisory Board.
With Bushnell as CEO for the past 10 years, there has been transition and transformation in the association. As we leap into the next decade, these changes should be recognized and celebrated by all who have been involved—the NC REALTORS® leaders, employees and growing membership. As a result of hard work, NC REALTORS® is a recognized leader in the real estate industry. Although there is more work ahead on our transformation journey, NC REALTORS® will continue to positively change the real estate industry in our state with the guidance of Bushnell, a leader with a clarity of vision and an eye on continued innovation.
---
About Andrea Bushnell
Andrea Bushnell is the Chief Executive Officer of NC REALTORS®. She has more than 20 years of experience as an association executive and as general counsel for state REALTOR® associations. Bushnell is a Montana native who earned a bachelor's degree in English from Montana State University and graduated with honors from Lewis and Clark College School of Law in Portland, Oregon.
Before launching her law career, Bushnell spent 6 years as a full-time REALTOR® in San Diego. It was the love and respect for what REALTORS® do that was a deciding factor in her re-entry into the REALTOR® world in 1995. Since 1995, Bushnell has served on numerous committees, PAGs and work groups at the National Association of REALTORS®. Bushnell travels the country assisting associations with leadership development, team building, challenging the status quo and in creating and implementing association strategic plans—all with the blessing of the wonderful leadership of NC REALTORS®.