Celebrating Our Investors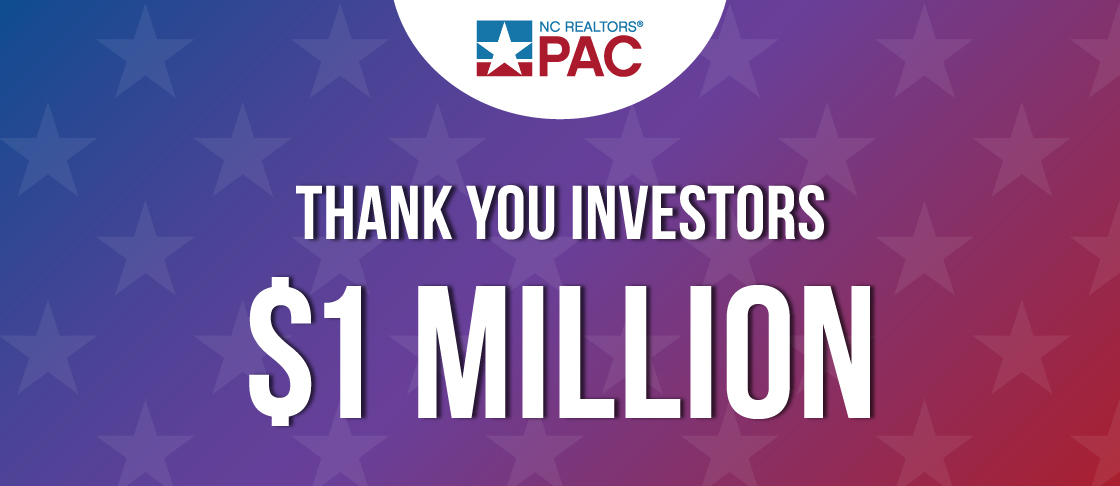 We are celebrating the commitment of North Carolina REALTORS® to the NC REALTORS® Political Action Committee. We are also celebrating all of the dedicated investors who made it possible for the NC REALTORS® Political Action Committee to raise over 1 million dollars in investments. We were able to achieve this milestone with over 30% of North Carolina REALTORS® participating.
Having a strong political action committee is foundational to NCR's advocacy efforts, it underscores the powerful advocacy voice of REALTORS® in North Carolina and what we can achieve by working together to reach our goals.
The strength of the REALTOR® voice in NC attributed to our legislative victories this year.
Advocacy efforts from the NCR lobbying team and six NC Council of State members, led by efforts from Treasurer Dale Folwell, resulted in the NC eviction moratorium which brought much needed relief for housing providers, who are mom and pop businesses who were struggling along with their tenants.
Efforts to protect landlords continued throughout the year. The lobbying team was able to negotiate substantial changes to the HOPE Program in HB110 to allow for landlords to submit a rental assistance application on behalf of the tenant, to cover the cost of reasonable accrued late fees due to a landlord, and to cover rent in arrears accrued after March 13, 2020. Amy Hedgecock, former PMD Chair, provided key testimony which led to the successful passage of HB110 at the General Assembly. It is currently awaiting action from Governor Cooper.
House bill 489 ensures roads intended for the Department of Transportation (DOT) adoption do not end up abandoned, leaving homeowners' safety and financial security in jeopardy. The DOT will be required to take over subdivision roads that meet the DOT's standards for acceptance into the state road maintenance system within 90 days of a request.
Successful passage of the Uniform Partition of Heirs Property Act in the House with discussions ongoing in the Senate
No new taxes on RE or RE services.
NCR lobbyists successfully worked to ensure priority items were included in the state budget. View the NCR budget priority items.
Congratulations to NC REALTORS® for your passion, commitment to success, and tireless efforts to continue making the REALTOR® voice one of the most powerful ones in our state. As previously mentioned, this update will become exclusive to RPAC investors starting next year, and it will also be a quarterly update instead of a monthly one. If you would like more information about the NC REALTORS® Political Action Committee, please contact Kristin Nash.
---
Contributions to RPAC are not deductible for federal or state income tax purposes. Contributions are voluntary and are used for political purposes. Suggested amounts are merely guidelines and you may contribute more or less than the suggested amounts. The National Association of REALTORS® and its state and local associations will not favor or disadvantage any member because of the amount contributed or a decision not to contribute. You may refuse to contribute without reprisal. Your contribution is split between National RPAC and the State PAC in your state. NC RPAC supports the efforts of National RPAC and contributes a portion of its contributions to National RPAC. Contact your State Association or PAC for information about the percentages of your contribution provided to National RPAC and to the State PAC. The National RPAC portion is used to support federal candidates and is charged against your limits under 52 U.S.C. 30116. In-kind contributions/donations are not included for the purposes of the National RPAC State PAC split. NC law requires political committees to report the name, mailing address, job title or profession and name of employer or employee's specific field for each individual whose contributions aggregate is in excess of $50 in an election cycle. Contributions can only be accepted from individuals in the form of personal checks or credit cards. Contributions from corporations or business entities cannot be accepted. This solicitation was paid for by NC RPAC.
---