Creating the Best Virtual Tours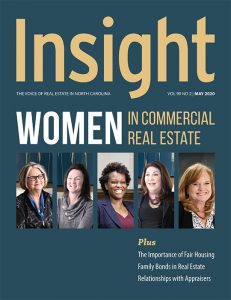 BY LEE NELSON
Since the pandemic began, Patty Hampton has included virtual tours in all her listings.
"I had to adapt quickly. If you don't learn to adapt to change in our industry, you can see yourself out of all revolving business," says Hampton, owner of Hampton & Company Real Estate, Durham.
Even before COVID-19, 46 percent of home buyers found virtual tours very useful, according to the 2019 National Association of REALTORS® (NAR) Home Buyer and Seller Generational Trends Report.
"Everyone starts online looking for homes," she adds. "Shelter is where we lay our heads at nights. Some people are in situations now financially, where a lot of their wealth is tied in their homes. To have the opportunity to pull out their equity to survive is important."
"Using 3D virtual tours and virtual open houses can help people who want to sell or who need to buy," Hampton adds. Even when all restrictions are lifted and open houses and showings can return to normal, virtual tours will remain a big plus for REALTORS® and their clients.
"Life is still happening. People are moving for their jobs. I'm thankful to be of value to people in our profession," Hampton says. "It's misunderstood that people think we are just about making and selling houses. It's of being service to others so their goals are reached."
Ways to Create and Use Virtual Tours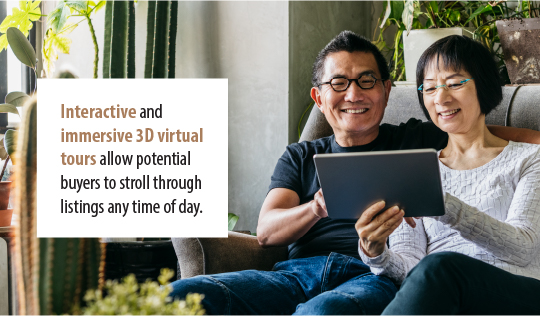 Virtual can mean a lot of things to a lot of people. The tours can be done in a variety of ways—depending on an agent's budget, time, technology skills and preferences of the seller. Virtual tours can help buyers see the house without going into it—which saves the owners from having people trek through their home and saves agents a lot of prep work like putting on gloves and masks in every new house they show.
Many agents get out their smartphones and do a video walkthrough of properties for their version of a virtual tour. They describe certain features of the home as they explore it. Some agents create these live on FaceTime or Zoom to replace open houses. Viewers can ask questions along the way. A video can also be made to stream on the agent's website and other sites, and then chat boxes can let viewers ask anything they need to during the tour and get responses later.
The agent can also create a video with specialized 3D cameras or hire it done. The 3D tours allow potential buyers the ability to control what they want to look at versus just photo virtual tours, which most of the time are a slide show of photos with background music. They can look at ceilings, look at floors, look around corners and more.
Erica Anderson has offered video tours for the past five years. She began offering Zillow 3D tours, and it allows her to upload the tours of her listings and link them on her website and other locations.
"I always recommend virtual tours to my agents," she explains. "And now, you have to be adaptable. The sellers expect this now."
If someone doesn't want to do the filming themselves, she knows a lot of registered Matterport 3D photographers in the Triangle area. It requires expensive equipment to do it yourself, or the cost to hire it done can be about $250 to $400. She highly recommends it because agents will see the value of investing in their listings, and it gives their sellers the best opportunity to sell the house.
"You can be creative and buy a good 3D camera for $150 nowadays," says Robert Koenekamp, CEO and founder of Aerial Look. "You can get 360-degree views, still photography and videos for your listings all out of one camera."
His company, headquartered in North Carolina, has been pioneering 3D, virtual reality and drone technologies up and down America's East Coast, China, Dubai and London.
About six years ago, Koenekamp bought one of the first Matterport 3D cameras, which had just been created to offer 360-degree views in a video. He spent eight months on the road introducing the new technology to REALTORS®, developers and others across the country. Aerial Look even joined the REALTOR® Partners Program to provide NC REALTOR® members affordable access to these real estate technologies.
"But it's never been an easy sell until now," he says. "Some agents still don't really want it, but their clients want it and ask for it."
He admits no one wants to spend extra money.
"It's definitely for the forward-thinking REALTOR® out there. When you are supposed to serve the client, but you don't implement the right solutions available, it's a disservice to your clients and your brand," he adds.
Video and photography were passions of Jason Fisher, founder of Mammoth Hammer Media in Raleigh. He provides digital media content for real estate agencies and other businesses, plus 3D virtual tours, photography and aerial imagery.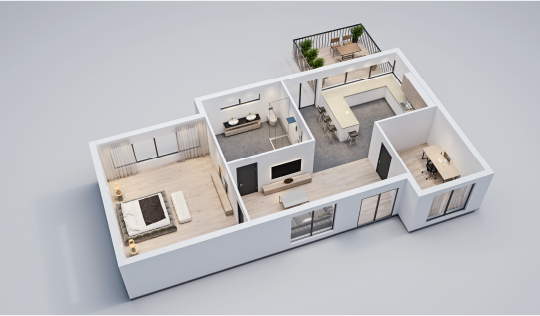 Fisher's interactive and immersive 3D virtual tours allow potential buyers to stroll through listings any time of day on the phone or computer.
Buyers can get an immediate and true sense of the home, speeding up the decision making process. During the tour, REALTORS® can point out unique features with text overlays, embedded videos and product descriptions.
"Virtual tours hadn't taken hold until recently," he says. "I was always trying to educate my clients about it. Yes, it's spending a little extra money. But the pandemic has only accelerated the process, and I believe virtual tours will become a mainstay."
He agrees there is no promise you will sell the house because you pay for virtual tours. It's always a risk. But the risk is not crazy expensive. However, for those agents who only sell one or two homes a year, it may not be worth the extra investment, he explains.
"Some agents don't even know about the technology," he says.
While it's not a relatively new technology, some people just stay in their lane and stick to photography.
"Photos are important. But the tour allows people to physically move about the space and understand the flow of a house. It can turn the tide of someone's decisions," Fisher says. "If someone sees the video and becomes interested in seeing the house in person, that definitely qualifies that buyer as a potential buyer because they know the floor plan, flow and features of the house," he adds.
Ninety percent of agents using virtual tours say it helps them build a stronger brand in the marketplace, and 95 percent of people are more likely to call about homes with 3D walk-throughs, according to a Matterport survey.
Other Technologies to Choose
Not only can you make your own virtual tour or pay someone else to create virtual or 3D tours of your listings, you can also offer your clients other add-ons to enhance the look of the listing and intrigue more buyers.
Virtual Staging – This is when furniture and accessories are added virtually to an empty room. You can also take a room with furniture that's outdated, virtually remove it and then add in newer furniture.
Dollhouse View – The Matterport 3D camera allows you to offer a dollhouse image of the space. It shows the entire home as if it were a dollhouse giving you the angles and the flow from one room to another.
Drone Virtual Tours – The advantages of having drone videos for the outside of the home comes down to information. It can show the proximity to nearby schools, parks, shops, a golf course and more.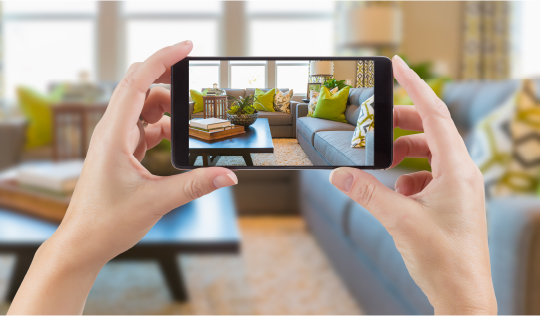 Making Your Virtual Tours Sizzle
Whether you plan on hiring someone to do your virtual tours for you or you use your own camera, the experts have some tips to make everything better.
If you make the video yourself, make it buyer-driven, not agent-driven, Koenekamp says. "Everyone is afraid they might say something wrong. But consumers love realism."
Make sure light bulbs are working, the beds are made and blinds are opened up, Fisher says.
"Everything will be seen on the tour. In photos, you can keep certain rooms closed off. In virtual tours, there is full transparency in a space."
Don't just show them the home, show them the neighborhood, the local shopping center, the park, and drive past the school, Koenekamp adds. "You are selling a lifestyle."
Include the closets if they are organized. "The majority of homes shown online right now only show the bedrooms and not the closets," Hampton says. "Highlight them if they are good."
Show little vignettes in a room. "Get creative within certain rooms. Show how it can be lived in," Fisher states.
"A lot about real estate is still the seeing and touching," Hampton says. Until we can get back to where people are completely comfortable going inside homes, virtual tours can be a big help to your business.
Lee Nelson is a freelance journalist from the Chicago area. She has written for Yahoo! Homes, TravelNursing.org, MyMortgageInsider.com and REALTOR® Magazine. She also writes a bi-monthly blog on Unigo.com.