Help REALTORS® & Your Community Through Economic Development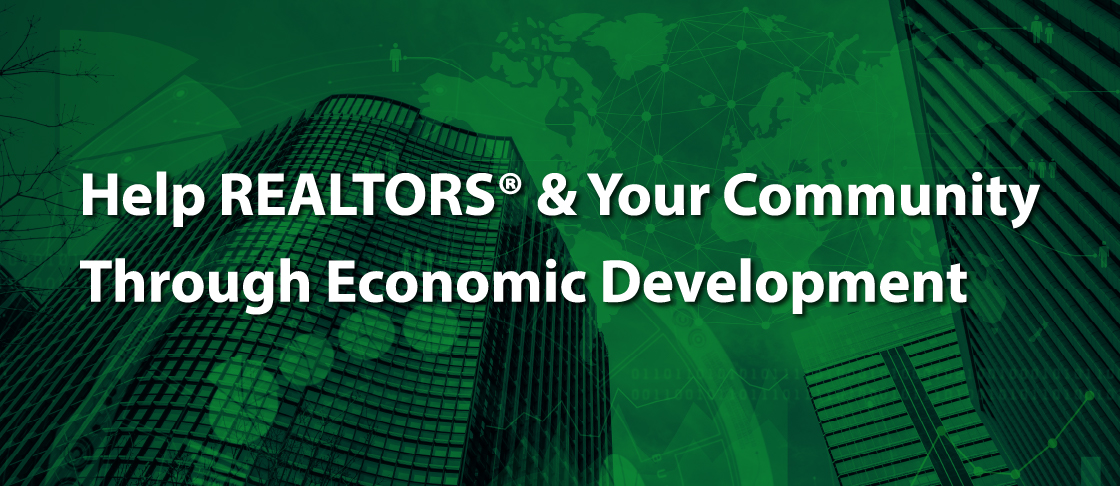 BY NICK SCARCI
Political Operations Director
Every local association should be involved with economic development. Economic development and real estate share a natural connection. Your member benefits  and community benefits have made it easier for you to play a role.
What is Economic Development?
Economic development is the process by which a community grows by attracting good-paying jobs and desirable amenities. Economic developers work to sell their  community to a business, developer or investor. They bring new life to town.
How Does Economic Development Help the Community?
Economic development benefits the community as a whole; strengthening its economy and vitality. It creates an opportunity to improve peoples' lives. It increases tax revenue so the government can provide more services with less reliance on residential property taxes.
How Does Economic Development Help REALTORS®?
As economic development brings more jobs into the community, there is an increase in people who need to buy a home. Th us, residential REALTORS® gain new  buyers and inventory. Likewise, commercial REALTORS® gain new buyers and development opportunities as businesses need land or to repurpose existing  facilities. Additionally, new development needs management, which leads to property managers gaining new clients.
How Can REALTORS® Help?
There are many ways REALTORS® can help local economic development succeed. First, economic developers need sites for businesses to use. Commercial  REALTORS® are experts at selling sites. Second, most economic developers need government financial support to operate and make deals. REALTORS® are a  strong voice for advocacy to support economic development activity. Finally, economic developers sell their community to new businesses. REALTORS® are the experts in selling their community.
How Do REALTORS® Get Involved?
Make 2021 the year you help your community grow by getting involved with economic development. NC REALTORS® made a simple step-by-step process  available. Late last year, the NC REALTORS® Economic Development Committee updated its economic development toolkit to encourage more local associations to participate in this vital field.
Luckily, North Carolina already has great people working across the state to make sure our local communities continue to grow and thrive through economic  development. Additionally, our associations have wonderful people who can help them achieve success. Our NC REALTORS® Regional and Shared Government Affairs Directors (GADs) are trained to help you through this process. GADs can make an introduction to your local economic development organization and educate  your members about how economic development works. Your members can then build relationships that will help both economic development and themselves.
The revamped economic development toolkit covers these topics and many more. We encourage you to check out the toolkit at  ncrealtors.org/2020EconomicDevelopmentToolkit and consider participating in Economic Development at your local association this year.
For more information about economic development, please contact Nick Scarci, the Economic Development staff liaison, at nscarci@ncrealtors.org or contact your  local NC REALTORS® Government Affairs Director.
---