INSIDE NC REALTORS®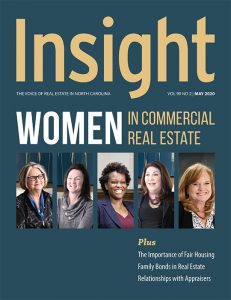 One of the greatest impacts NC REALTORS® have on their communities is the coordinate efforts and immediate response to help those in need—even during a pandemic. This year's NC REALTORS® Give Back Day shifted to a virtual collaboration of philanthropic activity, and we were blown away by the response. When REALTORS® come together, communities thrive. This is only a snapshot of the many activities and service projects submitted by our members and local associations. Visit ncrealtorshf.org/news for more stories and photos of this year's event. #NCRGivesBack
A. Carteret County Association of REALTORS® took their unused travel funds and donated $3,000 to three local food banks ($1,000 each).
B. Colleen Blondell, a board member of the REALTOR® Foundation of Wake County, organized a neighborhood card-making campaign that produced over 100 cards in efforts to cheer up Duke University Hospital patients.
C. Bea Mattice of EXIT Realty Vistas in Arden, N.C. made hundreds of masks for local hospital workers, real estate agents and their families.
D. Anna Harvey, NC REALTORS® Government Affairs Assistant, partnered with the Raleigh Dream Center and Wake County Public Schools to distribute hot meals to kids in need.
E. Members of the Brunswick County Association of REALTORS® teamed up with a local non-profit organization and donated several carloads of cereal, spaghetti dinners and over $4,000. All donations will help feed less-fortunate members of the community during the coronavirus pandemic.
F. Mid Carolina Regional Association of REALTORS® Community Outreach Committee members deliver gloves and masks to the Moore County Aging Outreach Services.
G. An energetic group of volunteers from the Union County Association of REALTORS® helps build a new Habitat for Humanity house.
H. Volunteers from the Union County Association of REALTORS® proudly wear their NC REALTORS® Gives Back Day t-shirts and masks while building a house.
I. Kathryn West with Berkshire Hathaway HomeServices and a neighbor have been cutting fabric for masks as part of the Masks Now Coalition. These masks are distributed to emergency room staff at UNC Hospital.
J. Lolita Malave and several friends made over 1,000 face masks for people in homeless shelters, medical facilities, the Greensboro Science Center, nursing homes, Masks for Heroes and people throughout the country.
Click on a thumbnail to view the entire photo.