3,000+ members attend NC REALTORS® meetings each year.
Some of the most invaluable benefits of NC REALTORS® membership are the EPIC networking opportunities. Networking with your peers keeps you abreast of what other real estate professionals are seeing and facing on the ground, in-tune with the latest strategies and trends and aware of potential teaming and lead-sharing opportunities. NC REALTORS® provides numerous opportunities to mingle with your peers, industry insiders, thought leaders and more at our annual meetings and a few standalone, targeted events throughout the year.
Join us at some of these events below, and maximize your membership value through networking.
Interested in being a speaker at an NC REALTORS® event? Submit your proposal here.
Mobile App
Members now have access to event-specific information at their fingertips with NC REALTORS® mobile app via Yapp. Find information such as event schedules, speaker information, presentations, event photographs, venue information, social media conversations and more during Vision Quest/Winter Leadership Meetings, Legislative Meetings and our annual convention, XCHANGE.
We invite you to join us for some of the events below, and maximize your membership value through networking.
Vision Quest/Winter Leadership Meetings
January 23 – 25, 2018
Grandover Resort & Conference Center, Greensboro
January 15 – 17, 2019
Grandover Resort & Conference Center, Greensboro
Kick off the year with innovative programming and leadership training, designed to give you the confidence and courage needed to effectively lead in your association, workplace and community.
Legislative Meetings
June 4 – 6, 2018, Sheraton Raleigh Hotel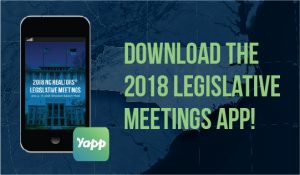 The Legislative Meetings are extremely important to REALTORS® across North Carolina. It is an opportunity for members to convene in Raleigh and address important issues that will be discussed during the current session of the General Assembly. Join your peers to hear about these and other issues that will impact REALTORS® and the North Carolina real estate industry. The meetings wrap up with Legislative Day at the General Assembly, when hundreds of REALTORS® from across the state walk the halls of the legislature and talk to their elected representatives in the House and Senate.
NC REALTORS® Convention & Expo
XCHANGE '18
September 15 – 18, 2018, Wilmington Convention Center, Wilmington
xchange18.com
The largest and most popular event of the year aims to inspire, motivate and educate nearly 1,000 NC REALTORS® from across the state. Revamped in an entirely different format centered around hands-on workshops where REALTORS® and industry and community members tackle issues together that matter most to REALTORS®, as well as mini and hour-long sessions and workshops where you can address your real time challenges and answer your burning questions on-site, XCHANGE '18 will provide instant value. Need a marketing plan, a business plan, or a budget? Bring your information, your team, and your questions, and our workshop facilitators will work with you in small groups and one-on-one, so you can leave with actual plans and solutions in hand. Talk about instant gratification! As always, you have the enviable opportunity to meet face-to-face with influential real estate decision makers and learn about new products and services to help your business thrive.
State of Real Estate, September 15, 2018
Wilmington Convention Center, Wilmington
NEW! XCHANGE '18 kicks off with North Carolina's only statewide State of Real Estate event. The day-long program includes an influencer panel, hands-on workshops, lunch, and trolley tours. Separate registration and costs are required to attend.
Inaugural Installation, September 17, 2018
Hotel Ballast Wilmington Grand Ballroom, Wilmington
Celebrate the installation of the new president and leadership of NC REALTORS®. Held in conjunction with XCHANGE '18, this event inspires and motivates the membership for 2019. Separate registration and costs are required to attend.
Regional AE Conference
July 14 – 17, 2018
Hyatt Regency Savannah, Savannah, GA
regionalaeconference.com

Targeting local association executives in Georgia and North Carolina, this annual event is a forum to share what is happening at the national and state levels and how issues and opportunities impact members at the local level. This event provides association executives, from CEOs to directors to managers, epic opportunities to network with their peers from other associations. Attendance at this event offers an estimated 16 hours of Professional Development Training that will count towards Core Standards requirements. The event rotates locations each year between the two states.
Who to Contact