Legal Quiz: A Recap of Our Most Popular Weekly Q&As (August 2019)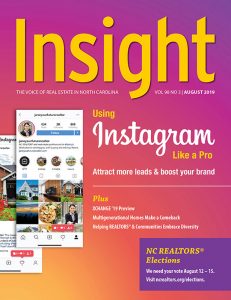 BY: WILL MARTIN, GENERAL COUNSEL
To learn more about each Q&A listed here, visit ncrealtors.org/resolve-library and search by the Q&A title or browse by category. Both are referenced in the parenthesis at the end of each question.
QUESTION #1 »
Assume seller signs an Offer to Purchase and Contract (form 2-T). At the same time, they tell their listing agent that they want to remain in the property for a period of time after closing. The listing agent calls to tell the buyer agent that the sellers have signed the offer and that he will send the buyer agent a Possession After Closing Agreement for the buyers to sign. When the buyer agent presents the Possession After Closing Agreement to her clients, they refuse to sign it. Is the property under contract?
QUESTION #2 »
Does a Mineral and Oil and Gas Rights Mandatory Disclosure Statement have to be provided on a sale of vacant land?
QUESTION #3 »
Should property owned by a trust be listed and sold in the name of the trust or the trustee of the trust?
QUESTION #4 »
If a buyer wants the seller to agree to make a particular repair to the property before the buyer will agree to buy the property, which form should be used to identify the requested repair, the Additional Provisions Addendum (form 2A11-T) or the Due Diligence Request and Agreement (form 310-T)?
QUESTION #5 »
May a buyer request that language be added to an Offer to Purchase and Contract that would make a FSBO seller responsible for paying my firm's fee?
QUESTION #6 »
In order to create a real estate team, is there a requirement that the team have its own real estate license?
QUESTION #7 »
Would an investor buyer have the right to show property he has closed on to potential tenants during the time the seller continues to occupy the property under the terms of a Seller Possession after Closing Agreement (form 2A8-T)?
QUESTION #8 »
How does the Offer to Purchase and Contract address the transfer of property subject to a lease?
QUESTION #9 »
May I use a name other than my legal name in the real estate business?
QUESTION #10 »
Is a closing attorney required by law to record the deed before he or she can pay a commission out of his or her trust account to a real estate broker?
DID YOU KNOW?
NC REALTORS® have free, unlimited access to our Legal Hotline and lawyers with more than 35 years of experience. Call 336-294-1415 or email legalhotline@ncrealtors.org with any questions regarding contracts, forms, fair housing, disclosure and more.
Answers
Question 1: Maybe yes, maybe no. The buyers can argue that the property went under contract when the listing agent communicated to the buyer agent that the sellers had signed the offer. See the definition of "Effective Date" in paragraph 1(g) of the contract. On the other hand, the sellers can argue that no contract was formed since the sellers' acceptance was dependent on them being able to stay in the property after closing, and thus there was no "meeting of the minds" on all material terms of the contract. In any event, the listing agent clearly "got the cart before the horse" and that has created uncertainty which needs to be resolved. (Counteroffers and the Effective Date in Standard Form 2-T, April 4, 2019, Category: Contract Law)
Question 2: No. (When does a seller have to provide the Mineral and Oil and Gas Rights Mandatory Disclosure Statement? April 11, 2019, Category: Disclosure)
Question 3: Property held in the name of a trust should more properly be considered to be owned by the trustee for the benefit of the beneficiaries named in the trust instrument. However, for purposes of selling trust property, it can be listed and sold in either the name of the trust or the trustee. (How should I list property that is titled in the name of a trust? April 18, 2019, Category: Forms/Seller Forms—100 Series)
Question 4: The repair request should be identified in provision #4 on the Additional Provisions Addendum and the Addendum submitted as a part of the buyer's offer. (Which form should be used to request repairs of the seller? April 25, 2019, Category: Forms/Addenda to Offer to Purchase and Contract)
Question 5: Yes, but only if the buyer or the buyer's attorney drafts and physically adds the language regarding payment of the fee to the offer. (Can language regarding payment of my brokerage fee be added to an offer? May 2, 2019, Category: Real Estate License Law/Rules)
Question 6: Not all teams need to have a firm license. Instead, a team's organizational structure and its advertising will determine what it must do to comply with the License Law and the Real Estate Commission's rules. (If I form a team with another agent, will I need a firm license? May 9, 2019, Category: Real Estate License Law/Rules)
Question 7: Likely not. Unless a landlord reserves the right of entry in the lease, the general rule is that the landlord has only the same right as any other person to enter the leased property. Form 2A8-T does not have a provision allowing the landlord to re-enter the property for any reason. (Seller Possession after Closing and Buyer's Right of Entry May 16, 2019, Category: Forms/Addenda to Offer to Purchase and Contract)
Question 8: It doesn't, but provision #3 in the Additional Provisions Addendum does. (How should the transfer of rental property be addressed in an Offer to Purchase? May 23, 2019, Category: Forms/Addenda to Offer to Purchase and Contract)
Question 9: It's likely okay to use a nickname in place of a legal first name so long as your actual name can be easily determined from your nickname. Otherwise, probably not unless you also include your legal name. (May I use a name other than my legal name in the real estate business? December 13, 2018, Category: Real Estate License Law/Rules)
Question 10: Yes. The Good Funds Settlement Act states that an attorney may not disburse funds from his or her trust or escrow account until the deeds, deeds of trust and other required loan documents have been recorded in the office of the register of deeds. (Can a broker get paid a commission before the closing documents have been recorded? November 15, 2018, Category: Fees/Commissions)