Legal Talk: Don't Keep Recent Construction or Renovations a Secret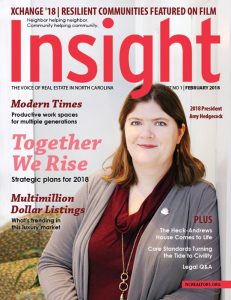 BY: RICK POE | ATTORNEY, LANCASTER, TROTTER & POE, PLLC
Sally is a very successful agent who specializes in marketing and selling homes in the close-in and highly desirable neighborhoods of one of the largest cities in North Carolina. Most of the homes in these neighborhoods are in the process of being fixed up and substantially improved by their owners, and those that have not yet been updated are being targeted by investors who want to flip them. Here is a recent exchange of emails with her favorite attorney, Ron.
SALLY: Hey Ron! Just got your email asking me about my Spring Street listing and if I knew how much, if any, the current owner has spent improving it. I will be glad to try to find out, but why are you asking?
RON: Well Sally, under the recently revised N.C. lien law, any construction or renovation project that exceeds $30,000 carries with it a requirement that the owner/contractor appoint a Mechanic's Lien Agent and register that appointment on the liensnc.com website. Once that is done, any contractor or subcontractor that performs work or supplies materials to that project site is supposed to register its claim on the project site. All registered contractors must sign some type of lien waiver or subordination before we can complete our closing.
SALLY: That is good information, but how does this involve me?
RON: Well first of all, it is better practice if the agents involved in the deal give some notice to the closing attorney that recent improvements, exceeding $30,000 in cost, are involved in the transaction. The preferred way would be to address this at the time the Offer to Purchase and Contract is being prepared and either use the Due Diligence Request and Agreement (Standard Form 310-T) or use paragraph 4 of the Additional Provisions Addendum (Standard Form 2A11-T) to describe the agreed upon improvements to be completed. A cost estimate would also be extremely helpful since the $30,000 threshold is what triggers the Lien Agent Requirement.
SALLY: I don't know what things cost as far as construction goes.
RON: Well, I understand that, but it is important to ask these questions of your client and his general contractor now and at least describe the improvements to be completed on the Additional Provisions Addendum so the closing attorney will have some idea if they are going to be over the $30,000 threshold.
SALLY: How would the real estate agents help in this situation?
RON: Glad you asked! Let's assume that the contractor did everything correctly, appointed a lien agent and registered on the liensnc.com website. Let's also assume that four subcontractors also registered on the site. The real estate agent would assist the closing attorney by providing contact information for all subcontractors and also getting the proper lien waiver forms to them for signatures and notaries prior to the closing.
SALLY: What happens if someone who has worked on the project did not register on the website?
RON: Good question! If a contractor's first visit to the jobsite was within 15 days of the closing, he is protected and only has to sign a lien waiver. Obviously, we are counting on the honesty of the general contractor. If a contractor worked on the site more than 15 days prior to closing and failed to register on the website, we will not know about him or her and that person will be at the mercy of the general contractor to get paid.
SALLY: Well this is something that I will add to my transaction checklist immediately. Can you talk at my next sales meeting and tell all my agents about this?
RON: Would be glad to. See you then!
---
ABOUT RICK
Richard S. ("Rick") Poe is an attorney that practices in Charlotte and is a partner of the law firm of Lancaster, Trotter & Poe, PLLC. His practice is concentrated in the area of residential real estate and his firm represents many buyers, sellers, builders and developers in the Charlotte area. Rick is also a member of the Joint Task Force forms committee comprised of representatives of the North Carolina Bar Association and NC REALTORS®.