Making Your Mark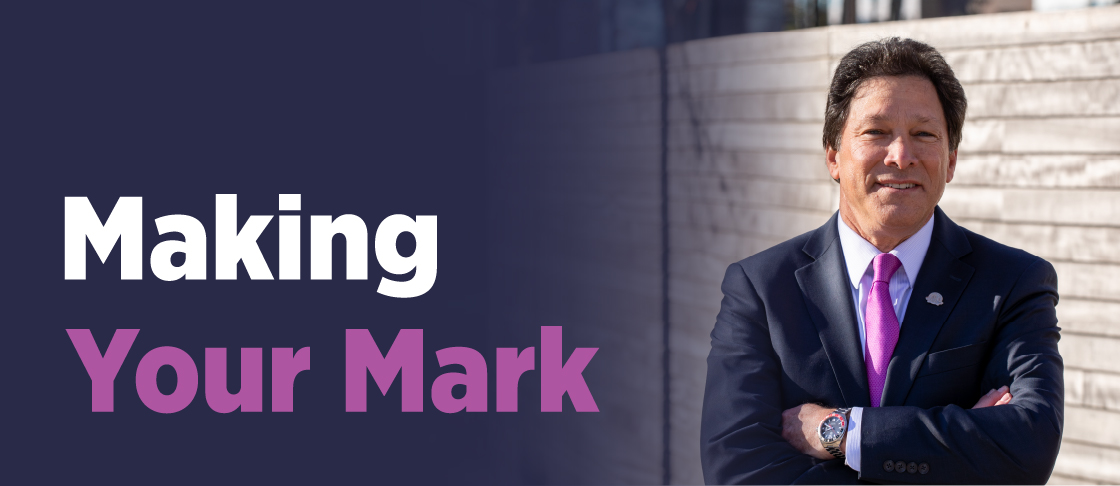 How 2021 NC REALTORS® President Kelly Marks plans to support and celebrate NC REALTORS® members this year.
We made it to 2021, and no one is more thrilled than NC REALTORS® President Kelly Marks. Not only does he take his place at the virtual podium during the association's centennial celebration, but he also takes this position of leadership during a pivotal moment in our association's legacy. And Marks takes this role very seriously.
For the past 100 years, NC REALTORS® has proven that we are the driving force in shaping North Carolina and the communities we serve. The men and women of this organization have fought hard for the real estate profession, tax reform, equal opportunity and affordability. We've weathered the storms of war, depression, recession and most recently, a pandemic.
Our history proves that REALTORS® matter. But that's only half the story. One hundred years of achievements and lessons learned now bring us to this pivotal point. Where do we go from here?
President Marks is prepared to have those conversations with you this year. He is determined to help you find your value proposition. He is eager to share the ways NC REALTORS® supports you and your business success. He is prepared to continue the important discussions on diversity, equity and inclusion. He is ready to turn the spotlight on you and the many ways you contribute to your industry and community.
But, before we do that, let's take a look at the man behind the Zoom screen. Marks is a 36-year real estate veteran and has served at the local, state, and national levels of the REALTOR® organization, including consecutive terms as NC REALTORS® Treasurer. He's also very proud of his work in the Triad community. But there is more to him than just the accolades. Insight Magazine caught up with President Marks to learn more about his real estate background, why the REALTOR® organization is vital to business success and what hopes he has for the future of the industry and this association.
1. Why real estate?
I secured my real estate license while at UNC-Chapel Hill with absolutely no thought of ever being in the real estate profession. I intended to use the license to better understand buying and selling real estate as my parents were always in real estate investments by building apartments. My mother and brother became REALTORS®, and I worked for the world's second-largest computer company. I quickly got frustrated with the corporate world, and since I had been helping my brother, John, with his real estate business, I decided to try real estate as a career for a one-year experiment. Obviously, the experiment was a success.
2. What advice would you give a new agent?
The best tip I have for any new agent is to invest in education with REALTOR® designations and create a network with other agents with those same designations. I also recommend that you do not become a "secret" agent where no one knows what you do for a living. Tell EVERYONE you know!
3. What is your essential tech tool as a REALTOR®?
The tech tool I rely on more than anything is a smartphone. Enough said.
4. What is your favorite thing about being a REALTOR®?
I enjoy being a REALTOR® for the opportunities it provides me to impact others every day.
5. What is your favorite part of living in Greensboro?
Greensboro has been a wonderful place to live and work. Our parks are top-ranked, sports have always been good, the PGA Tour is played here and there is plenty to do within 90 minutes of the city. Being geographically central, it is easy to travel to the beach and mountains, to Washington and Atlanta and beyond.
6. What is one thing you can't live without?
I cannot live without a positive attitude, determination and laughter. You must have a positive attitude to see the possibilities and not waste opportunities. You need determination to get through the obstacles of life and business. A sense of humor will get you through daily challenges and brighten your and others' days.
7. What was your first job?
My first real job was working in a Hardee's restaurant at the age of 15.
8. What is #1 on your bucket list?
I would love to travel more than I do. Australia and New Zealand are high on my "bucket list" of destinations.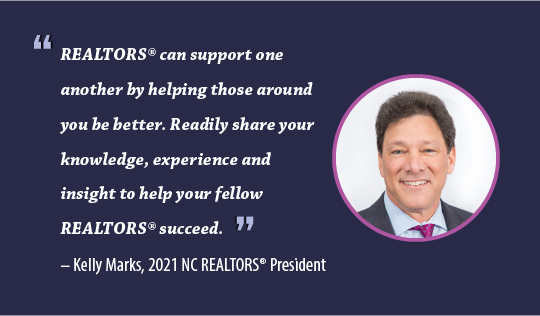 9. Tell us an interesting fact about yourself.
Most people might find it unusual for a southern boy to learn to play ice hockey, and it is. I played in the Greensboro recreation league and then went to Toronto for ice hockey camp. I wound up playing through college for the UNC Club Team, where we won an ACC Championship over Duke. After graduation, I decided to quit hockey since I had all my teeth and concentrate on golf where I did not have to worry about it.
10. What is your favorite motto?
I live every day understanding that there are people on this side of the "grass" and the other side of the "grass" that would love to have my worst day and even my problems. I try hard to make the most out of each day and do something positive.
11. What is your greatest life accomplishment so far?
I have been truly fortunate to have many highlights in my life, such as serving on charitable boards, being involved with the Guilford County School system, serving in a leadership role with the Greensboro Jaycees when the organization grew to be the largest chapter in the U.S. and second largest in the world, and being General Chairman of the 1993 Kmart Greater Greensboro Open (a PGA Tour event). My leadership within the REALTOR® organization has been my most significant professional accomplishment, and of course, my family has been more fun than I ever thought it could be, which is incredibly rewarding.
12. What is the biggest hot topic in real estate now?
The hottest topic in real estate is the low inventory levels of homes in most marketplaces throughout the country. Building can only do so much to get us out of a 10-year gradual reduction in housing availability, which is driving up pricing and reducing the ability to have affordable housing.
13. How did you get involved in the association?
My involvement with the Greensboro Regional REALTORS® Association was limited to occasionally teaching orientation and participating in events. One day, I received a call from Past President Jolaine Lanier, who wanted me to run for the Board of Directors (BOD). A few days later, I called her to tell her that I would run, but she said that she no longer wanted me to run for the BOD but for president. I ran for president and won. That started my leadership career in the REALTOR® organization.
14. What is the most valuable NC REALTORS® member benefit?
I believe that most REALTOR® members would feel that the most important member benefit is forms and contracts. Hopefully, an Association Health Care Insurance program can be realized in 2021, which might be a distant second.
15. What are your goals for your term as president of NC REALTORS®?
NC REALTORS® is now approximately 51,000 members strong and is the seventh-largest state REALTOR® association. My priorities as president include the continuation of the Fair Housing initiatives and increased awareness and education for leadership and members. Once federal hurdles are cleared, Association Healthcare Plans for our members is a high priority as the prohibitive cost of healthcare has led a significant percentage of our members to have no healthcare coverage. And as always, I want our members to understand that they are a priority and that NC REALTORS® provide them numerous services to help them in their business.
16. Why does homeownership matter?
Homeownership is the "American Dream." It provides wealth accumulation and improves one's net worth, typically 30 or more times greater than renting. Homeownership results in an improved economy through investing in home updates and maintaining a home. And those who own homes are more likely to be more involved in the community, and the children are more likely to perform better in school.
17. How can REALTORS® support each other?
REALTORS® can support one another by helping those around you be better. Readily share your knowledge, experience and insight to help your fellow REALTORS® succeed.
18. What is the biggest change you would like to see during your term as president?
REALTORS® have a responsibility to treat everyone fairly, equally and without any bias or prejudice. We are privileged to be in a profession that impacts others as much as it does, and we should not lose sight of how we can change and impact other's lives. The least little thing that we do or say can give the impression of "steering" our clients when that is not intended. Education and training will be necessary for both the leadership and members of this organization.
---