Mastering the Art of Listening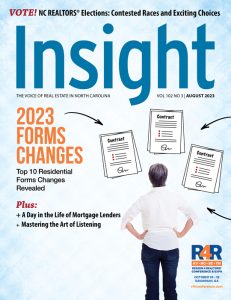 HOW LISTENING SKILLS PROPEL YOUR BUSINESS  FORWARD
BY LEE NELSON
According to Kristie Ferguson, not truly listening to someone  when they've decided to engage in a conversation or open up  is one of the fastest ways to lose trust. "Effective listening is the most efficient way to connect with other people," remarks  Ferguson, broker/owner of Ferguson Realty, Gastonia, and  instructor/owner of Agent Academics. "Both of my businesses'  success is contingent on the human connection and the  relationships that I'm able to build with clients and real estate professionals who either take my  courses or sit across from me in a transaction.
Being a good listener not only improves relationships but can save time and effort, help solve  problems and improve accuracy. "One of the most overlooked communication skills is listening," says Brenda Bailey-Hughes, a teaching professor at the Kelley School of Business at Indiana  University in Bloomington, Indiana. "Listening, like any skill, is something that can be learned."
BUILDING UP YOUR LISTENING PROFICIENCY
Bailey-Hughes and her fellow faculty member, Tatiana Kolovou, have offered the online course  "Effective Listening" on LinkedIn since 2015, with many real estate professionals enrolling in the program. The course has reached nearly 1.5 million listeners in English and has attracted  another nearly 300,000 learners in various other languages, including Portuguese, Spanish,  French, German, Chinese, and Japanese.
When an agent listens to a new client discussing their preferences for acreage, proximity to  school districts and the importance of community, it's essential to not only summarize their  words but also understand the underlying emotions, if possible. "Instead of saying that you have three properties for them, really grasp what you are hearing. Try to capture the top-level  essence of what they said," Bailey-Hughes advises.
Additionally, agents should try to discern the emotions expressed by their clients. By  acknowledging these feelings, such as saying, "It sounds like it's really important to be in your  new home before the holidays," agents can better connect with their clients and cater to their  needs.
Teresa Pitt believes effective listening involves using your ears, eyes and heart. "Be present,  responsive, and maintain eye contact," says Pitt, the 2023 President of the Raleigh Regional  Association of REALTORS® and an agent with Coldwell Banker Howard Perry & Walston in  Raleigh.
"Heed key words, ideas and facts to help with focusing," she adds. "Be conscious of posture  and display traits such as alertness and empathy, if or when the conversation deems.  Attentiveness will aid in watching for verbal and non-verbal signs."
UNDERSTANDING THE DIFFERENT TYPES OF LISTENING
Bailey-Hughes suggests that there are several types of listening that can significantly benefit people's personal and work-related relationships. Here are a few examples:
Active listening: This type of listening demonstrates to the speaker that you are genuinely interested and care about what they are saying. Bailey-Hughes recommends paraphrasing back to the person what they said to show your understanding. Nonverbal cues such as eye contact and nodding are used to further convey your engagement.
Empathetic or relationship listening: "Everyone wants to talk about themselves," she says. This form of listening is about being attentive, compassionate, and kind, making the speaker feel heard and valued.
Detail listening: This involves paying close attention to all the information provided and carefully evaluating what is said. In a real estate professional's situation, for example, you are absorbing all the details shared by your client and analyzing potential challenges or concerns. Doing so lets you better understand what type of home will best suit their needs and financial situation.
GETTING PERKS FOR LISTENING WELL
"If you aren't listening, you can waste a ton of time," says Bailey-Hughes. "You will be chasing  down what your potential buyer wants when you really haven't heard what they said. On the flip  side, if you are listening well and saving time, you have a much better chance of getting a lot of  good word-of-mouth marketing."
Sometimes people don't listen well even if they think they are because the subject is boring, or  they can believe the information being delivered is repetitive, states Pitt.
"Monopolizing conversations, impatience and distractions can also hamper listening," she  comments. "But active listening is still the most effective way to help REALTORS® decipher the  true needs and the motivation of their clients."
She admits that occasionally, while explaining a viewpoint to her husband, she gets distracted  and, for a brief moment, loses her train of thought.
"When I ask him to refresh my memory of what I was talking about, he often can't remember the subject matter. On those occasions, I determine he was hearing me but not listening," Pitt says.
Truly listening can build and maintain good relationships no matter who you are with.
Ferguson understands that real estate agents are professional problem solvers.
"If we don't succeed in setting proper expectations with clients and have a hard time getting  them to be honest with themselves and honest with us about their goals, we can misspend  precious time because of inefficient communication," she says.
She started training other agents in 2014 and opened Agent Academics years later to help  agents build their businesses.
"In all courses, there is an opportunity to talk about listening skills," she states. "At the beginning of the course, I encourage people to take notes, ask questions, and get clarifying information if  something doesn't resonate with them."
She also talks about effective communication and how one of our primary ways to help people  is to have comprehensive conversations at the outset of the relationships.
"If we know how to listen effectively, we can spend time helping our clients accomplish their  goals in an efficient matter with few opportunities for miscommunication," remarks Ferguson.
LEARNING OTHER TIPS TO BUILD LISTENING SKILLS
Here are a few more ideas from the professionals on things you can do to make others know you are listening to their wants and needs:
"I'm particularly interested in personalities as they relate to what we value when we need to make decisions and how we like to process information," Ferguson says. "Our clients have different personality types, and the sooner we learn to recognize what their communication preferences are, the more effective we become in our role as a REALTOR®."
"Being aware of gestures and facial expressions in response to conversations are effective practices to adopt," states Pitt. "Mimicking the person in front of you and controlling the tone of your voice can also be helpful tools in the listening process."
Instead of actively interrupting the conversation, write down key words so you'll remember the point you wanted to make or the question you wanted to ask at an appropriate time in the conversation," Ferguson adds.
Don't cross your arms, drum your fingers on the table or rock or sway in an agitated manner while someone else is talking, adds Bailey-Hughes. "You should have a thoughtful response. The first words that come out of your mouth will tell them a lot about how you were listening. That's where paraphrasing can be so powerful."
Train yourself how to listen to people even if they aren't talking, says Bailey-Hughes. "If you are in a meeting or conversation with several people, see if you can identify how different people are feeling about what was being talked about. Read the room." Beneath the words and the nonverbal actions, you can decipher a lot about someone.
---