National Women's History Month Spotlight: Wendy Harris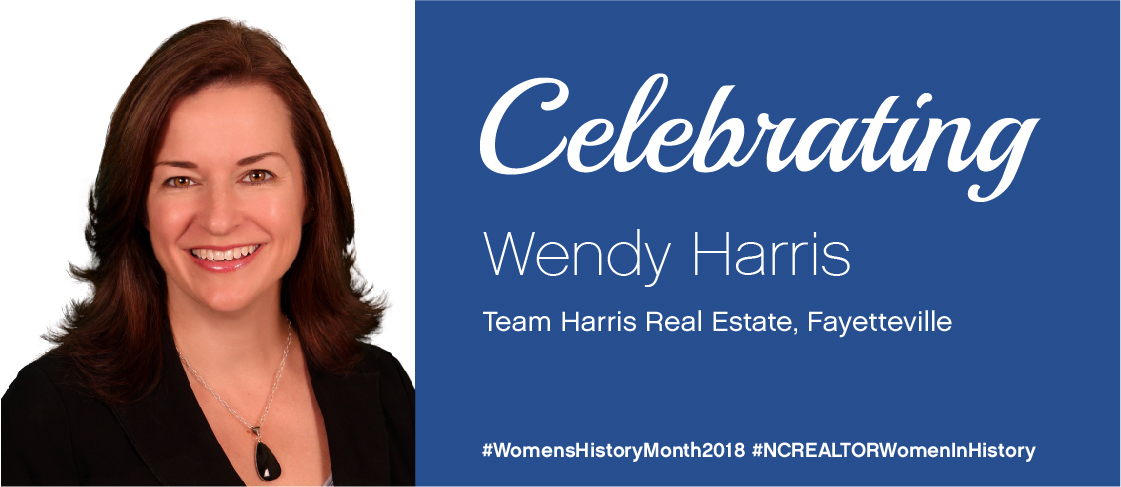 What leadership roles do/did you hold in the real estate industry?
Fayetteville Area Habitat for Humanity, Board Member & Past President
Longleaf Pine REALTORS®, Legislative Chair & Past President
Radio Talk Show Host
What leadership roles do/did you hold in NC REALTORS®?
NC REALTORS®-REALTOR® Champion Award 2017
NC REALTORS®-Leadership Academy-Class of 2014, Commissioner 2016
NC REALTORS® Budget & Finance Committee-Elected Member 2017-2018
NC REALTORS® Service Corporation-Elected Board Member 2016-2018
NC REALTORS® Legislative Committee-Member 2014, 2016, 2017, Vice Chair 2018
NC REALTORS® By-Laws Committee 2017-2018
NC REALTORS® Appointed SPC (State Political Coordinator)-2014-2018
NCHOA Appointed Committee-Member 2013-2016, 2018
PMD (NC REALTORS® Property Management Division) – Commissioner, Chair 2018
What is your role in the industry today?
Active REALTOR®
What is your role in NC REALTORS® today?
Active leadership role
What years were you active in the industry?
2001-Present
What years were you active in NC REALTORS®?
2002-Present
What do you consider your greatest accomplishment in the industry?
Discovering a way to find my voice and be recognized in a very transient market. So much of our community changes over every few years because of our strong military presence. As a REALTOR®, it means you are at risk of constantly having to re-build your business. It can be challenging to get a foot hold in a market that keeps shifting. My father retired here at Fort Bragg, and while my experience as an army brat gives me a special understanding of military homeowners and renters, I could not rest my career in real estate on his past military experience.
What do you consider your greatest accomplishment as an NC REALTOR®?
The recognition and respect of my peers and mentors. I have been so grateful for everyone that has contributed to my success as a woman, a professional, and a leader. To in turn have them recognize me for my choices and actions is humbling and inspiring.
What were the greatest challenges you faced in the industry?
Truly understanding the value I brought and how to translate that message so others could see it without just spelling it out to them. I have always had a strong sense of who I was as a person, but the conundrum was figuring out how to help masses of people also know me in a truly authentic way. It can be a perplexing challenge. Instead of wanting people to think I am the something, I simply wanted to be something and have people recognize it. How do you simply become recognized as being the best or great at something? I knew it wasn't by going around just saying one was great!
What were the greatest challenges you faced as an NC REALTOR®?
I believe it is the responsibility of every professional to give back to the industry that made them successful, just as it is true of giving back to your family and community.
Prior to going through NC REALTORS® Leadership Academy I would say my biggest challenge was finding my place within NC REALTORS®. I was involved and wanting to be more involved, but was still struggling with the hows and whys of NC REALTORS®. The Leadership Academy changed everything. The relationships I developed because of NC REALTORS® Leadership Academy have done more for me in a shorter period of time than any other period of my life, personally and professionally. Every challenge since then has just been a reason to pick up the phone or email and connect with a peer or mentor.
Have you been inspired by other NC REALTOR® women throughout the years? Please name them here and briefly describe how they have impacted you, the industry or the association.
Cathy Callahan was a REALTOR® who worked with my father, Jim Harris, when I moved back to Fayetteville and became involved with real estate. She has since retired, but I remember her handing me a volunteer application and taking me down to the association office to submit it. Jane Cannon and Debbie McFayden of the Longleaf Pine REALTORS® grabbed hold of me and did not let me go. They pulled me in, kept me engaged and informed. They helped me navigate the politics of the association and made me know I was needed and appreciated every step of the way. They corrected me, encouraged me and applauded me consistently through the years. Also, Linda Allen, an affiliate member and great community leader here in Fayetteville took a shine to me. I still don't know the catalyst for the relationship, but she told me we would be having monthly lunches together and we did without fail. She made a lot of introductions for me within the community. Fayetteville lost a great friend with her passing.
Since then I have been inspired by so many women connected to NC REALTORS®. I have developed deep and life-long relationship with not only REALTOR® volunteers, but also staff and affiliates of NC REALTORS®. We are truly blessed with the amount of talent and passion within our association. I am constantly in awe and appreciative of this fact.
---