NC REALTORS® and Local Associations Recognized for RPAC Performance
During the NAR Legislative Meetings, NC REALTORS® was proud to have many of our members and local associations recognized for their hard work and investments in support of RPAC.
The following individuals were inducted into the NAR RPAC Hall of Fame for their lifetime contributions to RPAC. They will each have a plaque placed in their honor at the NAR offices in Washington, D.C.
$25K Level
Connie Corey
Linda Trevor
Ray Burton
Hadi Atri
Maren Brisson-Kuester
Asa Fleming
$50K Level
Leigh Brown
The following local associations were also recognized for achieving the NAR Local Triple Crown and the NAR Local Presidents Cup awards.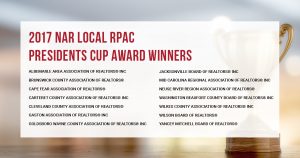 Thank you to everyone for their continued support of RPAC and congratulations on this deserved recognition!