Remembering REALTOR®, Joe Clark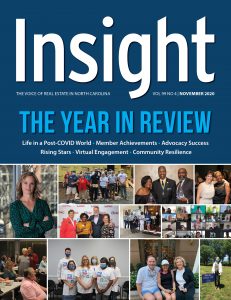 May 6, 1929 – February 5, 2020
Joe Clark was more than just a REALTOR®; he was a hero, mentor and friend to many. He led a 33-year career in real estate with Robins and Weill, Inc. in Greensboro, N.C. as a Certified Property Manager. Joe was very passionate about real estate and dedicated much of his time to service at his state and local associations. He was named NC REALTOR® of the Year in 1981, sat as President of NC REALTORS® in 1989 and served as Treasurer for 13 years. Joe passed away Wednesday, February 5, 2020 in Charlotte, N.C., surrounded by family.
We sat down with friends and fellow Past Presidents, Connie Corey and Lou Baldwin to hear some fond memories of Joe:
"I remember him coming up to introduce himself to me at one of the Conventions. He looked at my badge and said, where are you from and what are your plans for our association. I didn't even know what the association did at this point. So being the young girl I was, I told him, "I have no clue. I'm here for the convention". He laughed. I was serious! Joe told me to stay focused on getting involved. Pick what I thought I would be good at and go for it. Joe was always a great supporter and friend."
– Connie Moore Corey, 2003 NC REALTORS® President
"Joe was my first impression of what an NC REALTORS® President was when I was new to the business in the late 80s'. That was a wonderful first impression that I always carried with me and spoke of at my Inaugural in 2012. Joe was truly one of the greatest!"
– Lou Baldwin, 2012 NC REALTORS® President
Photo at top: NC REALTORS® Past Presidents gather to remember Joe Clark. From left: Lou Baldwin, Treasure Faircloth, Micki Fisher, Connie Corey, Wendell Bullard and Bob Fowler.