Top Tips to be the Best Negotiator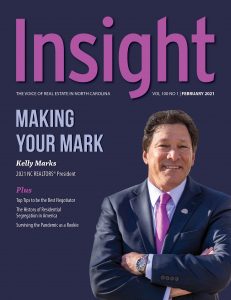 BY LEE NELSON
"Negotiation becomes a big part of life," says Camille Yates.
"We start when we are children. I remember asking my mom if I could stay up later than normal. She replied saying yes, if I cleaned my room first," says Yates, a REALTOR® at both Blue Ridge Real Estate in Hendersonville and Alex MacWilliam Real Estate in Vero Beach, Florida. "We negotiate daily with friends, family, colleagues, spouses/partners, employers, shop owners and many more."
But real estate transactions involve a lot of negotiating because big bucks and many emotions are on the line. And in this day and age of low inventory and low interest rates, the real estate market becomes even more competitive.
"There are many things that REALTORS® help buyers and sellers negotiate. It's not all about price," she adds. "The terms of the transaction are also important such as cash versus financing, time to close or repair requests. It is critical to educate your clients before negotiations begin to set realistic expectations."
Yates earned the Real Estate Negotiation Expert (RENE) designation from the National Association of REALTORS®.
"As REALTORS®, we should continuously educate ourselves so that we can offer superior service to our clients," Yates explains.
She believes the RENE course helped her hone her negotiation skills, enabling her to satisfy more clients.
Why Some Fear Negotiations
"Sometimes negotiating gets perceived as petty or haggling," says Ed Brodow, negotiation expert and author of Negotiation Boot Camp® Seminars.
It's been a cultural thing. Somehow, it's (negotiations) cast a bad shadow on people's character," he explains.
Negotiation becomes all about confrontation, from which many people shy away. But Brodow grew up in Brooklyn, where he says he faced confrontations every day.
"Negotiations can be fun if you have the right attitude," he says. "But many are afraid of losing. They are afraid if they get in a confrontation that they will lose and not get what they want."
Yates thinks people are fearful because they don't want to be rejected, which is why some people don't bother to negotiate.
"Negotiation doesn't start until someone says no. Don't be intimidated. Shy people actually have good negotiation skills that they may not be aware of," she states.
Shy people tend to listen more closely, which means they will better understand the other party, versus an outspoken person who might miss what is being said.
"Negotiation should be thought of as a conversation—a conversation with someone whose interests are not perfectly aligned with yours," Yates says. "The goal is to reach an agreement."
Importance of Boosting Your Negotiation Skills
Now more than ever, Savanna Reagin feels that expanding one's professional development is necessary.
"When COVID-19 hit, we were concerned about how our members would be affected," says Reagin, professional designation manager for NC REALTORS®. "However, the housing market is doing well. Additionally, North Carolina has seen an increase in membership. This raises the competitiveness among brokers in the state."
When potential clients are looking to buy or sell a home, a REALTOR'S® credentials can give them the competitive edge.
"We saw a huge increase in members taking classes, which moved to a virtual and online platform in March of 2020," Reagin adds. "I feel that it was an opportunity for members to gain an edge when it comes to standing out to their clientele. What I saw from my interaction with members—who, for example, started by obtaining one certification or designation—was that they enjoyed it so much that they continued their professional development journey."
Many of the programs overlap with others, encouraging members to pursue additional credentials.
"I always try to mention which classes/certifications/designations count towards others as well as offer my contact information for anyone who wants to continue their education but may not know what to take," Reagin adds.
When Patrice Willetts teaches the RENE designation to other agents, she tells them to work continuously to understand what motivating factor is most important to the parties.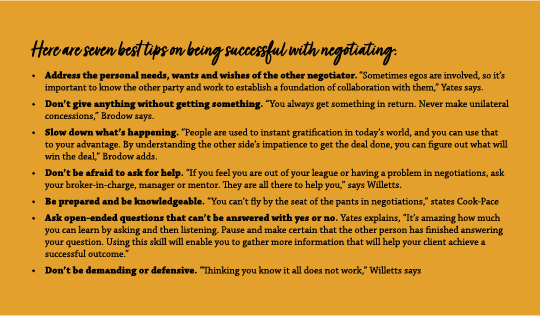 "Listening is key," explains Willetts, broker at The Property Shop International in Wilmington. "You don't just fill in the blanks of an offer and shoot the email over to the listing agent. You need to understand all the pieces, large and small, that will come into play."
She believes and has seen that when REALTORS® have better negotiating skills, they will bring more transactions to a successful conclusion. That not only gains referrals from satisfied clients but also raises self-confidence to venture into areas that might have seemed intimidating in the past.
"I love watching the level of someone's confidence rise," Willetts says as a proud teacher. "To get the call from a broker who says they put the strategy in place we talked about, and it worked. Being a good negotiator is a positive thing."
When Things Could Go Awry
"Negotiation is about the ask," Yates says.
"Sometimes, the way you ask makes a huge difference," she states. "Be assertive, yet tactful and respectful. Acknowledge the other person's needs."
"If the other negotiator asks something of you that is unrealistic, be flexible and present a different option. As a REALTOR®, negotiation is about keeping the deal intact," she adds.
If the other person you are negotiating with is unbendable and uncompromising, Willetts says to take a step back and breathe. Work to find something to which all parties can agree.
Tammy Cook-Pace served as a transaction coordinator for six years with such duties as negotiating repairs once the inspections were done.
"If you aren't savvy, the negotiations process will get the best of you. It was tough, and I didn't want to do it anymore," says Cook-Pace, REALTOR® for HomeTowne Realty in Clayton.
She completed the RENE designation in June. She feels the information helped her to communicate better, even if it's bad news.
"Buyers and sellers want to hear from you. You have to communicate good or bad news," she says. "I learned to compromise without giving away everything."
One of the biggest takeaways Cook-Pace learned through the years and through the class was to focus on what you did to get the end result instead of what you lost. And she feels she changed her communication style by being less panicked and taking the time to breathe.
"Sometimes just being patient can help your side," explains Brodow.
"You don't want to stoke that other person. Present things in a way that they perceive that their needs are going to be met," he says. "Look at the negotiations of the other person's perspective. You don't convince others to do something because it's good for you."
He adds that this type of situation happens all the time in personal relations. You have to show the other person that their needs will be met. "It's simple," he adds.
"Your clients are counting on you," Willetts says.
"It is your responsibility to bring your best to the table as you work to represent your client," she adds.
In every transaction, agents need to understand all the pieces, including finances, inspections and the why behind someone's position.
"You need to be able to offer a new way of looking at an issue and know what to offer as an alternative. Educate your client and use good communication skills to help the other side see the big picture," Willetts adds.
Lee Nelson is a freelance journalist from the Chicago area. She has written for Yahoo! Homes, TravelNursing.org, MyMortgageInsider.com and REALTOR® Magazine. She also writes a bi-monthly blog on Unigo.com.