Upcycling For a Better World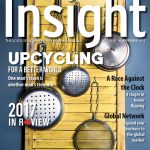 By: Clyde H. Lovelady
One person's trash is another person's dining room table
You're driving along when suddenly you see a pile of someone else's junk sitting on the side of the road. You don't know what it is exactly, but it draws you. Before you realize it, you've already pulled over. As you walk towards it, you make sure that no one's watching; after all, it's just a pile of junk…right? Where does our fascination with the old and discarded come from? We can assume the affects brought on by nostalgia are somewhat responsible for our inability to get rid of grandma's wood organ, but there's something more underlying here, something socially collective that propels us into thrift stores, consignment shops and, from time to time, towards piles of junk tossed on the side of the road.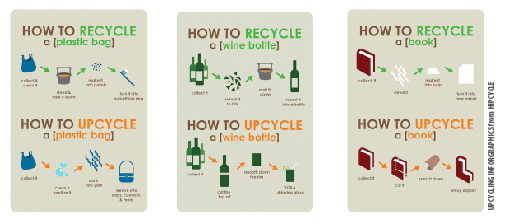 Upcycling — not to be confused with recycling — is the process of transforming otherwise discarded junk into new materials or products of better quality, function and environmental value. And this goes far beyond the scope of those cute yarn toys made for cats that you can find in abundance on Etsy. The term "upcycling" was first used by Reiner Pilz of Pilz GmbH & Co., a German automation technology company, in a 1994 article explaining how it was he could take on such major contracts with only a limited supply of original material:
"Recycling," Pilz said, "I call it down cycling. They smash bricks, they smash everything. What we need is upcycling, where old products are given more value, not less."
Pilz then goes on to recall the supply of a large quantity of reclaimed woodblock from an English supplier for a contract in Nuremberg, while just down the road a load of similar block was being scrapped. "Is this the future of Europe?" Luckily, for Europe and the rest of the world, people are beginning to think more like Reiner Pilz. The idiom "one man's trash is another man's treasure" is being put into action now more than ever before, as people around the world are making the old new again.
 Upcycling at Home
Upcycling provides an economic, personal design approach. Whether you're moving into a new home or just want to reinvent your living spaces, reconstituting one-of-a-kind furniture pieces will create a unique aesthetic that sets your home apart. It's perfect – and inexpensive – for home staging, too. Avoid expensive designer stores and opt for these easy projects that only require a few tools, some paint and a little creativity: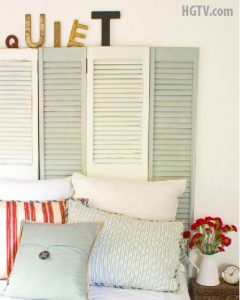 Doors
For the bedroom, repurposed doors can make great headboards. Reclaimed doors bracketed to the wall will give the room a rustic charm. By mounting legs or stands underneath, doors can also serve as dining tables, office desks and console tables. If the wood is old and smells, you can remove the odor by sitting the door out in the sunshine for a few hours.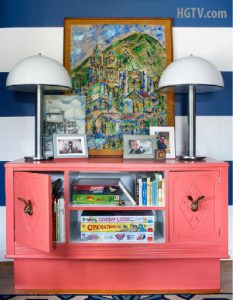 Dressers
Dressers with missing or damaged doors have the potential to become a unique TV console, bench or chair. To make a TV console, remove all the drawers and use the faces as shelves. For chairs or benches, leave one or two drawers at the bottom and nail in the seat above; a dresser-turned-bench makes for a great accent piece in a home's foyer.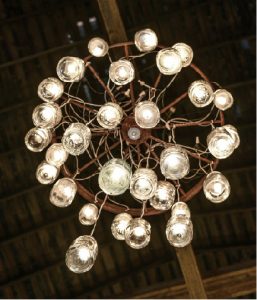 Light Fixtures and Chandeliers
Most anything that can encompass a light bulb can be made into a statement light fixture. Mason jars make great single ornaments or can be hung in groups to create a chandelier. In the kitchen, try hanging a series of illuminated box food graters over the island — the perforated slates will create alluring light contrasts along the walls.
Upcycling as Design
Transcendentalist Ralph Waldo Emerson once said, "To be yourself in a world that is constantly trying to make you something else is the greatest accomplishment." What upcycling provides in the world of design is just that: pure originality. When it comes to design and function, there are endless possibilities that can be created from materials already on hand. For example, you can take an old dresser with missing or broken doors and turn it into an open storage dresser by removing the drawers completely. Open storage dressers are perfect for folded towels, linens or clothes, and add a custom-feel aesthetic to a bathroom's décor. Or, on a smaller scale, unused coffee tins make a great place to house your indoor herb garden — you can even save counter space by attaching magnets and snapping them on your fridge.
Many interior design firms have taken notice. Form and Function, an interior design company based in Raleigh, N.C., focuses their business on upcycling as many items in the client's existing décor as possible. Its retail store also features many upcycled items, including farm trough sinks, old ballet boxes and upcycled animal masks.
Bonny Christy, editor at Furnish My Way, an interior design and fashion company, believes that people are beginning to find the appeal of creating personal, unique items from other items that would otherwise remain unused. "Our generation is very into having personalized items that mean something to us. Upcycling gives us that ability, and we can create an item we love and need from an existing item that is personalized to our taste." By upcycling raw materials and furniture, we are able to it give new life while catering to our needs. Christy believes that by doing this "we are helping the environment on two fronts: keeping more new things from being created when there's already enough, and sending fewer items to landfills because we are upcycling and reusing them."
Upcycling as an Environmental Practice
It's not surprising that Wal-Mart, Target and Ikea have the market cornered on household furniture and most other products. These discount chains are willing to fill our every need at a price we can all afford. The problem, however, is that often the quality of these affordable goods is sacrificed for the low price tag, resulting in an over-accumulation of products with short life cycles. While that IKEA book shelf might be inexpensive and easy to assemble, it may buckle under the weight of actual books and isn't designed to last.
The environmental impact of affordable consumerism doesn't stop at furniture and plastic goods, either. The garment industry is also trending towards things new and inexpensive. Here's a fun fact: It takes 650 gallons of water to produce the cotton needed to make a single t-shirt. That's right, and to get a better idea of just how wasteful this is, imagine taking ten long showers — long enough to thoroughly use up the hot water each time – before throwing on that newly bought t-shirt hanging in the closet. Polyester fiber's no better, taking 70 million barrels of oil to produce the world's yearly supply, but taking 200 years to decompose. What's scarier is that Americans only recycle or donate 15 percent of their used clothing — the rest (about 10.5 million tons) goes to landfills each year.
Jane Speller, a marketing specialist at Paul's Rubbish Removal Melbourne, sees the waste industry and all the problems related with it first-hand. "There are so many things ending up at the landfill that don't belong there. It's not only that the amount of waste could be reduced, but up to 70 percent could be reused or upcycled." She began upcycling as a way to show her own style in fashion and interior design, while at the same time wage her own personal war against pollution. She says that it's not an issue of affordability, rather an expression of the inner artist along with the satisfying awareness that "minimizing the volume of discarded items sent to landfill each year is an easy and creative way to make a change."
Ethical Reasons for Upcycling
It's no mystery that the low-wage working conditions in countries such as China and India are unfavorable, even dangerous. Just in 2013, the Rana Plaza factory in Bangladesh collapse, a devastating event killing 1,133 garment workers, exposing the wide range of abuses connected to the "fast-fashion" sourcing of clothing. Factory labor laws are hardly monitored, and the rising income inequality continues to grow out of hand. According to World Bank, between 2001 and 2003, the income of the poorest 10 percent of China's 1.3 billion people had fallen by 2.4 percent, while it's richest became 16 percent richer.
This is why the shift towards upcycling is so important; not only does upcycling take away from the amount of waste that gets tossed, but it also stops the demand for more useless production that results in unethical labor conditions. Luckily there are a number of companies that are setting the trend for selling upcycled products and fashion, like Hipcycle and Looptworks, who identify and rescue high-quality materials that are left over from premium goods manufacturers.