What's Trending in Landscape Architecture?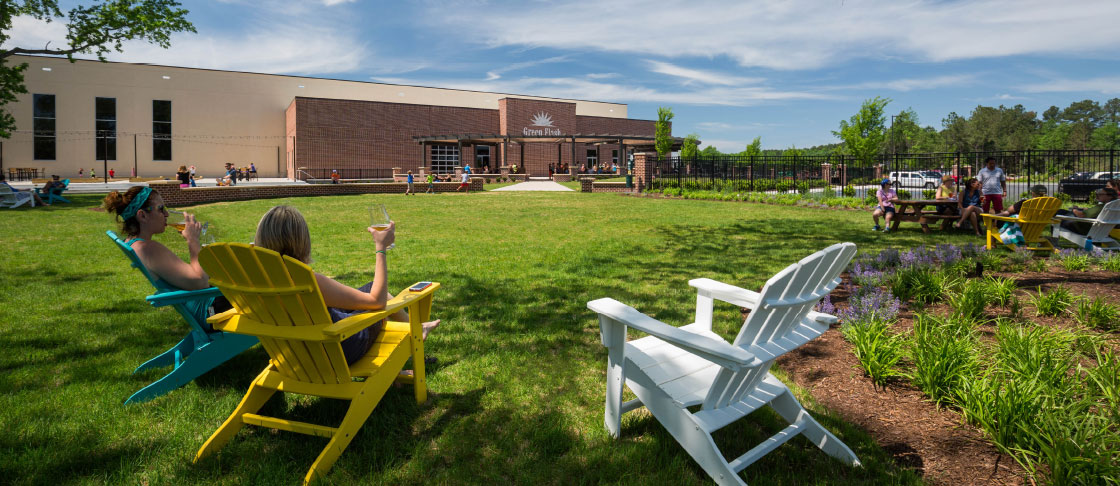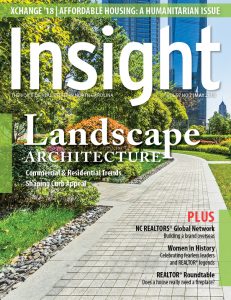 BY: TRACEY GOULD
When most people think of architecture and design, they naturally gravitate towards grand images of the physical building. They see the façade, layout, number of stories, windows, roofline, intricate details, materials and front entry. If welcoming and striking, the landscaping will often catch the imagination, spurring fantasies of rolling in the grass, swinging from a tree swing or fishing in a pond. In fact, landscaping helps to shape a property's first impression. It can make the difference between a passerby or a person buying.
Rarely does the average person consider the landscaping as being integral to the structure, site, performance and occupant experience—all more important than just curb appeal. Landscape architecture, a technical professional service requiring a four-year degree and official license and/or registration in most states, is so much more than trimmed grass and trees. Designed, strategically executed and integrated as part of commercial and residential design at the very beginning of the process, landscape architecture can serve as a solution to social challenges, environmental issues, security concerns, medical conditions and more.
Thomas R. Travella, FASLA, a contributor for TriplePundit, highlighted these high-level benefits and more in a 2012 article, Landscape Architecture is Not Just Decoration. He commented, "landscape architecture provides essential infrastructure that does much more" than decorate. Some landscapes contribute to water conservation efforts and prevent soil erosion. In some cases, it can even clean storm water runoff, as some plants can serve as filtration tools, and landscaping materials and features can reduce erosion and flooding.
With such a big role in overall design and the built environment, as well as communities as a whole, let's look at some of the latest trends that are influencing and shaping landscape architecture in real estate today.
COMMERCIAL/GOVERNMENT
Perhaps the biggest demand for true landscape architectural services are with commercial and government campuses and properties. In these cases, the landscape architect works with the area's surrounding landscape to develop a site solution based on the owner/occupant needs and goals, geography, topography and natural environment. One of the most popular commercial development types today is mixed-use property, which poses unique challenges and benefits from a landscape architecture perspective. "When you start mixing commercial with residential and office, the focus of the site is now more dependent on pedestrian traffic and less dependent on vehicle access," stated Neal Beasley, VCH, horticulture specialist/landscape designer with Timmons Group. "Obviously, there is still a need to plan for cars, since that's how most people to travel to and from, but developers need to plan for people and wayfinding after people park their cars. Bike and walking paths also need to be planned well in advance. Th is is where landscape architecture comes into play from a masterplanning perspective."
WALKABILITY
As a whole, commercial developments and communities are becoming much more walkable by design. Connectivity is important in residential and commercial developments and multi-use trails that bridge developments with community amenities, as well as connect larger corporate campus buildings, are popular. Localities are also trying to connect people and space throughout the community and are integrating these trails into their new masterplans, which are serving to drive traffic to revitalized areas, such as Main Street retail areas, and also spur health and wellness. If there's a network of trails the county is trying to achieve, developers may need to integrate a trail into the site design. This only benefits the developer and community in most cases, as it translates to more people accessing the development and driving more traffic.
The integration of trail elements to developments drives a greater need to focus on safety, especially for aging employees and residents who aren't as confident on their feet. Trails need to be paved and large enough to allow bikes to cruise safely past pedestrian traffic.
WATER FEATURES
While water features aren't as popular with commercial developments today as they used to be—at least in Virginia due to stricter regulations, according to Beasley—on-site stormwater features are now being integrated into the design up front and becoming part of the site experience. Kingsley, a new commercial and residential masterplanned community in Fort Mill, South Carolina, is centered entirely around the lake, which is being used as a vista complete with trails and bench seating. "We're seeing these features a lot in the commercial sector," stated Beasley. Th is live-work-play community includes two hotels, 120,000 square feet of restaurant and retail space, 1.2 million square feet of office space and multifamily housing.
ENTERTAINMENT
Many mixed-use developments are looking beyond traditional common spaces, amenities and social gathering spaces and creating entertainment venues. "The creation of outdoor spaces for people is important," stated Beasley. "There's a renewed emphasis to get back to the outdoors and back to nature." Integrating activities in outdoor spaces is trending right now and run the gamut from bocce ball courts, outdoor chess boards and active sports venues, including whitewater rafting.
One such development in Richmond, Virginia, has a lake with a whitewater feature that blends an exciting level of entertainment in the mix of the site, which has townhomes, high-end multi-family apartments and first-level commercial with upper-level office and/or residential spaces. "Whitewater is an active activity, but four out of five people won't participate in whitewater activities. They will, however, be an active spectator and experience other people doing it. People can get a beer, sit back and watch people do crazy things in the water. That's real entertainment value."
Entertainment value also drives interest from other areas. Restaurants want a piece of the action and want to be located at the end of the strip with an outdoor experience to go with it, including a pergola, live band and specialty lighting. Suddenly a restaurant isn't just a restaurant—it's an experience. "This is really popular with the craft beer industry, where most of the social and drinking areas are outdoors."
What drives developers to make these types of investments in their sites? It's all about competition and the bottom line. Just like retail businesses, developers compete with other developments for traffic and tenants. If one development has added amenities and entertainment value, and a similar development down the street does not, the development with added features becomes highly sought-after—even commanding a premium price.
While incorporating these components is easier with new developments because developers are working with a blank slate so to speak, existing sites can include similar features. Developers, owners and designers simply need to get creative, embrace the development and let the landscape and site really influence the design. With the right approach, renewed developments can include terraces, green roofs and green areas, such as courtyards, that add to the overall usability of a site. The secret is for planners to understand this and actively seek opportunities before the property is redeveloped, so opportunities aren't overlooked.
RESIDENTIAL
Residential developments have their own unique challenges and opportunities with landscape architecture. For larger, single-family, masterplanned communities, the biggest goal is to design spaces that are usable for all people, including senior citizens, and are not ordinary, common spaces, either. Developers and designers need to incorporate features and equipment that homeowners can't include in their own backyard. In a 2018 survey conducted by the American Society of Landscape Architects (ASLA), Residential Landscape Architecture Trends, three must-have design elements stood out for residential spaces by consumers, including fire pits, outdoor yoga spaces and charging stations, and the hottest landscape and garden elements include native plants, low-maintenance landscapes and rain gardens.
Let's explore two of the most popular and luxurious landscaped areas in residential developments.
PLAY
Buyers want the coolest community playground—not the discount warehouse wooden set. Standard recreation pools are no longer desired by the developer or the consumer. Consumers still want water play but in the form of splash pads, and developers want more maintenance-free options.
DINING
Outdoor dining is all the rage today. Small outdoor areas are being integrated into the design with small plazas where people can gather and socialize over food. Complete with fire pits, fireplaces, landscaping, flexible seating, lighting and access to multimodal trails, landscape architects are accommodating more social spaces into masterplans than ever before.
What's driving this new, higher-end standard for common spaces? According to Beasley, the trends are in part being influenced by millennials, "College students are graduating, entering the workforce and moving into their own place. Their quality of life during college—for most of them—was much more luxurious than baby boomers and even Gen Xers," Beasley stated. "Th ink back to your college dorm life. It was likely bare bones. We didn't even have air conditioning. Today's dorms are full-on, hospitality-style suites with all the amenities." These are the adults transitioning into single- and multifamily units, demanding luxury amenities as the standard.
---