#WINNING With Social Media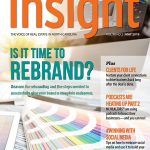 NC REALTOR® and broker Cicely Walker shares tips on how to embrace social media and use it to build your real estate business.
BY CICELY WALKER
The times they are a-changin'. REALTORS® need to stay current, relative and ahead of the curve. One of the best ways to keep your finger on what is current in the real estate market is through social media. For some of us, social media in its various forms is daunting, intrusive, intimidating and perhaps even frightening. However, if you don't embrace it, you might get left behind. In the last two years alone, mobile marketing has grown over 500 percent. REALTORS® have the ability to capitalize on this forward momentum and ride the wave to success.
Studies show that 44 percent of homebuyers use the internet to search for properties. Many go through Realtor.com, Zillow.com or Trulia.com, just to name a few. Consumers are also researching their REALTORS® online with as much vigor as they are looking for homes. And then, there are millennials. Did you know that 66 percent of homebuyers are millennials and 76.8 million millennials use social media in the United States alone?
REALTORS® need to harness these powerful facts by controlling the content consumers are digesting online. How? By using social media! Think of it as your free online referral network that grows as long as you nurture it effectively and continuously. But where do you start?
Every month, 700 billion minutes are spent on Facebook, and one billion tweets are posted on Twitter weekly. That is a lot of activity!
So, why not embrace your clients where they are and use social media platforms like Facebook and Twitter to build your brand, showcase your credentials and create a solid referral network. Chat with followers, respond to questions, post pictures and especially share video. Marketing experts recommend video to increase visibility and the overall understanding of a REALTORS®' value. Also remember that not all posts have to be real estate-related. Diversity is the key. Share local events, news and points of interest. Give people an idea of who you are with a few personal details. People buy from people.
Then, once you're ready, expand to Instagram, Facebook Live, Snapchat and 360 posts. Varying the type of posts you create keeps your content fun and fresh. Social media can make or break a career. REALTORS® don't have to reach Kardashian status, but why not learn from their success and effectively maximize the benefits of social media. Hashtag yourself into popularity. Post frequently. Have fun with it. You might not become an overnight success, but you will see an increase in your business.
Cicely Walker formerly worked in mental healthcare. Currently, she is a real estate professional wondering if there's a difference between the two. Most days the answer is no.