Buyer Love Letters
BY LEE NELSON
Maureen Roberge is experiencing insanity from her buyers to get their offers accepted.
"Every moment, the market is changing," says Roberge, broker/owner of LKNHomes.com, Inc. and LKN Commercial in Cornelius.
In early spring, many buyers in her area were writing buyer love letters to sway sellers in their direction. Back then, those letters might have won the house with a  good quality offer, but now she's seeing people offering $30,000 plus over asking price with no contingencies and sometimes no inspections. Some buyers give huge non-refundable due diligences, like a recent one of $100,000 that sparked the sellers' eyes.
"Who is going to walk away from that? There were better offers, but who's going to say no to that amazing number," she adds.
She admits it is challenging for buyers to be treated fairly no matter what a love letter might say. When she reads a lovely buyer letter and their heartfelt story, she  understands how these potential homeowners are trying their very best and putting it all out there. They desperately want that house, but then another person comes in with all this extra money.
"It's a seller's market, slam dunk. Buyers are taking on a lot of responsibility," Roberge adds.
THE RULES AND COMMON SENSE
To stand out from the crowd in this low-inventory, low-interest-rate world, buyers believe writing a love letter will increase their chances of connecting with a seller. No buyer intends to discriminate, but buyer love letters disproportionately affect protected people.
The NC REALTORS® Executive Committee approved in April new wording for REALTORS® to avoid liability from these buyer letters. Basically, the seller or buyer  should have a discussion with the real estate agency on how any such letter should be handled.
"Buyer love letters aren't illegal or in violation of any rule or regulation, as far as I know," says Will Martin, general counsel for NC REALTORS® and manager at Martin & Gifford, PLLC in Winston-Salem. He and his two partners have only answered questions involving buyer letters about 13 times in the past two years on the  NC REALTORS® Legal Hotline. Most of the questions come from listing agents wondering if they are required to present the letters when they submit an offer.
Buyer letters becoming a concern with fair housing laws has been a relatively recent phenomenon, he adds.
"It seems like it's a topic on everybody's radar screens now because there have been articles written about it," Martin explains. "At the end of the day, if a client wants to do one, it would be hard to say, 'I'm not going to present any letter.'"
If the letter is based on objective criteria and all the features about the property, then that would OK.
Unwittingly, some of these letters could violate fair housing laws in a subtle way. For instance, someone might talk about taking photos of their children's stockings changing on the beautiful fireplace mantel. That signifies someone celebrating Christmas. Any subtle words describing someone's race, sexual orientation or more  can sway someone one way or another through these biases. Plus, videos and photos definitely showcase even more information, which Martin says are definitely a  no-no.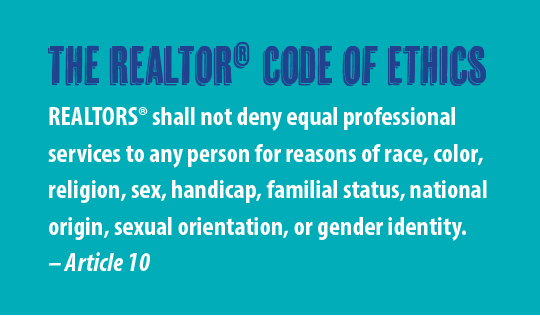 Article 10 of the REALTOR® Code of Ethics prohibits REALTORS® from discriminating on the basis of race, color, religion, sex, handicap, familial status, national  origin, sexual orientation, or gender identity in the provision of professional services and in employment practices.
Martin adds that a problem could arise when two offers contain similar terms, but one of the potential buyers writes a letter sharing her origin, which happens to be  the same as the seller.
"If Buyer #1 discovers these facts, he may point to the letter as some evidence that the seller took Buyer #2's national origin into account in deciding to accept her  offer, which would be a violation of state and federal Fair Housing Laws," he states.
These situations can become more complicated for the agent if the buyer makes the letter part of the offer.
"I don't know if agents should be reading the letters in any situation. Generally, I would say avoid it," Martin adds.
"These letters try to be heartwarming," states Charlie Moody, assistant director of the Regulatory Affairs Commission for the North Carolina Real Estate Commission.
"We haven't gotten any complaints about buyer letters. But it's about the fear of what could happen," she says.
"In this market, they are so popular because of the multiple-offer situations. People are wondering what they can do to get their offer ahead of the crowd," she adds.
"For some people, they want to avoid certain types of people moving into their houses. It's not just race, but any one of the protective classes," Moody explains. "We  don't want brokers to police these letters."
The hope is to stop it at the buyer level. Brokers can advise their buyers not to write them. But she believes the tides will turn in the market, and there will be no need to write love letters. She also encourages agents to talk with their clients about the implications and pitfalls of a love letter. Moody recommends that the broker says to the client that a love letter is not relevant to the contract, and it shouldn't be part of the offer.
STILL PREVALENT IN SOME AREAS
Many of the potential purchasers for Nancy Braun still want to write love letters.
"They talk about the home itself and why it's perfect for them," says Braun, broker/owner of Showcase Realty in Charlotte.
"The letter can work somewhat. But cash is still king," she states.
"If sellers are getting another offer that includes no appraisal, no repairs, buyers paying sellers' closing costs, and a quick close, it's hard for the seller to turn that  down and pick someone who wrote a nice letter," she adds.
"However, if you are in a market for a house over $300,000 in her area, and no investors are competing for it, that love letter might still make a difference in the area," Braun says. "If two offers are equal, the sellers might feel connected to one of the buyers more."
Braun is experiencing very competitive and crazy bidding wars.
"If the letter states that they appreciate the house and have become attached to the house, I have seen situations where my sellers have picked a buyer over another offer because of the letter," she states.
Many REALTORS® still encourage their buyers to compose these letters to help give an edge, gain a personal connection or pull at the seller's heartstrings.
OPTIONS OTHER THAN BUYER LETTERS
Braun doesn't discourage her agents from using buyer letters, but she does acknowledge that personal letters can also be a detriment because there is a lot of bias  out there that isn't fair. However, these alternative efforts by agents to help clients shine could help to eliminate the use of buyer letters:
Create a Strong Multi-Offer Package
Braun and her agents put together professional packages for the seller or listing agents with the buyer's credit score (if they provide it), a robust approval letter from  the lender and a letter from her company including impressive statistics on closings.
Be a Great Communicator
Be friendly and nice to your fellow agents. "You need to understand that they are being bombarded by many buyer agents," Roberge states. "In a polite way, find out  what the sellers really want—such as a better closing date or the refrigerator. Don't kill the deal by asking for something that the buyers might want when they move."
Talk by Phone or in Person with the Listing Agent
"We get tons of offers for our listings, but we hardly ever hear from the buying agents," Braun remarks. "They will text, but I think there is value in having that  conversation. You need to tell us about your buyer, put a picture in that listening agent's head so they know more about them. You can't just blindly represent  someone."
Know Your Lenders Well
"I've been in this business 16 years, and I've worked with lenders since 2009," Roberge adds. "Some of them give priority approvals to her clients by going through  more documentation. Many of her clients are just waiting on the right house, and that means there's not much more they have to do themselves."
Make It Easy for the Other Agent
Roberge communicates to the listing agent that she will arrange the inspection the Monday after acceptance of the offer. "I'm efficient and get things done. Explaining that the seller and the agent won't be waiting on you gives your client an edge."
Write a Different Kind of Letter
"When I get a notification that we are going under contract, I write everybody involved a nice letter saying I appreciate their effort in showing this property," Roberge  states.
She includes in her letters that she will keep everyone apprised of things going on. She also calls the agents who are showing one of her properties that she already  has an offer on it.
"It's a two-way street. It's tough out there right now," she adds.
Lee Nelson is a freelance journalist from the Chicago area. She has written for Yahoo! Homes, TravelNursing.org, MyMortgageInsider.com and REALTOR®  Magazine. She also writes a bi-monthly blog on Unigo.com.