Impress Your Clients With Professional Designations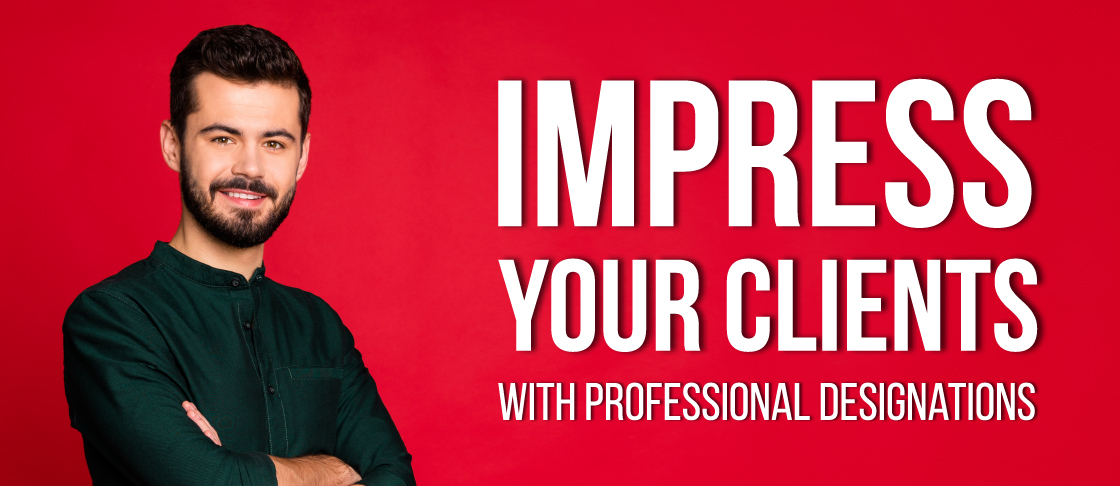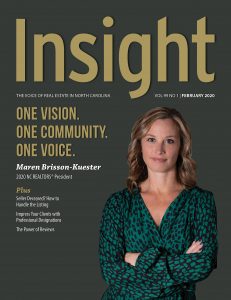 Most people on the street don't know what GRI, ABR®, or SRS mean or stand for. Here's how you can change that and why it's important to.
BY LEE NELSON
When Cristina Grossu earned her GRI designation, she created a post on Instagram and Facebook with gold balloons that spelled out GRI.
"It was one of my most interactive posts, yet," says Grossu, REALTOR®/broker at Realty One Group Select in Mooresville. People asked about it, wanted to know how she got it and on and on.
NC REALTORS® encourages its members to take designation and certification classes because it gives them better credentials and knowledge in the industry. But translating that to the public can be a bigger feat to accomplish. Most people on the street and potential clients don't know what GRI, ABR®, SRS or CRS mean or stand for.
"REALTORS® don't seem as interested in designations anymore, too," says Savanna Reagin, professional designations manager for NC REALTORS®. "They say 'My clients don't understand.'"
Taking the classes can also be a financial burden to some, along with time constraints. But many times, she believes REALTORS® don't understand how to use those designations to promote themselves to future clients. Plus, the money spent on classes could easily be recouped once they use their new knowledge to help a client sell or buy.
"It's not all about the letters at the end of someone's name. It's more about being able to do the best job you can for the most people you can," she adds.
---
Understanding Designations and Certifications
NAR Designations & Certifications
REALTORS® can choose from a myriad of National Association of REALTORS® affiliated designations and certifications. These touch all kinds of niches such as negotiations, first-time homebuyers, distressed properties, smart homes, commercial investments, and vacation and luxury homes.
They can cost from $99 for an online course to over $1,000 for a more complicated, lengthy course. Some of the certification classes run just a few hours. Some designations involve a two-day commitment.
NC REALTORS® GRI Program
The GRI (Graduate, REALTOR® Institute) entails a more financial and time-consuming commitment. Students get up to five years to finish it. Of the 48,000 NC REALTORS® members, less than 7 percent currently hold it, Reagin says. This state-run course offers 60 hours of involvement learning how to be a manager, in-depth explorations of the sales process, contract law, business planning, technology and so much more, she adds. It's one of the only designations that you do not have to pay a fee each year to reinstate it. It's for a lifetime.
---
The commitment to get designations
Sherrie Osborne and her husband, Henry Hilgartner, wanted to start their own brokerage last year. So, they both decided to fast track the GRI designation to get all the knowledge they could. It took them only five months. They also took as many online and in-person classes as they could.
"We threw ourselves into all of it. I loved it," says Osborne, broker-in-charge at Heart of Carolina Homes in Burlington. While she does say that not once in her real estate career has anyone ever asked her what all the acronyms are next to her name, it's still important.
"If someone is going to a doctor or counselor and notices a bunch of initials, you expect they have additional training," she says. "That's how I look at it. Consumers may not ask about them, but they are checking it out. It gives us credibility."
With certain designations, REALTORS® can target a niche market, and it opens up options for the clients, too. For instance, Osborne has her Senior Real Estate Specialist® (SRES) designation and can now tell seniors she can be their eyes and ears in looking for the right home to stay in through their aging years. She also can help them find the best reverse mortgage lenders.
"It's all about the conversation," she adds. "It's your opportunity to make a connection and build trust. If you can share how your credentials fit them and their situation, then that's what it's all about."
Osborne and her husband also created vCards, also known as VCF (Virtual Contact File) or an electronic business card. When a lead is generated from a website, an email goes out to the potential client showing their names and designations. The designations are hyperlinked to an explanation of what it is all about and the agents' qualifications.
"If I'm a consumer and looking for an agent, an agent with all those designations beside their name looks more important and knowledgeable," she says.
---
Suggested designations by those in the business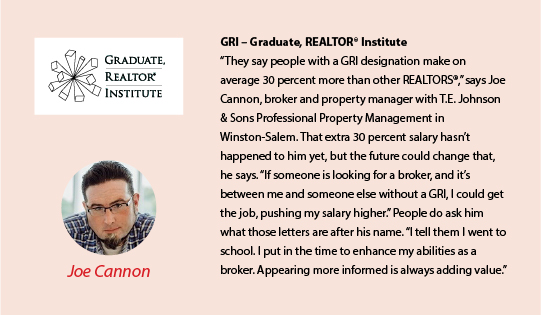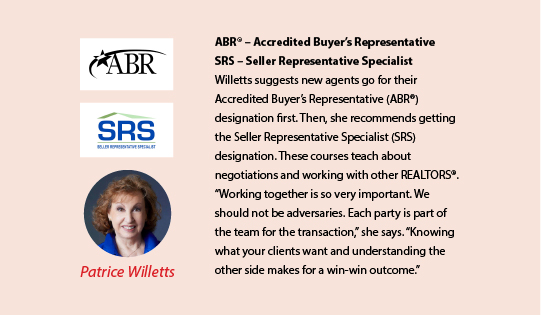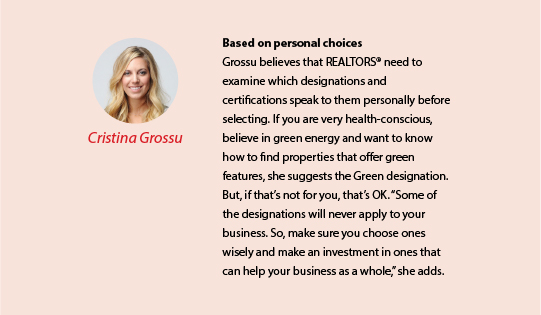 ---
Craft a blueprint to divulge your designations
Mark Given, an instructor for the GRI program and other designations and certifications in North Carolina and across the country, actually helps his students create an action plan to promote themselves with new designations. Sometimes they take his advice, but sometimes they don't.
"I find they walk out with a list of good intentions, but then life and reality hit them right back in the face," he explains. "They don't take action on the many things they need to do. They don't get the big impressive results they could have once they get back in their comfort zone."
Given, who also is an Amazon #1 Best Selling Author and founder of the Trust Based Philosophy, worked as a real estate agent for six years before deciding he'd rather teach in the industry.
"Real estate acronyms don't have the same impact such as an MBA or M.D. I try to get the students to understand that if they don't show the client the benefits of their designations, then it means nothing," he says.
Don't be a secret agent, and don't assume people will figure it out on their own, Given advises.
---
Different ways to market your credentials
1. Marketing Materials
Send out a marketing piece explaining how you benefit the client by having these new knowledge skills, Given says. Explain when you see the GRI behind your name that there are certain things you learned to help serve your clients better.
2. Referral Database
Some designations have databases for referral networks across the United States, Grossu says. "That is a huge talking point when vying for a new listing or working with a new buyer," she says. "You can explain that you have your designation, and you are part of a group of other REALTORS® across the U.S. who may be able to share their property with their clients and vice versa.
3. Social Media
Remain very active on social media and use the free platforms to get the word out when you obtain a new certification or designation. Grossu, a 2019 REALTOR® Magazine 30 Under 30 honoree, also puts all her designations' acronyms after her email signature, on her website and business cards. Many of her clients ask her what they all mean. Her recently earned At Home With Diversity (AHWD) certification helps her work with millennials and younger buyers who are super diverse and hold diversity and inclusion as core values in a lot of decision making. "They are always interested to learn more about them and ask me which ones were harder to obtain than others," she adds.
4. Make it About the Consumer
Given encourages his students to explain how the consumer benefits by them holding those designations and certifications. "They have to make it about the consumer always. I always recommend my students identify five things they do or offer that their competition doesn't. If the REALTOR® can't identify them, then how can the consumer?" he says. For instance, tell them how you are empathetic, a good marketer or a good negotiator. That's how these courses make the difference, he adds.
5. Take It to the Streets
Be out and about in coffee shops and neighborhood events. "My business is building personal relationships," Cannon says. He makes rounds on a daily basis and listens. "If they don't have a house or rental property, they need someone to talk to about it. I listen without any push.
6. Send out a Press Release
Many local newspapers and business journals print press releases for free or a small fee to add your new information. "You can also send a card to your sphere of influence announcing that you are adding to your professionalism with new courses and designations," Willetts says.
---
Brokerages should market their agents' designations
As each REALTOR® works, their sphere of influence, professionalism and skills need to be acknowledged and spread, states Patrice Willetts, broker at The Property Shop International in Wilmington, and instructor. She also served as president of NC REALTORS® in 2013.
"We can do this by letting our clients and the public know when we attend education classes or seminars, when we participate in the community and when we go above and beyond the basic steps for our clients," she adds.
By understanding every aspect of an issue and including the public in the dialogue, you demonstrate you're an advocate and a trusting partner.
"We have a saying here at our firm—Professional, Connected, Educated," Willetts says. "We encourage our agents to stay up on trends, get designations and to market themselves with these words."
As people walk into The Property Shop office, they immediately see a banner with the brokerage's saying.
"And, as our agents achieve education, designations and certifications, we market that achievement," she adds.
Lee Nelson is a freelance journalist from the Chicago area. She has written for Yahoo! Homes, TravelNursing.org, MyMortgageInsider.com and REALTOR® Magazine. She also writes a bi-monthly blog on Unigo.com.
---