Is It Time to Rebrand?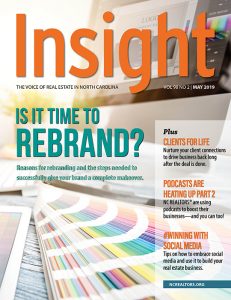 An overview of the reasons for rebranding and the steps needed to successfully give your brand image a complete makeover.
BY LEE NELSON
Rebranding has become the hopeful catalyst for many organizations—including many real estate companies—to grow, become more modern and resonate with consumers. Some have been successful, and some, not so much.
"Your brand is the heart, soul and promise of what you are to your customers," said Jim Heininger, rebranding strategist at his company Rebranding Experts in Chicago. "But you need to revisit and redefine what your promise is to your customers. Once you answer that, it will indicate if you need to rename your organization, have a new visual identity or design a new logo for it."
But many organizations that rebrand put a lot of attention on the logo, he adds. "But that's not the most important thing to customers."
When Heininger sits down with his clients, he tells them the first step is to answer fundamental questions. What has changed in the marketplace for you do to a rebranding? Why is your brand still not relative for return or new customers? Where is the industry going? Can a new technology application help better service your customers? How do you represent that in your brand? What about your current brand is limiting your business growth?
In a survey about rebranding success by The Dixon|James Co., Heininger's public relations' firm, it showed 81 percent of organizations which rebranded introduced an entirely new logo, 69 percent introduced an entirely new name and 75 percent staged an external launch event and public announcement.
Most Recent Rebranding in Real Estate
In March, Coldwell Banker Real Estate LLC announced a new vision when it kicked off Project North Star. Included in that was a new logo with a star in the top right corner, symbolizing the company's consistent, reliable presence guiding everyone home. The company also announced its new mission statement: "We empower our people to leave their mark on the world of real estate."
This was the first time in nearly 40 years that it changed its logo and adopted a fresh mission. The brokerage's box logo was limiting in this digital media era. In research, the mission statement had an 80 percent approval rating, and consumers said the new logo represented an innovative brand 80 percent more often than the exiting logo.
"I love it. I think it still contains all the Coldwell Banker heritage with a new twist," says Rosemary Buerger, broker associate at Coldwell Banker Advantage in Cameron.
She read about the changes via social media. She will have to order new business cards, but the cost will be minimal such as $60-$150 for the changes at most.
"As an agent, it gives me the opportunity to sing the praises of my company further by showcasing the rebrand," she adds. "It's really about staying present in business and showcasing what we do, from the logo to sort of boots on the ground working with clients.
Overall, the response has been positive toward the rebranding in her circle.
"It will be rolled out over the next year, so the hard launch date is not here yet. It's about staying in front of the changing footprint of real estate and keeping current," Buerger explains. "A logo is one part of who I am as an agent, so it's part of my marketing tools. I love that my brand is forward thinking and embraces change as it's needed."
Kent Hanley, CEO of Coldwell Banker Howard Perry and Walston, headquartered in Raleigh, has 15 offices in central North Carolina.
"We had a feeling there was going to be a big announcement this year, and that was it," Hanley says. He learned about the new logo and branding at the opening event of the Coldwell Banker GenBlue Conference in Las Vegas in March.
"There was a lot of excitement around it, and I was very thrilled about the new logo. We are looking at the logo as a new, crisp representation of the CB brand," he adds. "The logo will scale better now in our marketing. Coldwell Banker is giving us two years to implement these changes, which will be good."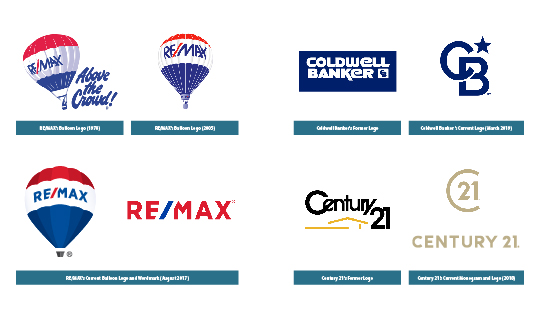 He doesn't know yet how much all of this change will cost his company with letterheads, yard signs and more. "Currently, we are using and replenishing the materials that are vital for our day-to-day needs, but are not going out and ordering thousands of business cards or yard signs. We will wait for January 2020 to start the rebrand," Hanley states.
What it takes for companies to rebrand
Back in 1978, when RE/MAX came up with its balloon logo, there was no digital or social media advertising. So, the company decided in the fall of 2015 to bring the idea of changing it to the CEO.
"When we were changing the logo, it was very important to test it in different mediums so it shined through, and it had to adapt to whatever size and font that went into the creative mediums," says Abby Lee, senior vice president of marketing and communications for RE/MAX.
The company did a lot of testing for more than two years with more than 20,000 consumers surveyed in Canada and the United States. "We weren't in a desperate situation. We just wanted to update the logo but not go too far," she says. "We realized it didn't have to be a complete rebrand or reposition ourselves, but just a refresh."
So, they decided on removing the stripes on the balloon, sticking with the original colors and changing the lettering slightly. There's still the balloon with subtle changes.
When Hadi Atri was apprised of RE/MAX going through a rebranding, he questioned why they were doing this—and he was on their advisory board.
"I knew quite a while back. It was not an easy decision. You are used to seeing the balloon in one way. I questioned why we are doing this," says Atri, president and CEO of RE/MAX Executive in Charlotte.
With more than 350 agents and 11 locations, Atri continues to get new signage. It has been a costly change.
It will cost $15,000 or more to just replace the lighted sign in his main office in Charlotte. When he opened that office in 2012, the sign was $12,000.
"We have four new offices since the rebranding started. We'll eventually get them all redone. It will be expensive," he says.
It has taken about 1 1/2 years to get through all the former agents signs, and since the rebranding, he has added 22 new agents. "Since I was involved with the rebranding from the beginning, I told them that it won't happen overnight. A yard sign costs $500. The agents won't just throw them away," he adds. "The change isn't that extreme that you can really differentiate it right away. That's a good thing."
He says he is very conservative and when it comes to branding, he likes it clean cut with not too many sharp colors or extreme changes.
If you have a successful brand, you have to be convinced the change is for the good, he says.
"New generations and clients have changed. The new logo is much more clean and better for production on paper. My marketing department and the people in that division say it does come out better," Atri says.
Reasons to Rebrand
Heininger says there are eight top reasons a company should rebrand:
1. To more accurately reflect its expanded scope of services or product line.
2. The mission no longer accurately represents the work or service lines.
3. Current brand elements are no longer relevant and limiting business success.
4. A merger or acquisition.
5. Transformative changes to the business model, product line or services.
6. Realign with changes in the marketplace or external influences.
7. The business has lost its meaning and its key differentiators to rally around.
8. Negative reputation makes it difficult to operate successfully.
Heininger has observed that a lot of real estate companies have been named after original families that founded them.
"Those names might not be relevant in the community. The founding members may not have any involvement anymore, and the brand does not explain what the business is all about," he adds.
Recommendations for a great rollout
Heininger encourages a real estate company to do a one-day flip the switch announcement. Everything should flip over, from the signage to social media to all the materials updated and used from that day on.
"Everything old is discarded so it is not confusing."
He suggests building internal excitement the week leading up to it. Every place your brand is portrayed needs to change, from advertising to car logos to jackets. You can even have an event for your customers and leaders in your community, and explain why you are doing the change.
He has seen failures with execution when the rebranding wasn't strong enough to achieve a positive outcome or the new brand was not well thought through, didn't make sense or wasn't relevant to their customers who couldn't support it.
"If rebranding is done correctly, thoughtfully and all proper planning is done, and you get employees on board and effectively tell your customers, it can translate into increased sales," he states.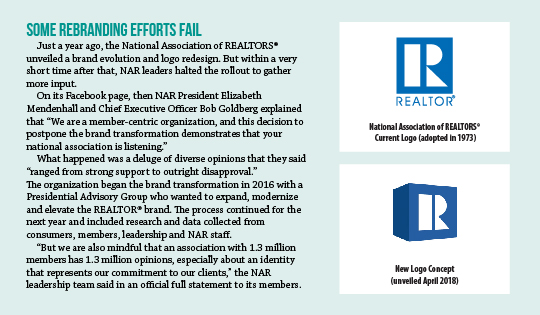 Lee Nelson is a freelance journalist from the Chicago area. She has written for Yahoo! Homes, TravelNursing.org, MyMortgageInsider.com, and REALTOR® Magazine. She also writes a bi-monthly blog on Unigo.com.