REALTORS® with a designation earn over $27,600 more annually than non-designees.
Growth is an important part of every real estate professional's personal development. Without growth, you can become stagnant and irrelevant. NC REALTORS® membership provides multiple opportunities, across the state and online, for our members to grow in their profession, business, and life. By earning specialty designations, staying on top of the latest real estate trends and best practices, and participating in continuing education opportunities, you can increase your earning potential and build better relationships with your clients.
Interested in being a speaker at an NC REALTORS® event? Submit your proposal here.
Graduate REALTOR® Institute (GRI)
Launch Your Career to New Heights
Current and prospective GRI Students CLICK HERE
In today's competitive business environment, it often takes more than just motivation and initiative to succeed. Earning the Graduate REALTOR® Institute (GRI) designation is a way to stand out to prospective home buyers and sellers as a trusted resource who has in-depth knowledge on the fundamentals of real estate. GRI is the most recognized professional designation in the real estate industry.
The GRI Designation consists of 60 hours; 48 of which are from a combination of live and online courses. The curriculum is tailored to meet the needs of our members as well as educational standards established by the National Association of REALTORS® (NAR). Live classes are hosted by local associations throughout the state, while the online classes can be taken at any time.
As you can see, the program provides great tools and education to improve your business and sharpen your skills as a REALTOR®. Contact Savanna Tandski with any questions about GRI.
REBAC Designations
The National Association of REALTORS® and its affiliated Institutes, Societies, and Councils provide a wide-range of programs and services that help members increase their skills, proficiency, and knowledge. Designations and certifications acknowledging experience and expertise in various real estate sectors are awarded by NAR and each affiliated group upon completion of required courses.
For more information, visit https://www.nar.realtor/designations-and-certifications.
Online CE Courses
CE Courses not available June 7- July 1
As the 2018-2019 CE year is coming to an end, all online classes must be completed no later than 5PM on June 7th. Per the North Carolina Real Estate Commission, we are unable to offer CE Courses until the 2019-2020 cycle begins. Online classes will be available again starting on July 1st.
The CE Shop
Consumer Protection in a Hot Market
Cracking the Code of Ethics
From Contract to Key: The Mortgage Process
Managing Risk in Your Real Estate Business
Assistance Animals And Fair Housing
Preparing a Market Analysis – Best Practices
Technology Tools, Trends, and Risk Management
Keynote Series
Contract Law for Real Estate Professionals
Real Estate Investing Made Clear
Understanding the Anatomy of a House
Mastering Real Estate Negotiations
Meeting the Needs of Buyers and Sellers
Successful Buyer Client Systems
Successful Seller Client Systems
Code of Ethics Training
REALTORS® are required to complete ethics training of no less than 2 hours, 30 minutes of instructional time within two-year cycles. The two-year requirement is new, and background information on the change is available. The training must meet specific learning objectives and criteria established by the National Association of REALTORS®.
Training may be completed through local REALTOR® associations or through another method, such as home study, correspondence, classroom courses, or online courses. Local Associations track member training requirements. Please contact your local association for help in identifying your current training requirements. Local Board Directory.
---
Training Cycles
The current deadline for this cycle is December 31, 2020.
Below are the cycle dates for the Code of Ethics Training Requirement. Training must be completed at any time during these established cycles. Failure to complete training during any cycle will lead to suspension of membership for the January and February immediately following the cycle deadline, with termination of membership starting March 1 after the cycle deadline.
Current Cycle
January 1, 2019 to December 31, 2020
Future Cycles
January 1, 2021 to December 31, 2022
---
North Carolina REALTORS® Training Options
REALTORS® can complete their Code of Ethics Training Requirement through any approved COE Training course, or through the NC REALTORS® course offerings below:
GRI: Balancing Business Risks & Ethics (In-Person)
*This course counts towards obtaining your GRI Designation, completing your COE requirement, and has optional 4 Elective CE hours.
Sign me up
CE at Sea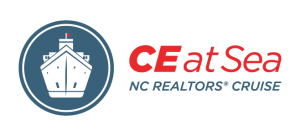 Set sail with NC REALTORS® on the world's largest cruise ship for our CE at Sea educational adventure. Not only will you explore the Caribbean with your NC REALTORS® colleagues, but you'll also get the unique opportunity to complete your annual Continuing Education at sea.
NC REEF
The North Carolina Real Estate Educational Foundation, Inc. (NC REEF) is the real estate educational resource for REALTORS®, non-licensees and consumers in North Carolina. Through original video tutorials, scholarships and other content, NC REEF elevates the real estate profession through education.
Who to Contact