#MemberMonday – Adam Upchurch
DurhamDurhamOwner / BIC
Welcome to #MemberMonday, a feature that spotlights of our epic NC REALTORS®. This week's member is Adam Upchurch!
---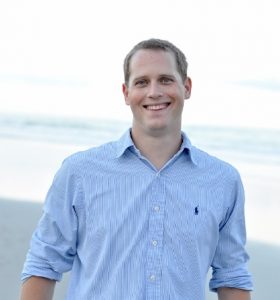 Name: Adam Upchurch
Hometown: Durham, NC
Current location: Wilmington, NC
Title: Owner, BIC
Number of years in the industry: 9 years
---
Why I love what I do: To capture the smile that it brings. There are very few roles that you can play in this world, where you are able to bring peace of mind and well being to the people you work with. Being able to find a family the perfect home or help a seller get top dollar for their most valuable asset, is something I take great pride in. Developing an idea or bringing something has always been a passion of mine.
Favorite work story: I remember in the summer of 2013, going to show a husband and wife a second home for their family. They were interested in a home 2 rows back from the beach and I met them there. I got there in advance, turned on all of the lights, opened the blinds, and prepped the rooms. Once they arrived, we toured the home and went out on the 3rd-floor deck to see the ocean view. That's when the wind decided it was a good idea to slam the porch doors shut. We looked at each other and laughed, that was until we realized I didn't have the key… it was sitting on the counter downstairs. What's better, they had left their phone in the car and my phone had just 2% battery from showing earlier that morning. I called my wife, no answer. I called my best friend, no answer. So with one last ounce of battery, I tried calling an agent that lived on the north part of the island. He answered and I mumbled it all out as the phone shut off. I wasn't sure if he got all of it, but we were stuck. A few minutes later, a local homeowner was out for a walk. My clients and I yelled down to them. They heard us, looked at us, but had no interest in entering a home they didn't know. Right back at square one. Keep in mind it is easily 90+ degrees outside, on an uncovered porch, with no water. Fortunately, the agent I had called got enough from my call and came to the rescue. He knew our appreciation all too well when he opened those doors. Those folks did buy a home with me, but it wasn't that one.
What I'm most proud of in my career: I am proud to have served my local association (Topsail Island Association of Realtors) for the past few years and to have been their board President in 2019. 4-5 years ago, that would never have been a priority for me. To have enacted change in our community, added value in our name, and to have my peers name me Realtor of the Year in 2019 tells me that I am on the right path.
Why I'm a member of NC REALTORS®: I choose to be a member, so I can enact change. I want to see growth in our industry and I want to see more acceptance all around. We have an array of incredible support staff and volunteers that donate their time and energy, to support Realtors across our state. I prefer to invest my time where I can lead the way and have a real impact. That is why I joined the state Budget & Finance committee this year. That is why I am proud to be Vice-Chair of our state Diversity committee.
Fun facts about me: I am a runner by nature. I ran cross country in high school and then just the occasional run for the next 10+ years. Once I became a Realtor, that energy prompted me to elevate my game. Over the past 5 years, I have run the local half marathon each year. That all leads up to me crossing off a bucket list item and running the full Marathon Madness in March 2020. I spent 8 years in the mortgage industry, prior to becoming a Realtor. Over the past 9 years, I have been able to use that experience and knowledge to further establish confidence from my clients. To be able to answer mortgage or qualification-related questions, when they are asked, is invaluable.
What made you decide to become a member of NC REALTORS®?: It's not the answer one might search for, but it's the truth… by default. When I started my career, my BIC required each of us to be a member to further establish our professionalism. Looking back on it today, I wasted many years not knowing or utilizing the tools that were being provided. After joining the 2019 William C. Bass Leadership Academy, my eyes were opened to all of the amazing things that NC Realtors represents. There is no question that I would encourage each of my agents to become a member and stay engaged.
---