New Kids on the Block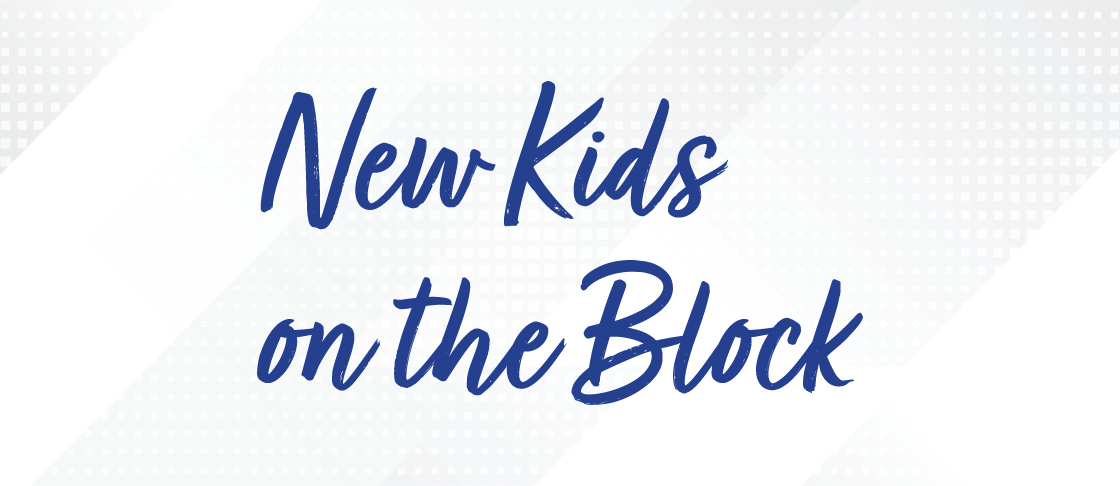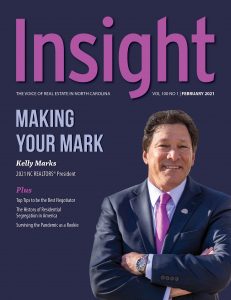 BY ALIYAH ROSS, Content Marketing Coordinator
Meet the New Kids on The Block. No, not the late 1980s boy band, but these rookie NC REALTORS® who are just starting out in the real estate industry. A career in real estate is no easy job. To make it in the industry, you have to put in the sweat equity of cold calling and networking to see a literal payoff. Months of no deals, no sign of leads and dead ends can be discouraging for a new agent.
On top of that, the COVID-19 pandemic came along in 2020 and made REALTORS® lives even more challenging. Agents were forced to jump over the hurdles of showing houses with new restrictions. Real estate is a customer service driven profession. What do you do when you are not able to connect with clients face to face? Despite the many obstacles of roughing it in the industry in 2020, these agents love what they do. Insight magazine caught up with Katie Lynam of Raleigh and Kerri George of Winston-Salem to learn a little more about what it is like to be a new real estate agent in these changing times.
Meet Katie Lynam
Katie Lynam of Keller Williams Raleigh became an agent in September 2019. "I didn't always know I wanted to get into real estate. What I did know was I wanted to work with people, and I was starving for a challenge," says Lynam. A friend of Lynam's, who had retired from real estate, saw potential and encouraged her to look into becoming a REALTOR®. With Lynam's heart for service and a strong will to win, real estate appeared to be a perfect fit.
HOW IT STARTED
Her story doesn't start with an instant, take-off-the-ground-running series of wins. She entered her firm full of eager confidence and immediately signed up for an intense 8-week training course geared towards developing a go-getter mindset.
"The first four months were challenging. I called everyone in my sphere, sent Facebook messages and even struck up conversations with strangers I ran into in public. I even went as far as going to the mall over the holidays and speaking with shop owners and shoppers alike," recalls Lynam. While no immediate business was uncovered, she identified opportunities that were several months or years away.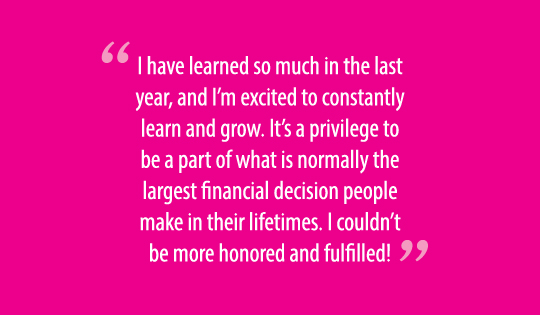 In addition to the pressure she had already put on herself, well-meaning friends would frequently ask, "How is real estate going?" or "Have you sold any houses yet?" Lynam felt immense pressure to be viewed as a success. "I had thrown myself into the field full-time and wanted something to show for it. I was commonly told 'real estate isn't for everyone.' But that didn't satisfy me—somehow, I knew it was for me, and I was determined to prove it to the world," says Lynam.
In February 2020, after several conversations, Lynam agreed to meet with a team in her office, which she later realized was the firm's top-producing team. Weeks later, she joined The Clark Team. This group had the reputation of high-energy, drive and providing fun leadership opportunities and education. But most importantly, they had leads. Katie began training with the team—soaking up information like a sponge—soon started making phone calls and scheduling buyer appointments.
COVID-19 CHALLENGES
Momentum was high for this rookie, then March brought COVID-19 lockdowns. "Our offices closed, and the buyers I had been working with put their purchases on hold indefinitely," remarks Lynam. Months of lockdowns forced Lynam to adapt and reinvent her strategy. Videoconferencing, texts, social media and virtual showings soon became the new norm for serving her clients.
"In the last week of May, I got my first house under contract, which then closed at the end of June. It was a monumental breakthrough. I felt like I had crashed through a brick wall, and I couldn't wait to experience more wins!" says Lynam.
That moment was a turning point, and her hard work started to pay off in a big way. Katie went on to put nine homes under contract in the next month. As she gained momentum and experience, her confidence skyrocketed. "My real estate career excites me, challenges me and gives me so many opportunities to help others. I'm so thankful I decided not to give up," says Lynam.
HOW IT'S GOING
Lynam's greatest accomplishment to date is $1 million in pending gross sales. Talk about a comeback! "My advice to new agents is to always ask why. Come from curiosity. Surround yourself with growth-minded people, who will challenge your mindset, hold you accountable to your goals and who you can celebrate and laugh with along the way." When Katie is not selling properties, she enjoys bike riding, running, outdoor activities and spending time with friends. "I am a bit of an adrenaline junkie and dream of travel adventures, including skydiving, ziplining and surfing."
Meet Kerri George
Become a REALTOR® during a pandemic? Kerri George, a new agent with Keller Williams Elite Realty in Winston-Salem, was up for the challenge. She signed up for a virtual real estate class in March 2020 and never looked back.
NAVIGATING COVID-19 CHALLENGES
For 17 years, George cared for her five children as a stay-at-home mom. About three years ago, she decided to go back to work as a part-time Certified Personal Trainer. After COVID-19 lockdowns hit and all of the gyms closed, George decided to take a real estate class.
"Before I became a trainer, I had contemplated getting into real estate, but the timing wasn't quite right. With all real estate classes taking place on Zoom, I figured now was an opportune time to take the class and get started," says George.
As a stay-at-home mother and trainer, George is no stranger to serving others and helping them accomplish their goals.
"I genuinely enjoy meeting and getting to know new people," she says.
Many of the skill sets needed in personal training and motherhood also translate to real estate—i.e., being a good listener and communicator, identifying specific needs and desires, finding a client's motivation in the decision-making process and reassuring clients throughout their journey.
"I've sought to approach each hurdle, not just as a roadblock, but as a potential leap towards something new and maybe something better. In the end, it has helped me to continue moving forward no matter what," George remarks.
LEARNING THE ROPES
In any new career or venture, there is a lot to learn. New agents have to be good at asking questions about things they don't understand. George credits asking questions to more seasoned agents as the key to making things a little easier early on.
"To all new agents, don't feel as though you have to know everything. Take advantage of the expertise of those who have been around longer than you. Ask to shadow other agents so you can get firsthand experience on the buying and selling process. Don't be afraid to jump right in and get to work," encourages George.
Her greatest accomplishment so far has been showing a house within the first week of having her license.
"I was nervous because it felt like I had just been thrown in the deep end, but it was a great learning experience, and I was able to get feedback from the other agent about what I did well and how I could improve."
---
A WHOLE NEW WORLD
The COVID-19 pandemic shook up the world for everyone. Many small businesses shut down, thousands of people lost their jobs and filed for unemployment and the real estate industry had to pivot to make things happen for clients while staying safe. Despite the changes and the new normal, these agents pushed through.
Are you a bright new agent who would love to share your story with us? We would love to feature you in an upcoming issue of Insight. For more information, please email Mckenzie Allen at mallen@ncrealtors.org.
---