Who's Your Coach? Building a Better Bottom Line Through Real Estate Coaching
BY LEE NELSON
When her career as a REALTOR® felt endless and overwhelming, Kate Carlton hired a coach.
"You can never turn off your computer or phone to better your  business," says Carlton of Carlton Realty Co. at Keller Williams Legacy in Raleigh. "But coaching provides structure and guidance."
She serves as vice president of the Keller Williams Young Professionals in the Triangle area and was honored in 2021 by REALTOR® Magazine as a Top 30 Under  30 rising star in real estate.
A study earlier this year showed a wide adoption of coaching among millennials. According to findings by the International Coaching Federation (ICF) 2022 Global  Consumer Awareness Student, 81 percent of respondents in the millennial age group expressed awareness of coaching. Plus, millennials also were the generation  with the most percentage (47%) that had engaged with a coach.
The ICF also shares that the typical coaching client is between 35 – 44 years old (37%) and are predominantly female (57%).
Coaching comes in many forms, and REALTORS® seek out coaches for a myriad of reasons. Those searching for a coach can find someone to help them with any  issue, subject or niche they desire. A coach can help their clients identify those obstacles, guide them to focus on solutions and then build on their strengths and  talents. They can also steer people away from bad habits that interfere with a happy life and successful career.
People can choose many types of coaches that deal with life, business, leadership, personal development, wellness, relationship, personality, behavioral,  empowerment and success. Some agencies offer their own coaching opportunities, such as Keller Williams MAPS Coaching.
When Carlton started out in real estate, her original coach at Keller Williams made things seem so much easier with simplified actions.
"My goal was 36 units that year. We sat down and broke it down to three a month," she states. "It's a world of difference breaking it down and learning how to take  the steps toward the goals."
When to Hire a Coach
When Adam Upchurch started in the real estate business in 2011, he did not have a coach.
"I started with a moderately-sized firm, but as the newest member of a three-person team," says Upchurch, owner of Marvel Real Estate in Wilmington. Upchurch  also serves as president of the Topsail Island Association of REALTORS®. "There essentially was no training and no structure in place. I had coaching in my  previous profession working as a mortgage loan officer for eight years."
When he did begin working with a coach, Upchurch was resistant to change, specifically altering what he felt was the most proficient way to manage his time. Then,  he realized that the successful people around him were still listening and meeting with coaches.
What he found by accepting coaching was his ability to define a schedule while allowing flexibility to modify components to increase efficiency. He learned to embrace a different mindset.
"You need to become fearless. Once you can operate with total confidence in your abilities, everything becomes easier," he adds.
Upchurch encourages other REALTORS® to find a mentor or coach and get involved on a local level to meet people doing what they do. He believes that each  individual needs to figure out if they need a coach, especially at different stages in their career.
"You have to be willing to be vulnerable to allow yourself to grow," Upchurch remarks. "If there is a mental hurdle and it's something you don't feel you can overcome  on your own, then it's probably time to hire a coach."
Why Coaching is Important
"The real estate industry is constantly changing, as well as the economy," states Karen Cynowa, broker/owner at Karen T Cynowa brokered by EXP Realty in  Charlotte.
"It requires relativity and resilience. Someone might be good at their craft but don't have the overall strategy," she adds.
She also works as a business development coach for REALTORS®. She got into the coaching and training world for Fortune 500 companies in her former job.
"But the small businesses are where my heart lies. I see the vision. REALTORS® are all small businesses, and it doesn't matter what umbrella they are under," she  says.
She witnesses agents being fearful. Some can have all the degrees in the world, but they don't have the experience, especially the young REALTORS®.
"They have fear there are no homes to buy. But we have all kinds of solutions for that," she says of coaches. "Coaches are constantly on top of this. We have to  teach them how to fish. Sometimes, with my expertise, I can direct them on the shortcuts that help them."
Cynowa likes to encourage her coaching clients to think bigger. She likes to work with people that want to go beyond just knowing the basics.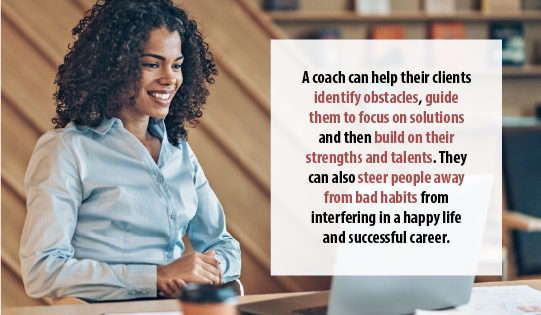 "Power is knowledge. As REALTORS®, we are here to service our clients, not here to do a  transaction. We have to get into that mindset. We have to be a true entrepreneur and professional," Cynowa states.
"Being in real estate, you don't have a boss," says Carlton.
"A big thing in real estate is  accountability. No one is telling you to be at the office at 8 a.m. A coach keeps you on task and accountable to what you say you are going to do," she adds.
For Carlton, she has gained courage from her coach to spread her wings into new areas.
"I've changed the frequency of my social media postings and tried new things such as  Instagram Reels and TikTok," she says.
Being on camera was not something she liked to do.
"But for me, I got out of my comfort zone. Social media is a big part of my business. It will boost your posts getting over that fear of being uncomfortable," Carlton  shares. "It's all about practice, and it becomes more natural to be on video now."
Cost of Coaching
"Some real estate firms offer free coaching. But for those who want to investigate hiring their own coaches, the average runs $125 – $150 an hour," Cynowa adds.
Some group coaching is available that can help those who want to try it out and not spend a lot of money at first. But she warns that the group coaching Zoom calls  can last a long time, and they can be overwhelming.
"So many of these people seem like they are crushing it," she says. "You might feel intimidated on those group calls and too afraid to bring up your issues."
For most, Cynowa believes individual coaches are critical. But those coaches have to be suited to each individual because everybody is unique.
Carlton knows that when people, especially people just beginning in the business, view that upfront cost to get a coach, it seems like too much.
"But if it's a good coach, they will really help you move along and make that money quadruple back," she adds. "They might look good on paper, but interview  multiple coaches before settling for one."
The Length of Time with a Coach
"As long as you are moving forward, then keep going with that coach," Cynowa comments.
That main coach may encourage you to get another coach that specifies in other situations like technology or even relationships.
"Sometimes, we get calls from our clients, and they are a mess," she says.
It could be a divorce, a physical ailment or something else putting chaos in their lives.
"We aren't miracle workers. They may need to seek out help through a doctor, marriage counselor or a life coach," Cynowa says.
Carlton doesn't believe anyone should stop having a coach.
"You think about the greatest basketball player, Michael Jordan. He had a coach. No matter how great you are, you always have something to learn," she states.
A good coach takes the time to assess what your individual needs might be.
"Based on that, together you will formulate a plan and define goals along a timeline," Upchurch remarks. "Your coach will monitor your progress and determine if you become self-sufficient or need ongoing support to reach your full potential."
What to Expect from a Coach
Upchurch believes the biggest thing you should experience with a coach is professionalism.
"That individual is willing to invest their time into bettering you and your business. Your commitment level can compliment or impede your level of success," he says.  "Your coach can only be effective if you are able to embrace the suggestions and guidance they put forth."
For Carlton, she expects her coach to care about her business the way she cares about it.
"I have had coaches from week to week forget what we were talking about. That's frustrating," she adds. "I want someone to remember what's important to me and  care about me while holding me accountable and pushing me along."