Should REALTORS® Wear Body Cameras?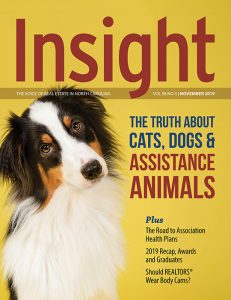 BY LEE NELSON
An Elizabeth City real estate agent found herself in a scary and dangerous situation while showing a rental property this March. A man pretending to be working with a group of investors ended up touching the agent several times and refusing to let her leave the property once he had her inside.
"He told the agent, 'You aren't leaving,'" said Stacey White, broker at Howard Hanna Real Estate Services in Elizabeth City. She also serves this year as president of the Albemarle Area Association of REALTORS®.
The man was charged with second-degree kidnapping and assault. White talked with the agent quickly after the incident happened and continues being a support for her.
"She had a very hard time getting back out there for her job or going back into a house," White said.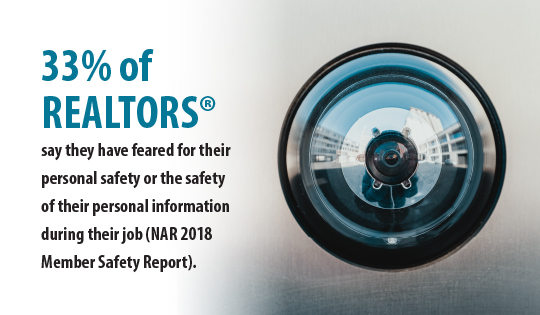 Viewing vacant properties, meeting complete strangers and hosting open houses can put agents in dangerous situations. In fact, 33 percent of REALTORS® say they have feared for their personal safety or the safety of their personal information during their job according to the 2018 the NAR 2018 Member Safety Report.
The incident in this small area of the state pushed REALTOR® associations and broker/owners to make safety forefront in agents' days and nights. But for some, the thought goes to prevention. Would or could this or other assaults happen if REALTORS® wore body cameras? The opinions vary, but the rise of professionals besides law enforcement officers using body cameras continues to rise.
Chicago company customizing body cams
Tech companies continue to raise the bar on the components added to body cameras to give REALTORS® and others more protection and deterrence from criminals.
Occly Solutions of Chicago designed small wearable alarms called the Linc. This body cam, which is much smaller than police body cams, is only two and a half inches by three inches and weighs very little. You can easily pin it on your jacket or shirt.
"I have one on my polo shirt right now," says Marc Harris, CEO of Occly.
The Linc device features 22 hours of battery life, plus an emergency alarm button, cameras and sensors that record valuable evidence and can notify friends, family and authorities of an emergency. For REALTORS®, this device can record who has entered and exited during an open house, plus, help protect them during meetings with potential buyers or sellers.
"Wearable body cameras are a behavior modifier," says Harris. "It modifies the behavior before it happens. If it can't prevent it, then we are a comprehensive tool for getting help."
Former cop turned real estate professional thinks body cams won't help predators "I don't think body cams would make a difference anyway with real estate agents," says Dave Legaz, retired New York City sergeant and broker of The Legaz Team of Keller Williams Realty in Flushing, N.Y.
He is a real estate instructor and teaches agent safety classes across the country. His webinar, Prospect or Predator? Reduce the Risk of Being Targeted, is on the NAR website after first airing in September.
"But I don't believe getting a copy of a driver's license of your clients helps either. What a predator wants to do is be comfortable with you and you with him," he says. "The more time they spend with you, then that feeds into their fantasizing. The body cam won't deter anything along with any app that runs a criminal check."
Predators that target real estate agents and others usually use their real names and real phone numbers, he states.
"They do their predatory behaviors for their highs just like I get my highs by running," Legaz adds.
Also, those who depend on an app to decipher someone's background might be getting a false sense of security, Legaz says. A large amount of errors happen with the criminal data base.
"Serial rapists will rape 11 times before ever getting caught, so they aren't in the system until they are caught," he adds.
He wants people to understand that police wear body cams to back up the officer's word not to deter crime. So, a body cam may not work for REALTORS® in that way.
Legaz is also a director of the Beverly Carter Foundation. The foundation was created as a result of the kidnapping and murder of Arkansas real estate broker Beverly Carter in 2014. She had been targeted because she was perceived to be a "rich broker who worked alone," according to the foundation's website.
"A predator looks for vulnerability and subservience. They get that information by the way you handle the first phone call such as by saying you'd help them any way you can at any hour of the day," he says. "They also get information by your photo images on your business card or billboard, and your behaviors you show during a first meeting. We need to stop attracting these predators."
What NAR says about body cams
The National Association of REALTORS® does not have a policy regarding body cams, says Lesley Muchow, NAR's deputy general counsel and vice president of legal affairs.
"NAR does, however, take REALTOR® safety seriously. NAR has a host of available resources aimed at educating its member about the importance of personal safety, and encourages the use of technology tools to enhance a member's personal safety protocols," she says.
Legal ramifications could be brought against real estate professionals wearing a body cam. So, Muchow advises before using any device capable of recording or videotaping, REALTORS® should be familiar with state law requirements for the use of such devices, including required notice and consent.
"North Carolina law would permit a broker to wear a body cam without disclosing the fact or obtaining consent so long as it wasn't recording an audio conversation between persons other than the broker," says Will Martin, NC REALTORS® Legal Counsel.
The North Carolina Real Estate Commission recommends not using any device in the home as a means of trying to gain information on potential buyers or their agents. Such an attempt to gain potentially confidential information about a buyer would most likely be considered inappropriate at best, and has the potential to result in criminal or civil liability.
Before purchasing and wearing a body cam device, it is very important to do your research, seek educational tools and even consult an attorney.
"Knowledge, awareness and empowerment are the core components of NAR's REALTOR® Safety Program, and members and associations are encouraged to take advantage of the valuable resources made available through the program," Muchow explains.
Webinars, videos, newsletters and real-time alerts about safety concerns and emergencies are just a few of the ways the REALTOR® Safety Program aims to educate the real estate community on how to be proactive and vigilant about on-the-job safety.
In addition to NAR's resources, NC REALTORS® and the North Carolina Real Estate Commission collaborated to produce the NC Real Estate Safety Guide. This document contains common sense safety tips that have been compiled from crime victims and real estate associations across the country. Download an online copy at ncrealtors.org/protect.
Gun toting REALTOR®
For 19 years, Leigh Brown, broker/owner of RE/MAX Executive in Concord, believes agents do not take those "hair on the back of your neck" moments seriously. They ignore their intuition that something is wrong.
"You have to listen to your gut," she says. "I have not experienced any shenanigans in this business. But I'm very outspoken and very visible that I carry a gun in my business."
She actually took her REALTORS® to a concealed carry class together. Some aren't big fans of guns, but the personal safety techniques were popular.
"This is an inherently a very dangerous business. I'm a female entrepreneur in a car and in empty houses with strangers," she explains.
Brown always brings a buddy with her at open houses such as a mortgage partner. She also understands all the crazy stuff happening to REALTORS® because she operates a podcast Crazy Sh*t in Real Estate.
Brown would wear a body cam if it was made available, but she admits that it would be hard to learn how to wear it and be disciplined to pin it on every day.
"And would the public be OK with REALTORS® wearing body cams?" she asks.
White doesn't believe so. She feels that clients, who are weary of body cams, will just find a REALTOR® who doesn't wear one.
Complacency needs to end
Right after the Elizabeth City incident, the Albemarle Area association offered a self-defense class. They also produced a Real Estate Safety Guide with information for agents and clients.
"REALTORS® get too complacent," White says. "I live in a small community where everyone knows everybody. And as an agent, we try to be helpful. But I try to express to new members that you splash your name and face all over the place and that can make yourself an easy target."
She believes that you have to have faith in people, but you also have to be cautious at every step and use the sources out there to protect you—whether that's a body cam or something else.
Showing Properties the Safe Way
• Use a reliable, secure lockbox system
• Show properties before dark
• Call the office once an hour to check in
• Get acquainted with the neighbors
• Prepare a scenario so that you can leave if needed
• Leave the front door unlocked for a quick exit
• Lock your valuables in the car trunk
• Park at the curb in front of the property rather than in the driveway
To learn more about these tips and others, visit NAR's REALTOR® Safety website at nar.realtor/Safety.
Lee Nelson is a freelance journalist from the Chicago area. She has written for Yahoo! Homes, TravelNursing.org, MyMortgageInsider.com, and REALTOR® Magazine. She also writes a bi-monthly blog on Unigo.com.