The Power of Reviews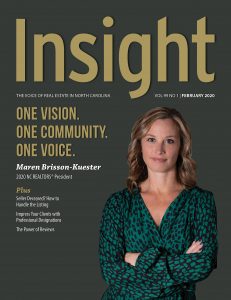 BY ALIYAH ROSS, CONTENT MARKETING COORDINATOR
Build your online reputation the right way
As a REALTOR®, managing your online reputation is essential to the growth and livelihood of your business. Your name is being shared through the grapevine, and new prospects are on the hunt to learn all about why they should choose you to help with their big home purchase. What will they find?
WHY ONLINE REVIEWS?
For years, real estate has been a business by word of mouth. Happy clients refer your services to other prospects, and the cycle continues. However, in today's technologically-advancing world, the digital word of mouth is a bigger deal than ever before and can be the main funnel for leads. This starts with online reviews. Research shows that 88 percent of consumers trust online reviews as much as personal recommendations.
ASKING FOR REVIEWS
With the constant hustle and grind of your day-to-day duties as an agent, you're probably thinking, "How do I find the time to manage my online reputation?" Although it will take some additional work, it's not as hard as it seems. You just need to ask.
Statistics show that 70 percent of people leave a review when asked. So, set aside time in your schedule to connect with recent clients who were satisfied with your service. Ask them to spend just a couple of minutes to leave some thoughts about their experience. Another good time to ask for a review is at closing. Your clients are most likely in a good mood at this stage of the process, which increases your chance of getting a positive review.
Data is also on your side. According to the National Association of REALTORS®' 2019 Homebuyers and Sellers Generational Report, 90 percent of buyers use their real estate agent again in the future or refer them to others. But remember, your chances of getting a review at all decreases the more you let time pass.

RESPONDING TO REVIEWS
Responding to reviews is a must to maintain a good reputation with potential clients. In fact, 30 percent of consumers say they positively judge a business that publicly responds to online reviews. This means responding to the good, the bad and the ugly.
How to Handle Positive Reviews
When someone leaves a negative review, you're usually quick to respond. That's because your brand's reputation is in question, so you want to sort things out in the best way possible. However, when you leave a positive review alone, you're missing out on an excellent opportunity to highlight what you do best. Here's are a few easy ways to boost your brand through positive reviews:
1. Say "thank you"– The mere fact that your client took the time to share their positive experience deserves a thank you on your part. Simply responding with a word of thanks lets your clients and future clients know that you are grateful for the opportunity to play a role in the purchase of their new home.
2. Boost your marketing with stories – Sharing your positive reviews on your website and social media channels puts your excellent customer service front and center and adds a breath of fresh air to your marketing. Think about using those positive reviews to tell a story. When you're trying to convince people that you're the right agent for them to choose, your approach shouldn't be based on mere claims and promises. Fit in a real story inspired by a testimonial, which will show the audience how you handle real situations.
How to Respond to Negative Reviews
So you received a negative review, what now? It doesn't matter how professional you are; it's impossible to please everyone. But, how you respond could earn or lose major points for your business' online reputation.
1. Keep it classy – We've all heard the saying, "sticks and stones may break my bones, but words will never hurt me." However, when it comes to responding to negative reviews, words can hurt your business. When dealing with a client who may not have the nicest things to say about their experience, be sure to maintain a professional manner, and avoid verbally attacking.
2. Be a problem solver – A negative review may not always get to the specifics of a reviewer's frustrations. Ask questions on how you can better understand and resolve the issue. Even offering an invitation to discuss the matter offline shows those browsing your reviews that you are committed to your clients.
3. Walk away – Some things are better left unsaid. If things get too heated, know when to step away from a situation rather than jeopardizing your online reputation.
THE FUTURE OF ONLINE REVIEWS
It is now an online world, and there are just some things you cannot control. When you post a listing, it is going to end up on many syndicated sites that may not be updated regularly. The MLS has the most accurate information, but people looking for homes may not always see that version. You can still manage your online reputation with these tips:
Monitor Social Media – Your social media accounts should be monitored for new reviews daily. As soon as you see a negative review, respond as fast as you can in a positive way. An example of an appropriate response is, "Thanks for your feedback! I am sorry that you feel this way…"
Google Yourself – Do a Google search of yourself periodically to see what is out there on the internet about you. Why? "I have often come across houses that have been sold or closed but are still listed as active properties. This can result in a negative review if a client believes they are receiving outdated information," says an NC REALTOR®.
THE BOTTOM LINE
The review experience is crucial to your brand and online reputation. According to NAR's most recent Profile of Home Buyers and Sellers, 44 percent of buyers looked online at properties as the first step in their home buying process. When potential clients are out there searching for homes, they are inevitably going to discover businesses like yours and reviews of your services.
A complete lack of reviews or a wide array of negative reviews with no follow up can hurt your business' profitability. Find the time to ask for feedback, be thankful for the good experiences and prepare yourself for the negative reviews that will come your way. Soon, you'll find that your business will start to reap some excellent rewards.