Using Instagram Like a Pro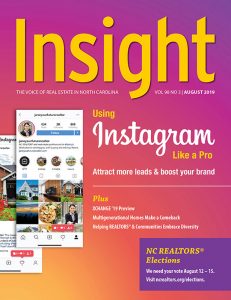 BY ALIYAH ROSS, CONTENT MARKETING COORDINATOR
By now, it's no hidden secret that your business should be using Facebook as a tool in your marketing strategy, but what about Instagram? Photo sharing app Instagram is one of the most popular social media platforms used for business. In June 2018, Tech Crunch reported that Instagram reached over 1 billion monthly active users. Given this statistic, now is the time more than ever to be utilizing Instagram to build your brand, obtain leads on listings and connect with potential clients.
WHY INSTAGRAM FOR REALTORS®?
Instagram launched in 2010 as a mobile-only photo sharing app and has since evolved into a valuable tool that businesses can use to engage their target audience.
We caught up with NC REALTORS® Angie Cole of A Cole Realty in Raleigh and Cristina Grossu of Realty ONE Group in Mooresville to discuss how Instagram has transformed how they do business.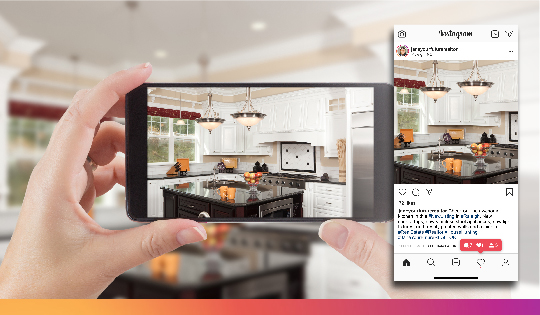 "Instagram is an amazing platform for REALTORS® and the best part about it—it's free! It's an easy-to-navigate platform that allows REALTORS® to reach thousands of people a day, both friends and family, and complete strangers—all of which are important for their business," says Grossu.
"It's an insight into your everyday life while allowing you to be the expert in your field," remarks Cole.
According to the National Association of REALTORS® (NAR), in 2018, millennials made up 36 percent of homebuyers. Over 80 percent of Instagram users are under the age of 34, making Instagram ideal for agents looking to reach millennial buyers.
USE INSTAGRAM TO SHOWCASE YOUR BRAND
Instagram allows you the opportunity to show snapshots of your personal life while always staying front of mind for clients who might be needing your services. Your clients already love the properties you are selling, make them fall in love with YOU. You are assisting in making a big decision, show them you can be trusted and relatable.
"I keep my page updated with pictures of my family, vacations and pets," says Cole. "As a REALTOR®, you have to decide how you want others to think of you. What lasting impression do you want to leave? The pictures and content you post should reflect that brand you want to portray."
It's also important to post frequently and consistently to keep your loyal audience engaged with great content.
"I post daily. I work directly with a company that manages/assists with Instagram posting. They post five days a week with fun business content to get people engaged, and then we post when there is a status or price change on our listings. I am also proactive and post pictures of my family typically 5-7 times a week," explains Cole.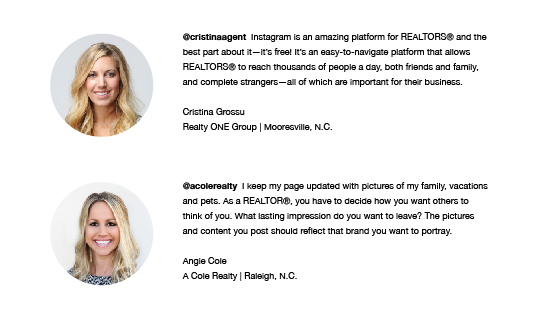 CONTENT IDEAS TO IMPLEMENT TODAY
Here are a few content ideas to help you get started, or to refresh your current Instagram feed.
Share what you do: Instagram is an excellent platform for posting coming-soon listings, active listings, price reductions, upcoming open houses and closing day photos of clients. Then, take your content to the next level with client testimonial videos. Sharing engaging customer stories is a powerful and personal way for your followers to gain insight into the quality of service you deliver.
Keep it real: It is important to post photos and videos that you capture. And you don't need a fancy camera to do it. Using your mobile device will do the trick, and this organic aspect to your feed will resonate with your audience more than overused stock images.
Take it to the streets: In conjunction with talking about your listings, share photos of you in your community. Attending your hometown baseball game or local brewery? Snap a photo and showcase your knowledge and love of the areas you serve.
Tell your story: Storytelling is a vital component of any real estate social media marketing plan. And REALTORS® have a lot to tell. Between listings, meetings, signing contracts and being epic, life can get busy! Take your followers behind-the-scenes of your busy life. Give your audience a greater appreciation of what you do. "It's a platform that has told my "story" as a REALTOR®," remarks Cole.
Use Agent Icon: Need help coming up with fresh content? NC REALTOR® Partner Agent Icon sends a daily newsletter packed with great content to share on your Instagram and other social media channels. You also have access to a media library of beautifully designed images that are perfect Instagram stories. Sign up at agenticon.com/ncarsignup.
INSTAGRAM FOR LEAD GENERATION
Not only is Instagram an excellent tool for building your brand image, but it also can be a way to connect with potential leads. Post your listings and latest happenings in your market, and watch the comments come in. It could even be someone within your inner circle.
"It's amazing how many of your friends are looking for a home but are just too afraid or busy to approach you for help. Instagram is a great way to ease into that business/friendship relationship," remarks Grossu. "I closed about five deals last year from Instagram directly."
Lead potential clients to your profile and boost engagement with the use of hashtags. A hashtag is a combination of letters, numbers or emojis preceded by the # symbol (i.e., #realestate, #newhome.) Hashtags are like keywords for a search engine, and when used properly, they can make your content more accessible for potential followers to discover on Instagram. Who doesn't want that?
Using hashtags can help bring more people to your posts, but don't just stop there. Be sure to respond to comments and messages on your Instagram account. Neglect in this area could cost you, literally. Think of it as if someone called you about a listing. You would jump at the chance to call that prospect back. Treat Instagram comments the same way. If someone comments on your post and asks for more specifics on the property, reply to the comment with details so that everyone looking at your post now and in the future will get the same information. Or, respond by sending a private message to the user to get more personal information about their interest.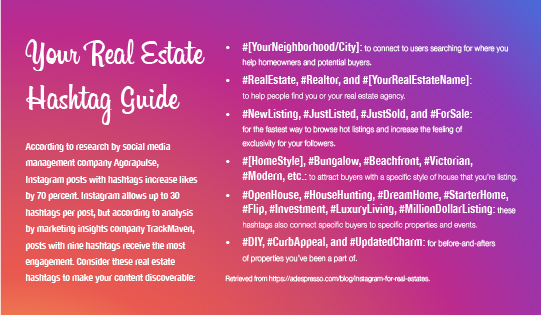 TAKE IT A STEP FURTHER
Pictures on your website or feed can only do so much. Features such as Instagram Stories, Instagram Live, and IGTV can help you deliver a variety of content to your followers.
"I always love the stories section," says Cole. "This feature serves as a great way to talk about your day in the life of a REALTOR®. These stories only stay active for 24 hours, so you can post away without feeling as if you are bombarding the public."
Take your prospects on a live tour of your listing using Instagram Live. Use Instagram Stories to show quick snippets of your listings and what you are doing throughout the day. Make it more personal and fun by utilizing the gallery of Instagram stickers. You never know what might resonate with your followers and potential new clients.
"There have been multiple instances where I posted an agent preview on my story, and then had friends reach out asking for more information about that house," says Grossu. "Come to find out, they weren't working with a REALTOR®, and thus, a new client relationship was formed."
NEXT STEPS
There are a lot of different ways to think about how you should use a personal or business account to showcase your real estate business on Instagram.
"I started with two accounts, a personal and a business. I realized that having two made no sense. Th e point of having an Instagram account is to attract followers, who will then lead to potential new business. If you don't showcase your real estate business on your personal page, you are missing tons of opportunities from friends and family," comments Grossu. She has one account and merges all her activities in one place.
There is also an option to convert a personal page to a business account. This change allows you to get real-time metrics on how your stories and posts perform, plus insights into your followers and how they interact with your posts throughout the day. It gives you the chance to form a strategy and really follow the results. If you go this route, make sure to update your profile to mention your business website and contact details.
Now that you are armed with all the right tools to use Instagram like a pro, it's time to take your real estate marketing to the next level. Follow Grossu (@cristinaagent) and Cole (@acolerealty) on Instagram for even more ideas.