Zühaus, The Future of Real Estate
NC REALTORS® launch Zühaus, aka "Uber for Real Estate."
NC REALTORS® Paula Grossman and Leigh Mullins launched Zühaus in August of 2019. Since then, the app has helped REALTORS® connect with their clients in a new way. We caught up with Grossman to learn more about the story behind this innovative app and why it is being called the "Uber for real estate."
How long have you been in the real estate industry?
My business partner Leigh Mullins and I have been in the real estate industry for the better part of our lives. I learned from my father growing up, and Leigh made a career in investing. Together, we opened Joseph Bailey Real Estate Co., a boutique concierge firm in Cary.
What inspired you to develop the Zühaus app?
We were inspired to create the Zühaus app primarily by how cold leads are currently cultivated. Agents are forced to compete with other agents for the same customer, and end up bombarding potential clients with calls, texts and emails.
How did you come up with the name?
The name Zühaus means "at home" in German. We wanted an edgy look, something concise and catchy to resonate with all generations. We also wanted something that helps create a feeling of comfort and security—like when you are "at home."
What are some notable features of the app?
We wanted to establish a platform where potential buyers can search for a home and connect with an agent to see the home on their schedule. In the same way that Uber works, the first agent within the designated proximity of the property to claim the appointment gets it. This process gives that agent a guaranteed face-to-face meeting with interested buyers. The app does the lead chasing for you.
Who currently has access to Zühaus, and what can REALTORS® and consumers expect from the app in the future?
Our goal is to establish a strong foothold in our home state of North Carolina. The app is available in Raleigh now. The next target markets are Charlotte and the Crystal Coast. After that, we plan to launch in cities across the United States that we have identified as progressive and are experiencing a great degree of growth.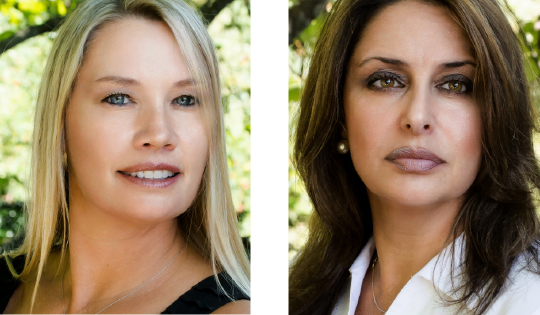 Zühaus app creators Leigh Mullins (left) and Paula Grossman (right) are also REALTOR®/owners of Joseph Bailey Real Estate Co. in Cary.
How It Works
Zühaus is designed to be convenient for clients and agents. Here's how the process works:
1. Search for a home
Zühaus is a search engine—giving buyers the ability to search homes in their area for a future showing.
2. Connect with a REALTOR®
After discovering a home in the search, buyers then get connected with a real estate professional that will answer any questions they have about a listing and schedule a showing.
3. Schedule an appointment
Buyers can get a first look at a listing the same day or schedule a tour in the future.
For more information, visit getzuhaus.com or follow on social media @getzuhaus.