C2EX | These NC REALTORS® are committed to excellence. Join them!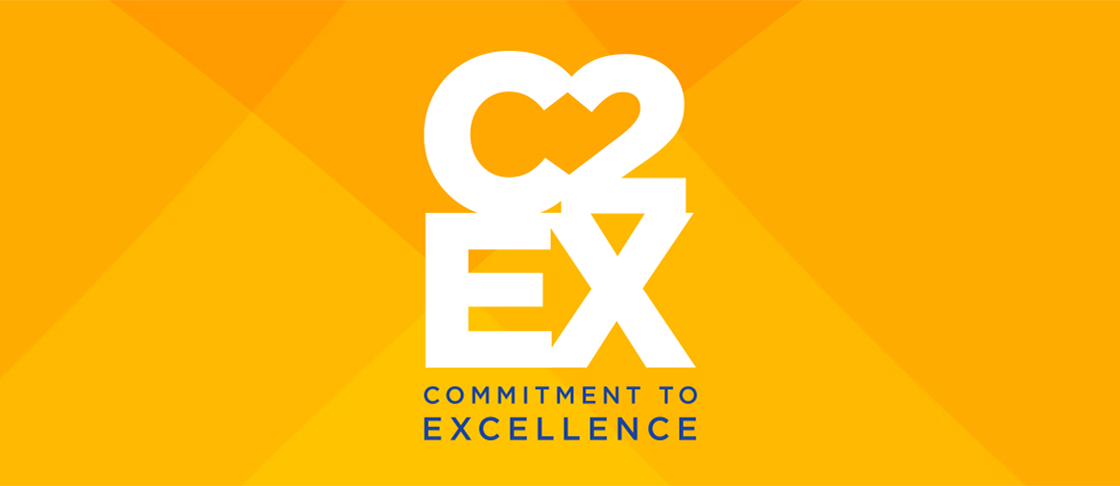 Commitment to Excellence (C2EX) is a program that empowers REALTORS® to demonstrate their commitment to conducting business at the highest standards. Designed for the REALTOR® on the go, C2EX features customized learning paths that you can complete on your mobile device at your own pace. It's not a designation or a course. It's not a requirement, but a benefit available to all NAR members at no additional cost.
These NC REALTORS® have already completed the program and received their endorsement.
As of 10/3/23
Nancy Accipiter
Kristen Adamczuk
Amber Alderton
Pamela Alexander-Raynor
Eddie Alie
Bonnie Allen
Brittany Allen
Charles Allen
Alisha Allen DeBerry
Jenna Allison
Karen Allred
LaToya Amaya-Hunter
April Annas
Audrey Armstrong
Cindy Arnold
Marvette Artis
Christina Asbury
Julie Ashton
Olutunde Atanda-Ogunleye
Marcus Atkins
Jennifer Aubrey
Betsy Auster
Carol Averitte
Charlene Axsom
Terry Ayala
Tammy Aycock
Stephany Ayerbe
Tonya Ayers
Sonja Babic
Dennis Bailey
Tanetta Bailey
Kimberley Baker
Leighton Baldwin
Louis Baldwin
Heather Ball
Sharna Lee Balogun
Joshua Baradaran-Dilmaghani
William Barbee
William Barnes
Kenneth Barnwell
Shirley Barnwell
Chester Bartlett
Jennifer Bartlett
Karen Bartlett
Angela Batchelor
Carrie Bateman
Melanie Baxt
Angela Becker
Kelly Beene
Elizabeth Belk
Brianne Bender
Janiece Benjamin
Stacy Benson
Kelly Benton
Jennifer Berry
Matthew Bilbrey
Marlene Billesdon
Philip Black
Michael Blackburn
Andrea Blackwell
G. Blankenship
Judson Blevins
Omar Blue
Justin Bock
Olita Boone
Carol Borrelli
Phyllis Bosomworth
Marilyn Bostick
Kristin Boullion
Ashley Bowden
Counsclo Bowie
Mary Rachel Bowling
Michelle Braat
Travis Brafford
Lindsay Brandon
Dean Brasseur
Katherine Brasseur
Randy Bratton
Hollie Breazeale
Patricia Breitenbach
Sandy Brest
Shannon Brien
Shelee Brim
Elizabeth Brittain
Linda Brocuglio
Lori Brooks
Denise Brown
Ellen Brown
Leigh Brown
Lisa Brown
Maurice Brown
Virginia Brown
Shannon Brummer
Rebecca Bulluck
Angela Burgess
Michael Burgess
Mark Burns
Michele Burris
Cassandra Butler
Elizabeth Byrd
Melanie Calary-Barton
Kelly Calderon
Chavous Camp
Julie Campbell
Scott Campbell
Robin Cape
Dede Carney
William Carney
Kathryn Carpenter
Wendy Carroll
Andrea Carter
Michael Carter
Brooke Cashion
Kimberly Cassidy
Jessica Cassity
Heather Cater
Cindy Chandler
Evona Cholewa
Brandi Christian
Lisa Chrystie
Michele Clark
Julia Claytor
Ara Clendenning
Dale Clift
Randi Clodfelter
Lola Cole
Samantha Cole
Danielle Coleman
Marcella Coley
Emilee Collins
Sharon Cooke
Renee Cooney
Rashard Cornell
Nancy Costa
David Costner
Cirila Cothran
Bradley Cotton
Edwin Coulbourn
Brittani Cowles
Duke Cox
Sofia Crisp
Joanne Crum
Kelly Curran
Kim Curry
Coleen Curtis
Helen Curtis
Misty Cuthbertson
Teresa Dalsing
Denise Daly
Andrew Dames
Angela Damiano
Allen Dargins
Cynthia Daves
LaTanya Davis
Michael Davi Davis
Rusty Davis
Jeffrey Daw
Sharon Dawson
Benjamin DeBurle
Melinda Deigan
Mirinda DeLano
Michelle Delin
Amy DeMars
Cindy DePaola
Kristin Devaney
Renny Diedrich
Vito DiGiorgio
Andrea Dirkschneider
Randy Dockery
Charisma Dockery Smith
Rosemarie Doshier
Stephanie Doshier
Kevin Dovel
Cindi Doyle
Michelle Duncan
Kerry Dunleavy
Valerie Dupree
CURTIS DUVALL
Bobby Eades
John Easterling
Doreen Eby
Abby Edwards
Jaclyn Edwards
Helen Edwards Jackson
Amanda Elder
Belinda Elder
Betty Jo Ellender
Samantha Ellison
Jason Ellsberry
Danita Ensley
Keri Epps-Rashad
Magda Esola
LeAnn Everhart
Janice Farr
Kristina Farrell
Monica Faulkner
Paula Ferebee
Erin Ferguson
Kristie Ferguson
Virginia Ferguson
Paige Ferrin
David Fialk
Regina Fie
Billie Figura
Thomas Finigan
Kellie Fischer
Jennifer Fish
Maureen Fisher
Asa Fleming
Kimberly Fleming
Leona Flowers
Anthony Floyd
Marcia Folnsbee
Trevor Foote
Michelle Forbis
Camilla Forcum
Debra Fortin
Broocks Foster
Jamie Foster
Katherine Fox
Tamara Fracassi
Miguel Fragoso
Elizabeth Franklin
Crystal Franklin-Copas
Jennifer Franklin-Rowe
Michael Frederickson
Annie Freed
Kyle Frey
Esteban Fuentes
Daniel Fuhrman
Faith Funderburke
Pam Furtney
Catherine Gaines
Catherine Gainey
Fred Gainey
Christine Gallagher
Mayaribe Galletta
Peter Gallo
Amber Garchar
Sheila Garcia Holloway
Anne Gardner
Crystal Gardner
Diana Gardner
Catherine Garren
Felicia Gaskin
Susan Geiger
Jason Gentry
Jaycee Georgiev
Esther Giambalvo
Nelene Gibbs
Natalie Gideon
Barbara Gilliland
Ginger Givens
Holly Glenn
John-Lewis Godfrey
Katherine Godwin
Erika Goltz
Thomas Gongaware
Ashley Goodman
Jordan Googe
Heather Gool
Stacie Gosiene
Kyle Graham
Austin Grainger
Jamea Gray
Tanner Gray
Gina Green
Gloria Green
Gregory Green
Melissa Green
Scarlet Green
Pamela Greene
Lynne Griffin
Mary Griffin
Tallie Griffith
John Gronewold
Cristina Grossu
Lewis Grubbs
Andrea Grundy
Darcell Guethlein
Kaci Gulledge
Mary Gutowski
Jennifer Guynn
Owen Gwyn
Kathy Haines
Chris Haley
Jason Hall
Joy Hallman
Mary Halter
Clayton Hamerski
Georgetta Hamilton
Lisa Hamner
Carol Hampton
Angela Hannum
Cynthia Hanson
Teresa Hardy
Tara Hargrove
Ben Harker
Karen Harper
Morgan Harper
Caitlin Harrell
Anthony Harrington
Angela Harris
Donald Harris
Terri Harris
Wendy Harris
Victoria Harrison
Amber Harvalias
Walter Harvey
Alexandrea Hatley
Brenda Hayden
Erica Hayden
Tim Hayden
Amy Hedgecock
Vera Hegmann
Janet Heinis
Beth Helton
Elizabeth Hensley
Leane Hensley
Toni Hensley
Dempsi Henson
Robert Herald
Amy Herold
Blair Hess
Mark Hessert
Pamela Hill
Shannon Hines
Michele Hobaugh
Amanda Hobbs
Candance Hobson
Wendy Hodel
Catharine Hofmann
Brandi Hollifield
Jeremy Hollingsworth
Lisa Holmes
Sarah Holmes
Victoria Holmes
Ashley Horton
Ellen Hough
Eva Houston-Henderson
Rebecca Hovland
Charlene Howard
Helen Howard
Lorraine Howard
Sue Howell
Michelle Huffman
Jessica Hughes
William Humphrey
Scottie Hundley
Kent Hunter
Sandra Hurst
Dayma Huston
Galina Iancu
Charmaine Ifill
Mark Irby
Patricia Irvin
Trevia Ivey
Liesel Jacullo
Charles James
Jessica James
Rebecca James
Joyce Jaramillo
Aimee Jarrels
Hunter Jarrett
Bryan Jenkins
Tameca Jenrette
Susan Jester
Amber Johnson
Ashley Johnson
Jeffrey Johnson
Karen Johnson
Matthew Johnson
Phillip Johnson
Sharon Johnson
Wayne Johnson
Elisabeth Johnston
Antonio Jones
Edward Jones
Jacqueline Jones
Melissa Jones
Michael Jones
Mark Joyce
Vanessa Kaiser
Angela Kalamaras
Gabriel Kassebaum
Ashley Kaufman
Katie Keisler
Beverly Keith
Wanda Keitt
Bridget Kelly
Willo Kelly
David Kennedy
Adam Kiefer
Dawn Kilby
Faron King
Michael King
Guadalupe Kingsbury
Carrie Kinney
Christopher Kinstle
Danielle Kinstle
Angelica Kirkpatrick
William Kirkpatrick
Pamela Kitto
Jacqueline Klein
Amy Klingensmith
Carolyn Knight
Melissa Knight
David Knoebel
Dolores Knudsen
Tanya Knutson
Sarah Kober
Melissa Kolodziej
Scott Korbin
Samantha Kozak
Russell Kral
Krystal Kramer
Karen Krotki
Amanda Kruchesky
Jill Kuhn
Madalyn Kunow
Carol Kurtz
Carmen Lacey
Andrea Lairson
Kyle Land
Dawn Landreth
Laurie Lapham
Sabrina LaRue
Ehlert Lassen
Tatiana Laureano
Laura Lefevre
Vicki Lemmond
Debra Lepper
Zachary Lilly
Steven Limbers
Drew Lindsey
Mark Lindsey
Tina Lindsey
Patty Lisa
Thomas Livingston
Gabriela Logan
James Logan
Shelly Logan
Allison Long
Mary Love
Mandy Lowe
Linda Luong
Sarah Lyda
Kathy Lynch
Finesse Lyons
Katie Mabe
Daniel MacDonald
Angala Macy
Sheila Magee
Cheryl Malandrinos
Gina Mandelbloom
Richard Manning
Brett Marlowe
Andrea Marshall
Kelly Marshall
Duncan Martin
Sherry Maser
Constance Massetti
Sandra Mathews
Louisa Matthews
Deborah Maxwell
Jonathan McAchran
Jonathan McBride
Samantha McCoy
Tikola McCree
Michele McCubbins
Debbie McFayden
Paul McGill
Michelle McKeown
Michael McKinney
Selina McLamb
Cheryl Anne McLean Kohnert
Brenda McMillian
John McPherson
Lisa McRorie
Martha Mendoza Borgese
Tom Menges
Sona Merlin
Brittani Metts
Michelle Meyer
Hilburn Michel
Kathleen Miller
Stephinie Miller
Charissa Minard
Beverly Mineo
Christy Mitchell
Jason Mitchell
Jay Mitchell
Johnny Mitchell
Karen Mitchell
Alyssa Mitchem
Timothy Mock
Judith Monks
Arthur Monroe
Tanya Monroe
Alice Moore
Dottie Moretz
Leigh Morgan
Victor Morgan
Michelle Morock
Clarissa Morrell
Debbie Morrisette
Jason Morton
Mae Moss
Sarah Moss
Cara Mottershead
John Muir
Nicolle Mulvey
Lorrie Munagorri
Michelle Mundra
David Murphy
Kai Murphy
Benjamin Myers
Kathy Myers
Lisa Myers
Charlene Naegele
Therese Nanney
Elizabeth Narvaez
Nakia Nelson
Lisa Newhouse
Mitzie Newman
Debbie Newton
Constandinos Nikopoulos
Erin Nixon
Lisa Nobles
Elizabeth Noles
Jennifer Noto
Kathleen Novak
David Noyes
Ruth Odom
Angelina O'Grady
Shelley O'Grady
Elspeth Ohman
Maureen OKeefe
Taofikat Oladipo
Travis Old
Lee O'Malley
Cynthia Ortiz
Andrea Owens
Maria Owens
Mustafa Ozturk
Robert Paflitzko
Samantha Page
Bruce Painter
Monica Palmer
Charudatta Panajkar
Jennifer Pappas
Kimberly Parke
Mark Parker
Tammy Parker
Courtney Parris
Daniel Pasker
Sylvia Pate
Kajal Patel
Shanni Payne
James Pecora
Katie Pendleton
Kimberly Perkins
Len Perkins
Jean-Paul Peron
Paul Perry
Talvia Peterson
Erica Petithomme
Jill Petras
Becky Petree
Derrick Petree
Ellen Petri
Ashley Pettit
Betty Phu
Alfredo Pietrosemoli
Christian Pigott
April Pike
Aaron Pinkston
Tannia Pitchford
Teresa Pitt
Sandy Plachecki
Melissa Polce
Melinda Pope
Fara Pourshariati
Nicole Pratt-Nunley
Crystal Presley
Mary Elizabe Price
Lisa Pricher
Sherri Pridgen
Andrew Puckett
Desiree Pugh
April Rainey
Natalie Rakoci
Ann Marie Ramkissoon
Jeffrey Ramsay
Tonya Ramsey
Savanna Reagin
Allison Reeves
Dana Reine
Jennifer Reiner
Angela Reins
Latisha Rhinehart
Colleen Rhynders
William Rice
Ayesha Richardson
Fayanne Riedl
Carolyn Riley
J. D. Rinehart
Jennifer Ritchie
Jason Robbins
Michelle Roberts
Traci Roberts
Tracy Roberts
Chasity Robertson
Kristie Robertson
Norma Robinson
Ginger Robles
Warren Rodgers
Kathy Roemer
Theresa Romano
Carla Rose
Aliyah Ross
Allana Ross
Kerri Ross
Lora Rousseau
Keith Rushman
Giovanni Russo
Bobbei Ruswinckel
Ea Ruth
Cynthia Ryan
Tina Safi
Jenifer Salter
Belinda Sanders
Kimberly Sands
Gina Sapnar
Aletha Saunders
Terry Saunders
Rebecca Savitski
Janice Scarborough
Ashley Schaus
Tina Schildt
Suzanne Scholten
Jennifer Schrimper
Elizabeth Scott
Jason Scott
Jennifer Scott
Chris Scruggs
Maslin Seal
Marieyink Segovia
Diana Setaro
Sally Sharber
Karen Shaylor
Robert Shea
Edward Shelton
Gretchen Shelton-Raiford
April Shepard
Sarah Sheppard
Kathleen Sherman
Richard Shipp
Colleen Shriver
Lori Shultz-Moore
Rachel Siler
Cheryl Simmons
Elizabeth Simmons
Tyrone Simon
Debbie Simpson
Hollie Sims
Arnold Sinko
Kena Skipper
Martha Slawter
Virginia Sloop
Sarah Small
Amanda Smith
Donna Smith
Karleta Smith
Renee Smith
Shana Smith
Terry Smith
Melissa Snow
Tonya Snow Saleeby
Cassandra Snyder
Kimberly Snyder
Michael Solomon
Margaret Sophie
Chandler South
Brook Sparks
Susan Stallings
Katharine Stamp
Barry Stanley
Elizabeth Starkey
Patricia Steely
Dina Stepanova
April Stephens
Allen Stewart
Sandra Stewart
Christine Stilley
Andrea Stone
Michael Storm
David Stouffer
Cassie Stover
Tina Stover
Frances Strickland
Linda Strickland
Ben Styers
DeAnn Suchy
Mary Suggs
Mary-Freemon Sullivan
Sean Sullivan
Stacy Sullivan
Dwight Sutton
Kendra Taft
Dora Renee Taylor
Meredith Teague
Angela Tedder
Desirae Terrazas
Courtney Thomas
Lisa Thomas
Caitlin Thompson
Scott Thompson
Yvonne Thompson
Linda Todd
Yvonne Torres
Tony Totzke
John Trapaso
Linda Trevor
Christina Truitt
Lucia Turlington
Michael Turnage
Magdiel Turnbow
Elizabeth TwoFeathers
Adam Upchurch
Mark Urbanski
Alison Vannoy
Sharon Voss
Brenda Vrooman
Jay Walden
Callie Walker
Stephanie Walker
Tim Walker
Cynthia Walsh
Sandra Walsh
Christian Ward
William Ward
Justine Warner
Cassandra Warren
Kelly Warren
April Watkins
Phaedrea Watkins
Robin Watkins
Beth Watson
Pamela Webb
Marlo Wells
Katharine Wendt
Monica Werner
Ashley Wheeler
Bonnie White
Lori White
Daniel Whited
Aimee Wieck
Karen Wiggins
Sarah Wiley
David Willett
Karen William
Carli Williams
Hope Williams
Jennifer Williams
Melody Williams
Rebecca Williams
Angela Wilmoth
Linda Wilson
Terry Wilson
Wendy Wilson
William Wilson
Rhonda Wilson-Henry
Karen Wirzulis
Deanna Wolfe
Emily Wood
Janice Woychik
Alisa Wright
Andrea Yancey
Melissa Yates
Denise Young
Judith Younger
Sherrie Zaring
Vanessa Zink
Myra Zollinger
Joseph Zuba
---