NC REALTORS® Eligible For Vaccine in Group 4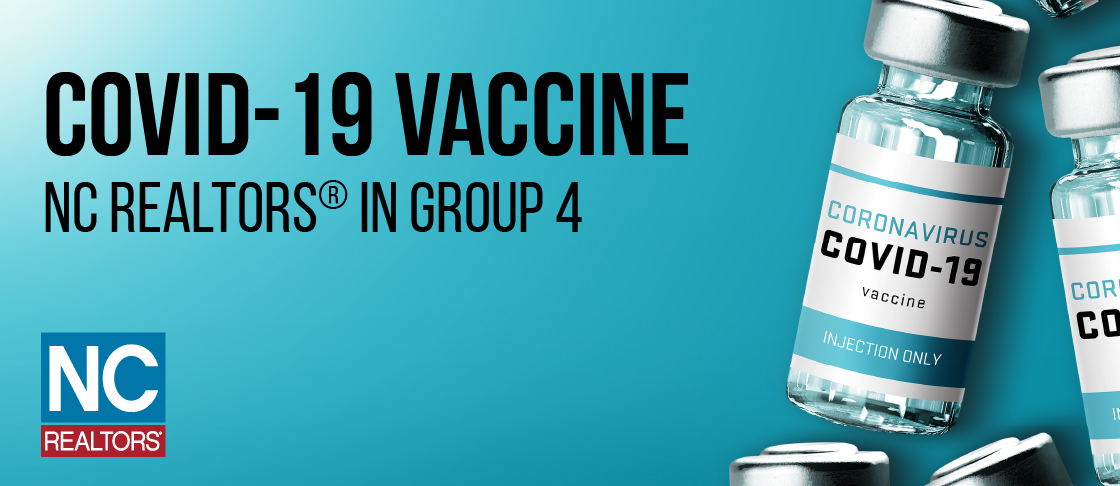 On March 11, Governor Cooper announced that Group 4 vaccinations are scheduled to start on Wednesday, March 17. Here's what you need to know:
Am I eligible for Group 4?
Based on what we know right now, real estate professionals are slated to become eligible for COVID-19 vaccination in Group 4 because you are considered essential workers. Group 4 will be eligible in two phases. The first phase, scheduled to start on Wednesday, March 17, includes those who have medical conditions that put them at a higher risk or those in close group settings. The second phase, currently scheduled to begin on Wednesday, March 31, includes real estate professionals and other essential workers.
Learn more about Group 4 eligibility requirements
Find out more about when you are eligible
Find the vaccine locations nearest you
Do I need special documentation or proof that I am eligible?
NC REALTORS® recommends you carefully read the instructions about what is required with your vaccine provider to ensure you have everything you need for your appointment(s). We recommend you take your pocket card to your appointment along with anything else your vaccine provider requires.
Please stay tuned for updates from NC REALTORS® on the Group 4 status. You can also visit ncrealtors.org/coronavirus for updates and resources.
We are very excited for you to be able to get this vaccination. We thank our government affairs staff for working hard to gain essential status for REALTORS®. We thank you all for working professionally with best practices during the pandemic. We should all expect to continue following the Governor's orders even after being vaccinated. However, since your safety has always been paramount to us, we are very happy that you will have the protection of these vaccines.
Learn more about NC REALTORS® Response to COVID-19
---