August 29
@
9:00 am
–
4:00 pm
AHWD is an NAR certification program designed to present a picture of the changing face of the real estate industry. The At Home with Diversity course addresses the topics of diversity, fair housing and business planning development. After successfully completing the course, REALTORS® are eligible to apply for the official AHWD certification, which conveys to clients they're working with a dynamic real estate professional with expertise that transcends cultural barriers. AHWD Certification Requirements
---
This class provides the following credit: 4 hours of CE & WHS designation
HPRAR Member Registration (with CE): $50
Non-HPRAR Member Registration (with CE): $60
---
Presented by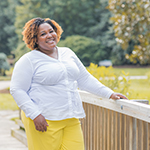 Ayesha Richardson
Born in NJ but bred in the Tarheel State, Ayesha Mintor Richardson has been in the real estate industry since 2009.  She has been teaching and coaching agents since 2011 and has been approved for pre-licensing, post licensing, and continuing education with the NC Real Estate Commission since 2017. Ayesha is a full time practicing broker with Keller Williams One in Greensboro, NC,  leading the local partners of Carolina Expansion Partners group and coaches their agents across North and South Carolina.  She's been a NAR SPIRE mentor and is active with the High Point Regional Association of REALTORS®  and NC REALTORS®.  Being a part of the BEST Class Ever (since 2003) of The William C. Bass Leadership Academy has been one of the most rewarding experiences. Kelly, her husband of 16 years, may or may not look forward to class days with Ayesha sharing all of that energy with the attendees, while he enjoys some quiet time.
While real estate can be a stressful and challenging experience for buyers, sellers, and agents, we can make it enjoyable.  There are many examples of errors other licensees have made.  Let's learn from their errors, edify our real estate acumen and be the best real estate professionals possible.  Education doesn't have to be boring and with Ayesha, it's more of "EduTainment" – we have to be here for the allotted number of hours, let's laugh a little bit while we're together.  Let's face it,  you can read material and be bored at home by yourself.
Cancellations: Cancellations may be processed online and will be accepted up to one (1) business day preceding each course. Course registration less a cancellation fee may apply. Refunds will not be granted to no-shows or last minute cancellations.
To cancel a class: Login to the NC REALTORS® website, Go to "View full Calendar", Select the course you wish to cancel, Select Cancel
NCR reserves the right to cancel/change any course at any time. If a course is canceled, you will be notified as soon as possible. You will receive either a full refund or, if rescheduled, you may transfer to the new date. NCR is not responsible for any out-of-pocket expenses (lodging, airfare, etc.) you may incur when a course is canceled or rescheduled.
Photography waiver: Portions of this course may be photographed, or audio/video recorded for various purposes, including reporting/promotion. By registering, you agree that NCR and/or anyone acting on their behalf may photograph or record by audio/video your attendance and involvement in any portion of the course. Furthermore, you agree that the NCR may use these photographs and/or recordings without additional approval or permission and without compensation.