In-person | Land 101: Fundamentals of Land Brokerage
November 28
@
8:00 am
–
November 29
@
5:00 pm
This course is the perfect introduction to the land specialty. Whether just entering the land real estate industry or looking to refresh on the basics, attendees will acquire knowledge to more confidently assist clients. This course provides a strong foundation for any real estate professional looking to perform land transactions.
After taking this course, attendees will have the:
Expertise to navigate various environmental, land-use rights and restrictions, and taxation factors associated with land transactions.
Confidence to identify, describe, map and value the different types of land real estate.
Competence needed to help clients through the 1031 tax-deferred exchange process.
Knowledge to strategically market and sell properties.
Resources and tools received:
Farm Listing Checklist
Tools to Estimate Tract Productivity
Sample Marketing Pack age
---
This class provides the following credit: 4 hours CE
RLI Member Price (with CE): $425
Non-member Price (with CE): $500
---
Presented by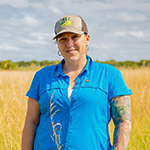 Christina Asbury
Meet your Land 101 class instructor, a seasoned Accredited Land Consultant (ALC) hailing from the Coastal area of North Carolina. With a wealth of experience and expertise in the land business, she is a driving force in the region's real estate landscape. Having demonstrated exceptional leadership and dedication, she has served multiple terms as the President of the Carolinas Chapter of the Realtors® Land Institute (RLI). Not content with merely local influence, she has also actively contributed to the growth and development of the land industry at the national level, participating in various capacities and holding influential positions within RLI National and NAR.
Her passion for the land business is palpable, and she revels in the opportunity to interact with the people who make the industry thrive. While many may prefer the comfort of an office and a computer screen, this ALC is a true outdoors enthusiast, finding solace and excitement in being out in the field, exploring and understanding the vast landscapes that coastal North Carolina has to offer. Her skill set is diverse, and her experience encompasses working with a wide array of clients, from asset managers to developers, builders, farmers, and even the everyday land investor. Her ability to cater to various stakeholders is a testament to her adaptability and understanding of the complexities involved in land transactions.
Whether you need guidance on land transactions, expert advice on development opportunities, or assistance with finding the right parcel to meet your needs, this ALC is your go-to person. So, buckle up for an exciting journey through the fascinating world of land and real estate with your highly experienced and passionate instructor. You're sure to gain valuable insights and practical knowledge that will empower you to navigate the land business successfully. Welcome to Land 101 and the Realtors Land Institute!
Cancellations: Cancellations may be processed online and will be accepted up to one (1) business day preceding each course. Course registration less a cancellation fee may apply. Refunds will not be granted to no-shows or last minute cancellations.
To cancel a class: Login to the NC REALTORS® website, Go to "View full Calendar", Select the course you wish to cancel, Select Cancel
NCR reserves the right to cancel/change any course at any time. If a course is canceled, you will be notified as soon as possible. You will receive either a full refund or, if rescheduled, you may transfer to the new date. NCR is not responsible for any out-of-pocket expenses (lodging, airfare, etc.) you may incur when a course is canceled or rescheduled.
Photography waiver: Portions of this course may be photographed, or audio/video recorded for various purposes, including reporting/promotion. By registering, you agree that NCR and/or anyone acting on their behalf may photograph or record by audio/video your attendance and involvement in any portion of the course. Furthermore, you agree that the NCR may use these photographs and/or recordings without additional approval or permission and without compensation.