Next Time, Call the Tech Helpline
If you're one of 44,000 NC REALTORS® and your computer crashes, printer freezes or you can't connect to Wi-Fi, you know assistance from Tech Helpline is just a call or a click away. Or, at least we hope you know about this free, epic member benefit.
But maybe what you didn't know is that the experts at Tech Helpline can provide tech support to cure things other than standard tech issues. Here's a list of 10 things you can call Tech Helpline about that you didn't know you could:
1. Setting up Alexa: Smart home voice-activated assistants are the hottest devices. Most times, it's easy to set up, but not always. Tech Helpline can walk you through the setup process quickly.
2. Buying a new flat screen TV: With so many different brands, specs and features, such as smart TV pros and cons, the analysts at Tech Helpline can be your real live consumer guide.
3. Casting from your PC to your TV: If you've ever tried to get your laptop to broadcast wirelessly on your TV, you know it doesn't always work. Tech Helpline experts can show you how to use Chromecast to get the job done.
4. Social media guidance: How do you connect your Instagram and Facebook accounts so you post on one, but it appears on both? Tech Helpline reps are ready to answer social media questions.
5. Posting an ad on Craigslist: If you have never done it before, save yourself some time and contact Tech Helpline. They can assist you in setting up an account and help you avoid pitfalls.
6. Holiday mail merge: If you are like some of us, the only time you use mail merge is for your holiday mailings. And if you are like most of us, you struggle to remember how to do it. Save time, call Tech Helpline.
7. Solve image format issues: You have a photo that's in a PDF, but you need to upload it to a website as a JPG. What do you do? Converting images is simple and easy, and Tech Helpline can help you.
8. Smart home device advice: Have you searched for smart home devices on Amazon lately? There are a gazillion of them! A Tech Helpline expert can help you smartly sort through all the options.
9. Getting your iTunes library organized: It may be music to your ears to hear that Tech Helpline is also musically inclined. Let them help you with your iTunes or Spotify accounts.
10. Apple CarPlay or Android Auto Help: You have that beautiful, brand-new car with all the latest bells and whistles. But you probably don't know how to use a lot of them – yet. Call the folks at Tech Helpline, as they are there to help you stay productive, especially when you're out and on the go!
The truth is there are dozens of ways that Tech Helpline can provide support. The best way to find out? Call 877-573-5612, email support@techhelpline.com or start a chat at chat.techhelpline.com.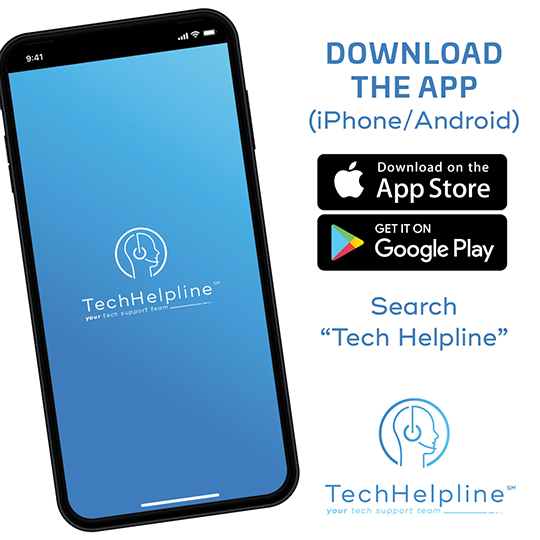 This article was pulled from a recent post on the Tech Helpline blog. Read more at techhelpline.com/blog.