Virtual Reality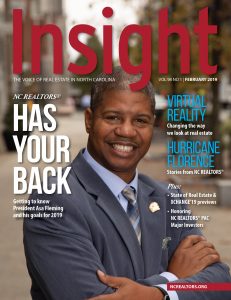 BY: NOAH CORBETT
If you have seen or followed headlines about Facebook, Microsoft or Google in the last five years, it's likely that you've come across something regarding virtual reality. Even if you aren't a regular reader of the news, it's possible that you might have seen the technology without recognizing it. But, what is virtual reality, exactly? Immersive Virtual Reality (VR) uses sensory aids to transport you to another, virtual world. VR headsets are equipped with screens, and often have headphones to immerse you into the world. Sometimes, gloves or chest harnesses are integrated into the experience to mimic weight, textures and impacts. Think about it as if, when you put on the headset and gloves, you are instantly placed in the center of your favorite movie. You can interact with, touch, see and hear the other characters in the scene.
Many of the technologies that have come out in recent years for VR have been slated towards entertainment or playing games; however, there are many promising and practical applications of virtual reality coming to light now in a number of different industries including real estate. The barrier to entry—it's price—has been lowering and it's more affordable than ever to begin looking at VR as yet another tool in your belt as a REALTOR®. Provided that the statistic "one in three home buyers never step foot in a property before buying" holds, then virtual reality technologies are ideally situated to bridge that gap, and in doing, so may also boost your marketing efforts and attract new clients.
Virtual Property Showcasing
Property photos have been a crucial part of real estate marketing for decades, but thanks to VR and other advances in technology, we are no longer restricted to just two dimensions. "We would like to see VR replace still photography in the future," says AerialLook CEO Robert Koenkamp. "Why look at real estate when you can experience it?" With the help from companies like Matterport, GeoCV and NC REALTORS® partner AerialLook, REALTORS® can promote online listings and allow clients to experience properties through three-dimensional, guided walkthroughs either at the click of a button or through a headset.
Take Laurie Weston Davis for example. A REALTOR® at Better Homes and Gardens Real Estate Lifestyle Property Partners in Pinehurst, Davis serves many military families—clients who are often partially overseas and aren't available to check out properties in person. Virtual reality, specifically 3D tours, have enabled her to move past those obstacles. Not only has it helped to showcase homes to clients abroad, but it also helps them "narrow their focus, rule out issues [or] things they don't like in various houses and save time." Virtual walkthroughs, she finds, are particularly important for midrange and lower-end homes because homebuyers of higher-end homes often have the means and desire to travel to and see them in person.
Virtual Staging
Moving beyond virtual showcasing, virtual staging, when integrated with VR, is becoming a popular alternative to traditional house staging. Open houses and tours are a great way to explore a property but also pose some challenges. Clients are forced to look beyond the current owner's furniture or empty rooms, and staging can require a hefty investment.
Today, with the help of companies like roOomy, REALTORS® can market a staged property with comparatively little investment. RoOomy currently offers over 100,000 furniture and household items in their virtual catalog, so clients can choose pieces of furniture that might look similar to the ones they already own. Then, view the furnished room on a computer screen, or by utilizing a VR and roOomy's new app, step into the room and look around.
Privacy Concerns
It may be apparent at this point that virtual reality has permeated the real estate industry and its proliferation will continue in the future. Davis is a prominent supporter of new technology and its applications in real estate, and she finds that virtual walkthroughs are "no longer a perk of a house listing but a necessity to stay ahead." But, she also cautioned the need to be considerate of your clients.
"You have to make sure there's nothing visible in the home that's personal [or] has any sort of personal information about the client," says Davis. Unlike with photos where you may only get one perspective of a room from a distance, a virtual walkthrough is significantly more personal and can expose the kinds of things a client may not want the world to see. "If you see tax information, for example, on their refrigerator, you can literally 'walk' over to it and see it."
Costs
In recent years, the access to virtual reality has increased dramatically in no small part to the distribution of relatively inexpensive headsets that use your phone to enable your VR experience. Unfortunately, that doesn't mean that the price for the hardware used to create VR experiences and 3D walkthroughs has decreased in that same time. As of today, the price for a Matterport camera hasn't changed for years. Plus, you're locked into image hosting which costs between $500 and $1,500 per year.
To skirt this particular cost, a number of brokerages hire professionals, like AerialLook, to shoot virtual tours for them which can sometimes afford them extra perks or a more complete package (drone footage, still photos, etc.). But again, that may not be particularly affordable, either.
GeoCV is still beta testing right now, but they provide a different approach to 3D walkthroughs and virtual tours. Instead of using expensive cameras and hosting services, GeoCV relies on your phone, provided it can shoot 3D photos. This model costs much less upfront and gives the REALTOR® the ability to shoot the virtual walkthrough themselves.
"[VR has] never been more affordable. Users can access VR from their mobile phones and inexpensive headsets," says Koenekamp. And, as VR has developed, "we have been able to reduce the overall cost of implementing VR by increasing the [number of] VR tours we produce." In other words, even if you can't reasonably afford virtual reality technology today, in the future, the price will continue to drop and become more affordable to everyone.
Technology Changes
Koenekamp is optimistic about the future of VR in real estate, and he has reason to be. The rate of development for VR and like-technologies is increasing, and many of the ideas once thought improbable are likely only a few years away. Historically, there were no significant individual hardware or software improvements in the VR space between the 1960s and 2012, but since 2012 there has been an explosion of innovation. Advancements in VR, both software and hardware, are significant enough that there's now a multibillion-dollar industry surrounding its development. Matterport and AerialLook are just two examples. Given the potential future for the technology, it's not unreasonable to presume that it might be possible to explore a virtual walkthrough as if you were actually walking through a house itself, and not just jumping from one camera location to the next, which is what the technology is limited to today.
The prospect of future advancement, and the founding of competitors to companies like Matterport, just goes to show that this business sector is still emerging. Therefore, when the price goes down and new competitors enter the market, VR in real estate has a strong and healthy future.
The Future for the REALTOR®
A developer (currently working on Oculus' Bigscreen VR) is working on the ability to have a virtual representation of yourself present in a 3D space. So, for example, if you were to take this technology and apply it to a virtual walkthrough, both the REALTOR® and the client could interact with one another, just like a traditional walkthrough, but with the added benefit of being able to do it from anywhere in the world. This potential improvement has significant implications for REALTORS® because you can keep existing business while subsequently growing your online and outside of local clientele.
Fundamentally there are a few things to take away from all of the information above. Virtual reality technology has arrived on a cultural and consumer level and will likely not disappear in any significant way soon. It's also more affordable than ever to get into the VR space. Keep an eye on this technology as it matures over the forthcoming years. Finally, VR technology is not something to shy away from. The experiences you get now with VR will only get better with time, and it seems like a multi-billion-dollar industry in real estate has real promise to change how REALTORS® do business.